Hauswirt blender: a decent mid-range contender
Hauswirt Blender HB12
The Hauswirt High-Speed blender is a middle-of-the-road small kitchen appliance that gets the job done. This blender's aesthetics are subjectively average, and the controls are a little counterintuitive. But the high-powered motor is excellent for smashing ice and other robust ingredients.

The blade assembly is another area where this blender excels, as the 8-blade piece is angled perfectly for shredding vegetables and making super smooth smoothies. However, because the Hurswirt blender has a low-to-mid-range price point, it is in tough competition with other blender models.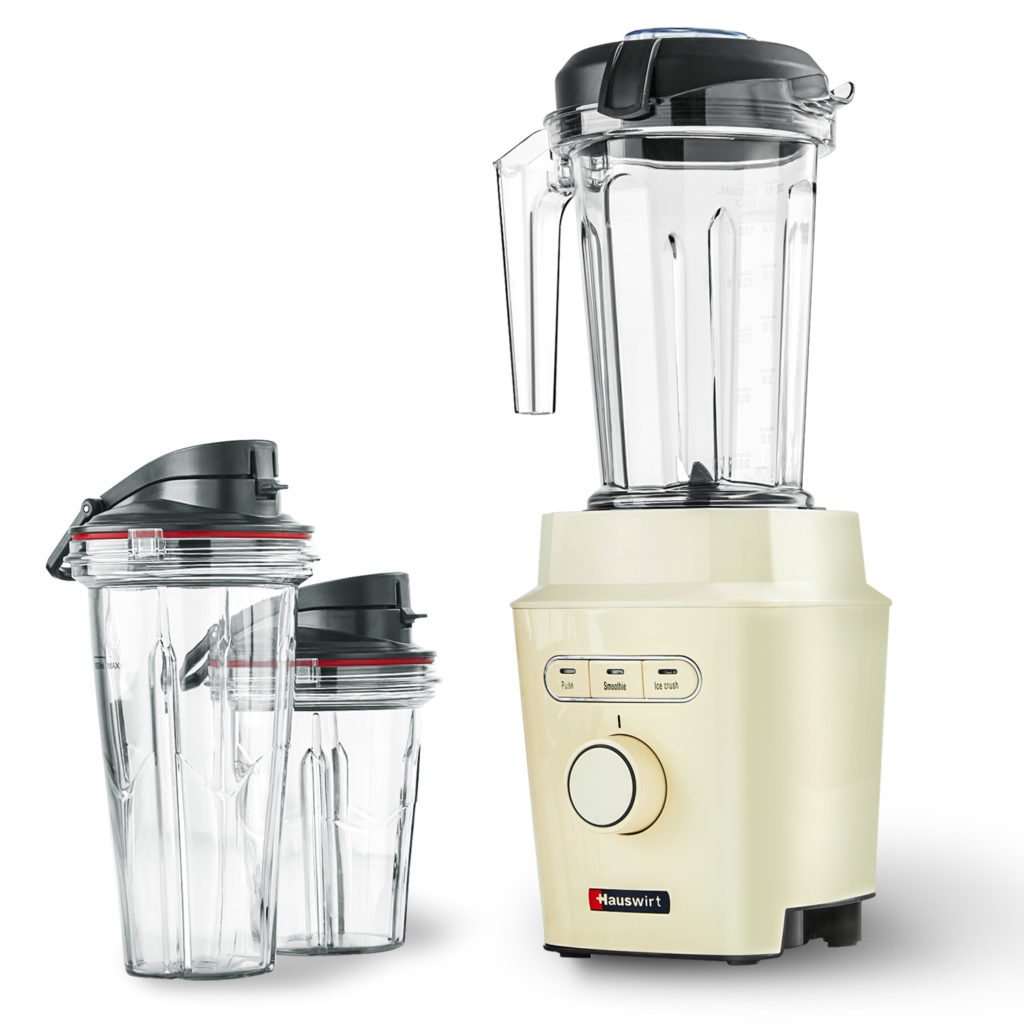 Hauswirth (which in English means 'Home Worth') produced this low-to-mid range appliance to compete with rival brands such as Ninja's BL660.
Ours arrived well packaged with no shipping damage. Included inside the box were the motor base, 51oz pitcher, 25oz to-go cup, 16oz to-go cup (all the cups are BPA-Free and marked in milliliters and ounces), and a recipe book which was a nice touch.
After spending a little time with the blender, here's what we think.
Design & Construction
The motor base is made from white (with creamy tint) plastic and has three preset buttons and a power dial. While the control panel looks nice enough.
Unfortunately, the pitchers and to-go cups are made from a lightweight plastic rather than glass, which didn't fill us with much confidence. They work as they should and they are light enough to be portable but we're unsure of the longevity of these pieces.
The Hauswirt blender comes with detachable blades, which you can use in any of the pitchers and mugs, a convenient design feature that helps with cleaning the appliance. However, it doesn't come without a couple of drawbacks.
When we fitted the blades to the pitcher, the plastic construction doesn't give much confidence on it's strength, leading us to be overly cautious. We would really recommend adding an option with a glass pitcher. The appliance doesn't give you any feedback as to when the blades are tight enough either. Because of this, we didn't tighten the blades sufficiently once, and liquid began leaking from the pitcher.
Fortunately, any damage was avoided thanks to a clever design that directs and liquids away from electrical components in cases of leakage.
The motorhead and connecting devices are solid metal constructions that felt extremely robust.
With an eight-blade assembly mounted at three angles, Hauswirt has designed this set-up for the most efficient and violent blending cycles to breakdown the pitcher's ingredients to their molecular level in the fastest time possible.
Features
Pulse Setting: The pulse setting is designed to breakdown tough ingredients by blasting by intermittently delivering high-speed blade pulses, creating a rougher, grainier texture.
Smoothie Setting: Smoothies are firm favorites among the blending community, and the Hauswirt high-speed blender has a specific function for the job.
Ice Settings: Crush ice and turn it to snow for all your cocktails, snow cones, and smoothies with this dedicated feature.
Variable Speed Control Knob: This blender has 15 different speed settings, which lets you have more precise control over your blending.
Performance
Overall, we found the performance of the Hauswirt high-speed blender to be adequate. It performs most tasks pretty well with no fuss.
We particularly liked the smoothie feature, which can produce smoothies with a silk-like texture in under a minute (though Hauswirt themselves advises blasting your ice with the ice function first). If you want a blender for smoothies, this would be a fine choice.
The ice feature works well initially, blasting ice to smithereens in seconds. However, with larger quantities of ice, we found it would build-up on the sides of the pitcher after a while, and we'd have to scrape it off to finish the job manually.
It's advisable not to use this appliance late at night or if any members of your family are asleep because when you're blending (particularly ice), this blender is super loud. There was also an unpleasant rubbery plastic smell for the first few uses, though that dissipated over time.
We found the control system a little counterintuitive. Rather than pressing the features buttons to initiate a cycle, you have to turn the dial to ON position, then the feature, and only then will the blender kick into gear. However, we did get used to that eventually.
Hauswirth fit rubber feet to the underside of this blender to keep it stable on your countertop, which works ok, except when we used the small personal container. We got a little movement in that case.
Cleaning
Cleaning the Hauswirt blender was a breeze, thanks to the pitchers' design and the removable blade assembly.
All the parts are dishwasher safe (except for the motor base for obvious reasons), but even if you don't have a dishwasher, cleaning the pieces by hand is super easy.
How It Compares
There are many blenders on sale of a similar size and price as the Hauswirt High-Speed blender, so how does it stack up against the top-rated Ninja Professional Countertop blender (which are almost identical in price)?
Both appliances have good-sized pitchers suitable for making smoothies for multiple people, though the Ninja taps out at a high 70oz capacity. That said, the Hauswirt to-go cups offer a little more capacity.
The Hauswirt model has a little more power with a 1200W power output as opposed to 1100W from Ninja. And Hauswirt's 15-speed motor has a far superior selection than Ninja's 3-speed choices.
However, the proof is in the pudding. While there isn't much to separate these blenders in terms of initial performance, for larger quantities of food (particularly ice), the Ninja Professional countertop blender does a marginally better job.
Final Verdict
The Hauswirt high-speed blender is a fine example of these mid-range types of appliances. While there's nothing overtly outstanding about this blender, it can do a decent job of making smoothies, blending small vegetables for salsas and dips, and grinding coffee beans.
The blade assembly is the star of the show in this unit, with eight robust blades precisely angled to achieve maximum impact. That they are removable is a considerable benefit as it makes using the appliance easy to use and even easier to clean.
It's not the best-looking blender on the market, but it's not exactly ugly either, and we're not huge fans of the control system. Using glass for the large pitcher instead of plastic would lift the blender value and longevity to the next level.
Overall, it's a decent blender that will suit those with a low-to-mid-range budget.