Abbio Cookware: very durable nonstick pans
Abbio Large Nonstick Fry Pan
3-ply construction provides good heat retention and distribution, improved strength.
A durable nonstick coating that performs very well and doesn't deteriorate.
Rough surface. It improves the durability of the pan but requires more effort to clean.
Compatible with all types of stoves including induction.
Dishwasher and oven safe up to 450F
Very good weight balance. The pan is light enough to use with one hand.
Mid-tier price. Abbio isn't the cheapest pan around but is much better value compared to high-end brands.
Not a well known brand.
Packaging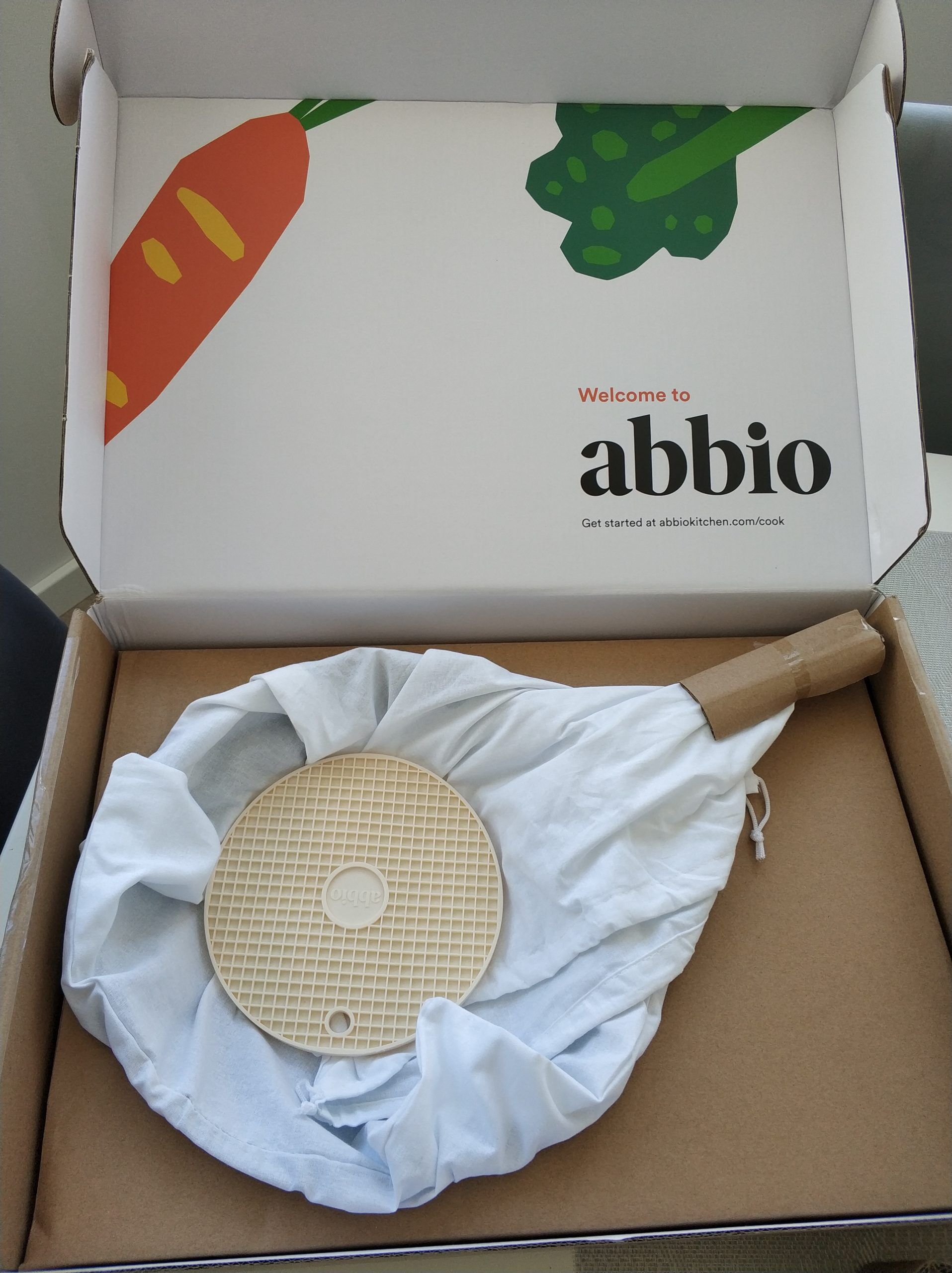 The pan came in a sturdy branded box with adequate protection for the product. There shouldn't be any damage when you receive yours. When you open the box you will see a decorated inside with the Abbio logo and a link to the welcome page on their website.
In addition to a sturdy box, the pan was snugged inside a beautiful white fabric bag. Out of the box, the pan didn't have any damage. There was one large particle under the nonstick coating which annoyed me a little but didn't have any impact on the performance.
I have really missed a leaflet with instructions on how to prepare the pan for the first use and how to treat it properly. Most of the information can be found on their website but having a leaflet would really help getting started fast.
Abbio have also included a high-temp silicone hot pad which is a nice touch. When buying the pan you can choose the color of the pad which is also cool.
Design and construction
Stainless steel finish gives it a premium look and the inside of the pan has a rugged nonstick surface which is quite rare to find on nonstick cookware. It's rugged with a purpose but more on that later.
The pan uses a 3-ply construction. It means there are 3 layers of metals:
Inside layer: 0.5mm of 304 stainless steel. It's corrosion-resistant and doesn't react with food.
Middle layer: 1.3mm of aluminum. Very good at conducting heat.
Outer layer: 0.5mm of 430 stainless steel. Corrosion-resistant magnetic layer that enables the pan to be used on induction hobs.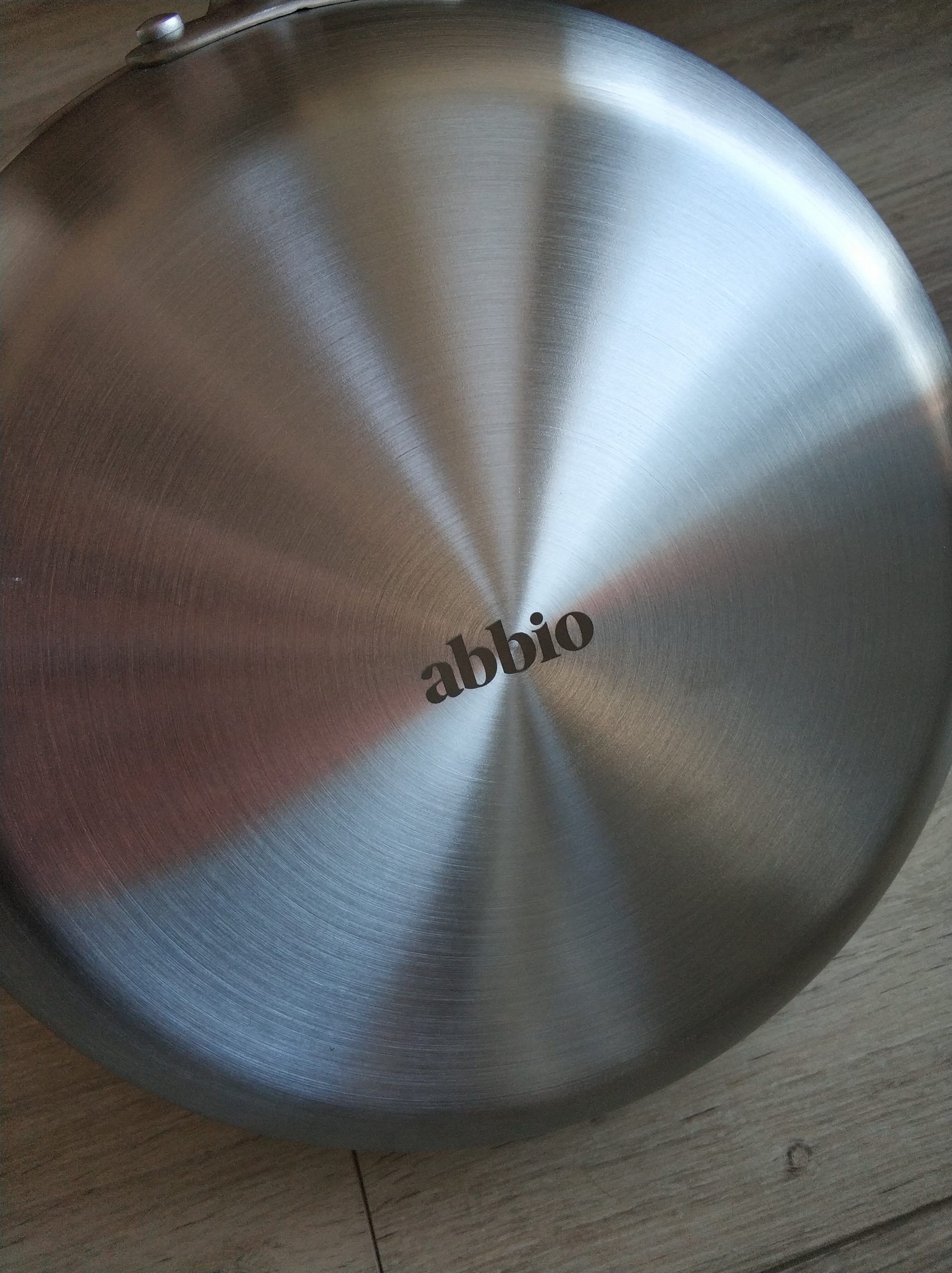 The first thing I have noticed was how lightweight it is and not in a bad way. Usually, very light pans are of lower quality since less of metal has been used. Abbio feels like a perfect balance between sturdy construction and lightness. Compared to an IKEA Sensuell which is also a 3-ply pan it's lighter by a whole pound. What's even more impressive is that Abbio uses a thicker aluminum layer (1.3mm vs 1mm for Sensuell) and still manages to maintain a lower weight.
Ease of use
Due to its relatively low weight, it's very easy to move it around using just one hand and toss food in the pan. The stainless steel handle is comfortable to hold and doesn't get very hot when cooking.
Cleaning the pan is also a breeze. After making scrambled eggs you just need to wait until the pan has cooled down and then wash it under warm running water and gently clean with a sponge. You don't need to use any chemicals or abrasives.
During the whole testing period, Abbio pan was as easy to clean as the first time. We haven't tried putting it to a dishwasher because there was no need. If you just prefer washing cookware in a dishwasher then don't worry, Abbio claims that this pan is dishwasher safe.
You might notice one annoying thing when cleaning with a paper towel. There might be paper particles stuck on the surface due to rugged nonstick coating. The solution is to wash the pan in a sink and then use a kitchen towel to dry it but if you are a fan of cleaning with paper towels it might become annoying.
Performance and durability
The highlight feature of this pan is the nonstick surface. Abbio's nonstick coating consists of a base coat, a midcoat, a layer of metallic particles and a clear topcoat. The metallic particles make the pan even more resilient to scratching by metal utensils compared to a cheap pan without the rough texture. The pan will scratch with aggressive use of metal utensils (as with all nonstick coatings) but light scratching over time will not affect the nonstick performance of the pan.
Our first test was an egg test. We have cracked the egg to a cold pan without any oil and then turned on the heat. The egg didn't slide when I tried to wiggle the pan but I just needed to gently lift it up with a spatula and the pan has released the egg very easily. The egg was fully intact and the pan has passed the test. I have also made scrambled eggs without any problems as well.
After the first test, I have noticed a few minor scratches. I have contacted Abbio to inquire if it's to be expected. They have responded that this is normal and these tiny scratches won't impact pans performance in any way. And that has stayed true during whole test period – the pan has performed equally well from the first time we have tried it. We will continue using the pan and update this section if anything changes.
Value
The handling and nonstick performance are the highlights of this pan. On the other hand, it's to be expected since this is not the cheapest option. At the time of review, the pan costs $67 and $77 for 8-inch and 11-inch models respectively. There is no nonstick coating that lasts forever but it feels like Abbio's nonstick pan would outlast cheaper options.
Compared to pricier options like All-Clad or Viking, Abbio is a much better value. We have also selected this pan as the best value nonstick pan.
Final thoughts
I am really impressed with this pan. If it proves to last longer then other nonstick pans I own then this is a wonderful long term investment.
Final things to note about Abbio cookware:
It's made in China. It's not necessarily a bad thing – it helps to keep the final price lower for the consumer. Abbio representative also added that cookware is ethically and responsibly manufactured in China in a facility shared with some of the most expensive cookware brands for sale in the United States.
Direct to consumer sales model. You won't find this pan in a brick and mortar store or Amazon. It's only available to purchase on their website abbiokitchen.com. This is a bad thing from a convenience point of view but a good thing for your bank account – it helps to keep the price lower.