Always Pan promises to replace most of other pan types
Disclaimer: we may receive commissions from purchases made via our links at no cost to you
Always Pan
The Always Pan from Our Place is a super attractive piece of cookware and a multi-functional marvel. It's ethically produced using recyclable and sustainable materials by a company concerned with the environment, equality and food injustice. 
Our Place claims this pan can perform the duties of many different styles of cookware, though can only function as one pan at a time. 
While the ceramic non-stick coating performs excellently at first, it doesn't have the longevity of stainless steel or cast iron. Despite the superb functionality of this pan, the price is pretty steep and it doesn't represent the best value for money.
Who are Our Place?
In 2019 (just before the coronavirus pandemic took hold), Shiza Shahid decided to build on the great work she'd done with the 'Malala Fund' and bring her vision of forming long-lasting friendships and connections via home-cooked meals using ethical cookware to life.
As an immigrant to the United States, Shiza quickly realized that sharing meals with likeminded people and experiencing alternative cultures is one of the best ways to establish meaningful connections and build networks. She wanted to expand on this notion by manufacturing ethically produced cookware whose DNA can be found in many cultures.
The name of the company, 'Our Place' is literally derived from, in part, Shiza and her team (many of whom are also immigrants) finding their place in America by sharing good food, recipes, and stories around the dining table. 
The company's mission is to produce quality cookware using ethical practices and sustainable materials. Even their packaging is made from recycled, biodegradable, corrugated cardboard, which is assembled using an intricate folding process, so there's no need for tape or a knife/scissors to open the box, and they use no plastics whatsoever.
Our Place works with several charities as they help in the fight against racism and food injustice.
'Always Pan' - Design and Construction
While Our Place offers various products on their website, it's their cookware that we're actually interested in, and they only make one piece. The 'Always Pan.'
Don't be fooled into thinking the Always Pan is your run of the mill, everyday piece of cookware; it's a multi-functional pan that's full of thoughtful design that allows it to perform more kitchen-related tasks than any single piece of cookware.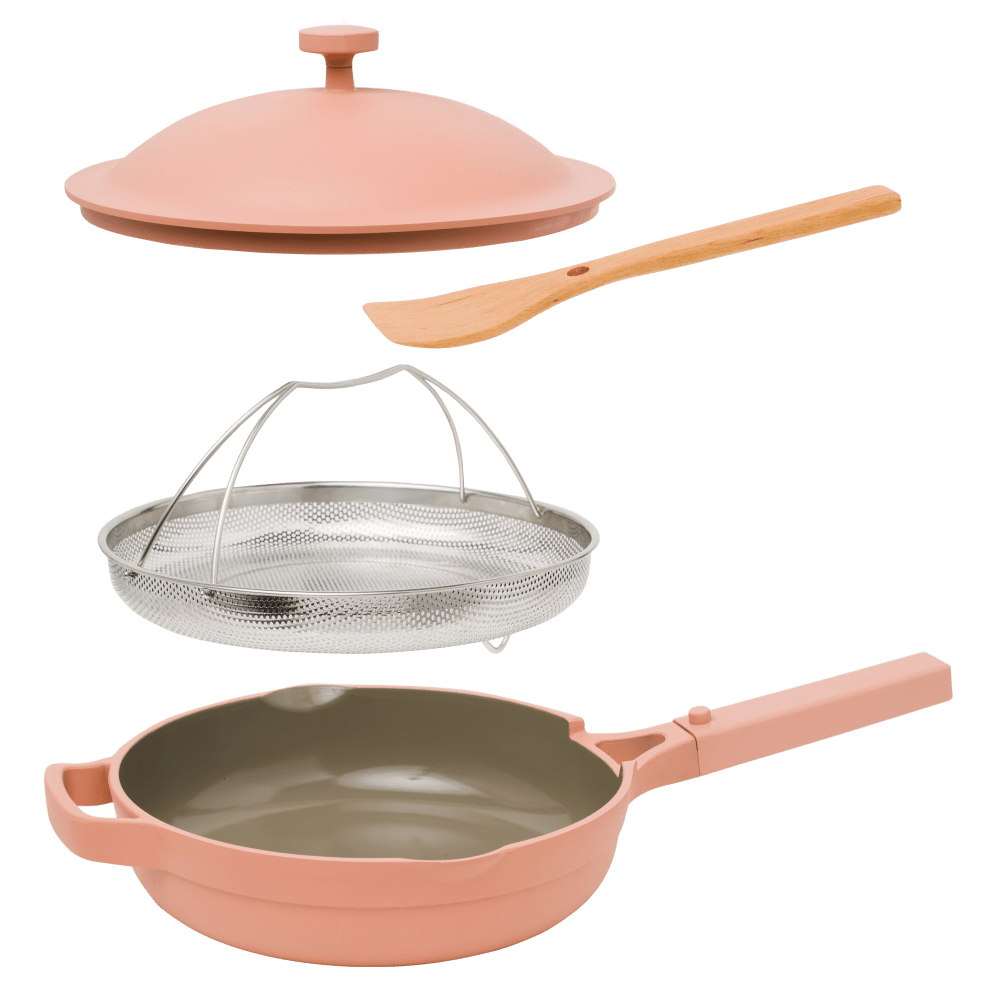 Designed in Los Angeles, USA, the Always Pan is manufactured in China. This can be a big turn-off for many consumers. Still, Our Place is adamant that they have done enormous research into facilities in China and invest in ethical factories that pay their workers above the living wage, and work to very high standards.
The 10-inch pan with a 2.6-quart capacity is fashioned from cast aluminum, which isn't the ideal alloy to use for robust cookware. However, it is an excellent conductor of heat, so you can expect your pan to get up to the optimal temperature quickly and evenly.
The pan's interior has a ceramic non-stick coating. While nonstick pans get a bad rap as the coating can delaminate over time (which can contaminate your food and result in food sticking), Our Place uses the ceramic variant widely recognized as the healthiest non-stick coating you can use.
Because the ceramic in this pan is just a coating, the Always Pan isn't protected 100% against it wearing away over time. This cookware in particular, will need to be maintained following the Our Place guidelines to ensure maximum longevity from this pan. That being said, the ceramic coating Our Place use is approved by both the FDA and EU Standards for the highest levels of food safety.
Not only is the Always Pan unique in its abilities, but it looks quite unlike any piece of cookware on the market too. It has a beautiful and distinctive aesthetic and it's available in six gentle, pastel colors, 'Spice' 'Steam' 'Char' 'Sage' 'Blue Salt' and 'Lavender' which look at home in both contemporary and rustic kitchens alike.
Overall, it's a superbly thought-out design.
'Always Pan' – Cooking and Cleaning
Our Place claims this single pan can replace eight traditional pieces of cookware (fry pan, saute pan, steamer, skillet, saucier, saucepan, non-stick pan, spatula, and spoon rest). If they're to be believed, not only does this make the pan tremendous value for money, but it can also cut down enormously on your kitchen clutter.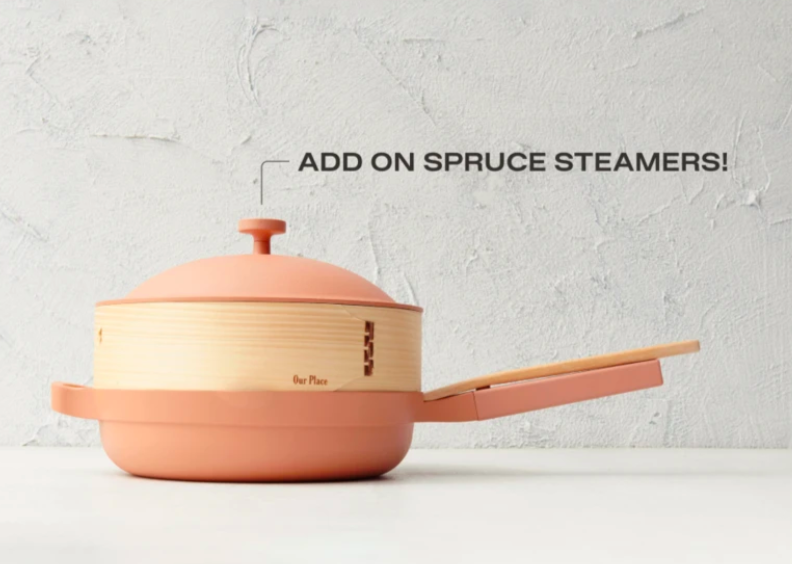 We feel that claim has been slightly embellished as we're not sure we'd consider a spatula and spoon rest 'cookware'. Still, the capability of seven pans in one product offers enormous functionality.
When advertising the Always Pan, Our Place doesn't make any outlandish claims of its capabilities; in fact, they're quite forthright about the proper care and attention you'll need to give this pan to get the best out of it for years to come.
They recommend using only low to medium heat while cooking to maintain the integrity of the non-stick ceramic coating. However, using it occasionally at a high temperature to sear some steak shouldn't cause too many problems, but it's advised against cooking this way too often or you may compromise the pan's integrity.
The ceramic non-stick coating works to near perfection. The Always Pan has no trouble with ingredients and food sticking to the base; even when cooking fried eggs with no oil, the food moves freely under minimal persuasion.
Our Place found an exceptional balance for the height of the pan for it to perform multiple tasks. The sides are high enough so the pan can hold sufficient water for boiling pasta, vegetables, whatever you'd like, but not so high that it makes flipping eggs or steak a challenge.
You can steam cook food, too, as the pan comes with a stainless steel nesting basket that slots neatly into the base (it can also be used as a colander if you need one). Though there is a learning curve when using the steaming basket, you'll need a trial and error period to figure out just how much water to use. Too much, and you'll end up boiling the contents, too little water, and you risk it evaporating altogether. 
The steaming basket itself gets very hot during cooking and can be challenging to get out of the pan. The helper handle, too, can get incredibly hot, and you'll need to use an oven mitt or risk burning your hand. In contrast, the stay-cool main handle and the handle on the pan's lid will both remain cool enough to touch with your bare hand.
It's relatively easy to pour your food out of the Always Pan, as there are two pour spouts, one on either side. While they are beneficial when pouring thicker liquids such as gravy or grease, you'll get some spillage with lower viscosity liquids like water or a thin soup.
In keeping with the product's multi-functionality, the pan's lid is more than just a lid. Not only does the lid help the pan maintain its heat while cooking, but it can also be twisted to create a vent and be used as a steam release valve or to help stem the flow of liquids when pouring out the contents.
The gadgets and gizmos don't end there either; a beechwood spatula is included with the pan. It's not only the perfect utensil to use to help maintain the integrity of the non-stick ceramic coating; it also has its own spoon rest so you can conveniently connect it to the pan while cooking. This feature is super simple yet helps keep your utensil handy and your kitchen clean.
Some consumers report initially having a hard time remembering to use the spoon rest, after years of placing their utensils on plates, dishes and countertops.
The Always Pan is designed for use with all types of cookers and stovetops, including induction hobs. Though the aluminum core won't heat as quickly on induction cookers as it does with other appliance types, even when we tested it on the highest setting it took a while to get up to temperature. If you own an induction cooker, this might not be the right product for you.
Though you can use the Always Pan with all types of cooker-tops, that design doesn't extend to oven use, which is probably one of the most considerable drawbacks of this piece of cookware, especially considering the substantial price point. 
If you're not able to use this pan at high temperatures or put it in the oven, you probably won't be able to cook that thick cut of steak just the way you like it.
When it comes to cleaning the Always Pan, the ceramic non-stick coating doesn't just perform well when cooking; it also helps make light work of the clean-up process. Even removing the harshest ingredients that have cooled down is super easy using nothing more than some warm water and a light sponge.
Our Place provides a sponge specifically designed for use with the Always Pan which works brilliantly at removing stubborn dirt and grime. You can be as aggressive as you need to without fear of damaging the pan.
However, cleaning the outside of the pan is a different story, specifically on the bottom of the pan. While we can't expect the part of the pan which is exposed directly to high heat and sitting on (potentially) metal surfaces to remain mark free forever, the exterior will scuff up after minimal use, especially on the lighter colored pans.
The screw-in handle is also an area of concern where gunk and bacteria can easily build-up and become difficult to clean. A riveted handle could have worked better, or having the whole base cast as one piece.
Though a little exterior marking is a bit of a bugbear, it doesn't negatively impact the quality of the food you can produce in the Always Pan.
Final Thoughts
The Always Pan is a beautiful piece of cookware from a company that prides itself on who they are, where they're from, and what they can do to inspire the rest of the world to interact with each other through food and home-cooked meals.
Despite a few minor drawbacks, this pan stands up relatively well to products from similar fresh start-ups and performs superbly in the kitchen doing the jobs it was designed to do. However, not being oven safe is a huge disappointment and could be a deal-breaker for many home chefs.
The pan can technically replace other cookware pieces from your collection. However, meals are rarely cooked using only one cooking technique. If you're using your Always Pan for steaming vegetables, you'll need a separate pan for meat, or if your Our Place cookware is boiling some pasta, you'll need other cookware to make the sauce. So, while it can do multiple jobs, it really only replaces one of your pans.
It's not the largest piece of cookware in the world either, so you'll struggle to cook meals for more than one or two people using this pan.
That's not to say it doesn't have a specific corner of the market, a customer base which this product is perfect for. It's an excellent starting point for people just venturing out on their own, looking to build a fantastic collection of cookware, or for those who just don't have much kitchen space available.
While the non-stick coating on this pan works superbly, there is one noticeable sticking point. The price tag. Currently retailing at $145, the Always Pan is exceptionally pricey, and though it is very versatile, for that price point, you could pick up one or two great quality pieces of cookware (a larger 12" stainless steel frying pan AND a 2-quart stainless steel saucepan from 'Made In' is approximately the same price) that you could use simultaneously to cook a delicious meal.
The Always Pan is fantastic, but for us, the substantial price point for ceramic coated cookware is a little on the high side and not the best value for money, especially when brands like Caraway and GreenPan offer comparable ceramic coated cookware at much more reasonable prices.