Cookware for Electric and Coil Stoves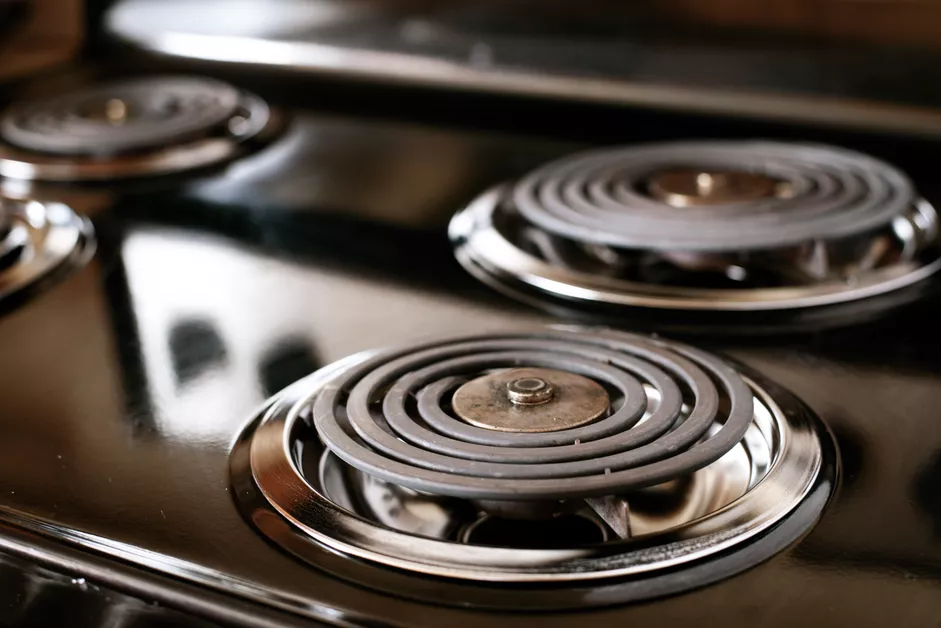 Disclaimer: we may receive commissions from purchases made via our links at no cost to you
In my years road-testing and reviewing cookware and small kitchen appliances, I've noticed that not all pots and pans are created equal, and their performances differ depending on the stove or range they're being used on.
In this article, I will examine the best cookware sets to work alongside electric cookers, their strengths and weaknesses, and the best non-stick variations if you're looking for a more affordable option.
In the second part of my article, I have a detailed guide on identifying other cookware options if you don't want to go with my recommendations.
Best Cookware Set for Electric and Coil Stoves
Misen Essentials 5-ply Stainless Steel
The Misen Essentials Cookware Set is my pick for the best cookware for an electric coil stove for three reasons.
Firstly, the large flat bottoms of the pieces (saucier pan excluded) are the perfect shape to extract the most heat from electric coils. Secondly, the superb pan-to-price-point ratio means you get excellent value for money. And finally, Misen's quality and performance are top-notch for cookware in this price range.
Best Non-Stick Cookware Set for Electric Stoves
Ninja Foodi Neverstick
Ninja's Foodi NeverStick cookware range is the best non-stick collection for use with electric cookers because it bridges the gap between traditional non-stick cookware and stainless steel pots and pans.
Sure, it's more expensive than standard non-stick gear, but it will also last way longer, has superior non-stick properties, and is healthier too. While pure ceramic cookware is the healthiest cookware available on the market, the Ninja NeverStick range is PTFE- and PFOA-free
Electric stove cookware reviews
1. Misen "The Essentials Cookware Set"
Electric stoves might not be the optimal heat source for stainless steel cookware; however, if you have an electric range, the Misen "Essentials" collection is a superb set that has the trifecta of the kitchen: Quality, quantity, and affordability.
The wide, flat bottoms of these pans keep constant contact with the electric coils or glass top to give you an even a heating process as you could hope for while using an electric cooker or without spending massive amounts of money on copper cookware.
Set Includes:
12" Skillet with Lid,
10" Skillet,
3-Quart Saute Pan with Lid,
3-Quart Saucier Pan with Lid,
8-Quart Stock Pot with Lid.
Pros
Superb Value: It's rare to find such high-quality cookware with a large number of pots and pans at this price point. The Misen Essential set will cover all your fundamental bases in the kitchen.
Excellent Cooking Experience: Even when using the inconsistent heating from an electric stove, these pots and pans still perform relatively well, which is surprising considering the affordable price point.
Perfect Thickness: The 3mm thickness of this cookware walks the fine line between durability and not being too thick to heat more slowly because of the inefficient heating of the electric stoves.
Covers All Your Bases: The Misen Essentials collection is well named because while it isn't the most extensive set on the market, it supplies you with all the essential pieces you'll need to tackle most kitchen-related tasks.
Fantastic Handles: While your skillets, pots, and pans won't get hot super quickly on an electric range, the ergonomic handles will prevent them from getting too hot so that you won't burn your hand. They're comfortable too, which is an excellent job because Misen cookware is heavy.
Cons
Heavy Cookware: Yes, these pots and pans are well-designed and durable, but that comes at a cost. The weight. Some people might find it to hold this cookware, especially when they're full of food.
Tricky to Clean Handle Rivets: The rivets that hold the handles in place are prone to getting food stuck in them, which can be a challenge to remove. The rivets provide a lot of stability in the handles, though.
2. Made-In "The Starter Set"
Much like the Misen "Essentials" set, the Made-In "Starter" set gives you a hint in the product title as to the target market of this collection. This six-piece (four pans) set is an ideal first-time cookware set and gives a bit of variety for folks cooking with an electric cooker.
With a mix of stainless steel and non-stick pieces, this little cookware tries to give you the best of all worlds. It is a little bit pricey for a small set, though.
Set Includes:
10″ Non-Stick Frying Pan,
10″ Stainless Clad Frying Pan,
2 QT Stainless Clad Saucepan with Lid,
8 QT Stainless Clad Stock Pot with Lid.
Pros
No Base Movement: The Made-In set has a seriously flat bottom that doesn't warp over time, so the pots and pans remain in constant contact with the electric coil, so it heats as efficiently as possible.
Even Heating Counteracts Electric Cooker Deficiencies: While electric stoves aren't well known for their even heating, the pans themselves heat up incredibly well, which goes some way to leveling the playing field.
Well Balanced Cookware: All of the pots and pans in this collection have a balanced design that doesn't feel awkward or uneven in your hands, giving you more control while you're cooking.
Versatile Set: Even though this Made-In collection is relatively small, it's pretty versatile. The non-stick frying pan is a nice addition for those quick cooking jobs, while the saucepan and stockpot can take care of any liquid or larger cooking tasks.
Award-Winning Cookware: The materials, durable 5-ply construction, and superb performance have won this cookware set multiple awards in the cooking industry, so you know that you're getting quality products for the hefty price point.
Cons
Staining Stockpot: Some (but not all) consumers have reported issues with the stockpot's interior becoming stained after cooking acidic red or orange foods.
Shallow Sidewalls on the Saute Pan: Saute pans specialize in cooking foods that need flipping, tossing, or heating liquid. The shallow sides mean some spillage is inevitable when making sauces.
If you're looking for a cookware set manufactured by an independent company that's not one of the large multi-million dollar brands, Abbio's "The Set" might be right up your street.
The solid and durable construction might not win any beauty pageants, but they have a spirited performance aimed at the smaller kitchen.
Set Includes:
11" Non-Stick Skillet,
8" Non-Stick Skillet,
3.5-Quart Saute Pan,
6-Quart Stock Pot,
2-Quart Saucepan.
Pros
Stainless Steel & Non-Stick Mix: The Abbio "Set" combines non-stick and multi-ply stainless steel for a cookware collection that's both durable and convenient.
Great Choice for Smaller Kitchens: While the pots and pans in this cookware set are a bit smaller when considering the price point, they are an excellent option if you have a small kitchen or limited cooking space.
Impressive Heat Distribution: Consumers are super impressed with the heat distribution in the pots and pans from Abbio. A decent performance is essential when choosing cookware for electric cookers to offset the inadequacies of this type of appliance.
Massive Helper Handles: Typically, helper handles on quality cookware are small and consequently get really hot really quickly. The extended helper handles that Abbio has installed are larger, so they're easier to grab and stay cooler for longer.
Free Silicone Hot Pad: You can use your Abbio cookware without scorching your kitchen surfaces thanks to the heat pad that can withstand temperatures equal to the cookware.
Cons
Pans are Small: The pots and pans in Abbio "Set", while of excellent quality, are on the small side. For a marginally higher price point, the Misen Essentials collection pans are significantly larger.
The Cookware is Nondescript: While Abbio's cookware is pleasant enough to look at, there's nothing overtly impressive about its appearance.
4. Cuisinart MultiClad Pro 7-Piece Cookware Set
If you're on a tighter budget but you're sick of subpar non-stick cookware, the Cuisinart MultiClad Pro 7-piece cookware collection is well worth your consideration.
The tri-ply construction is generally reserved for higher-priced pots and pans, so it'll feel like a significant upgrade if you're used to budget products. The overall design is reasonable, though compared with cookware from Made-In or Misen, the gulf in quality is noticeable.
Set Includes:
10" Skillet,
8-Quart Stock Pot with Lid,
3-Quart Saucepan with Lid,
1.5-Quart Saucepan with Lid.
Pro
Perfect for Electric Cookers: Cuisinart recommends heating this cookware slowly, so you don't scorch your food. This slow heating plays right into an electric cooker's hands as they typically heat more slowly than any other cooker type.
Super Affordable Price Point: Out of all the cookware sets I've reviewed in this article, the Cuisinart MultiClad collection is the most affordable of them all. By a long way.
Oven-Safe to 500F: Even some of the more expensive have a lower heat tolerance than the Cuisinart MultiClad Pro cookware set so that you can bake and broil with confidence.
Drip-Free Rims: The edges of the pots and pans have tapered rims, so you pour your food out without spilling it all over your kitchen.
Sturdy Construction: Despite their low price point, these pots and pans are heavy-duty and should last a while, further improving your value for money.
Cons
Very Heavy: While the robust nature of this cookware set is definitely a positive, that durability means each piece is noticeably heavier than some of its rivals.
Challenging to Clean: Most stainless steel cookware is harder to clean than traditional non-stick pots and pans, but even by those standards, these Cuisinart products are a pain to scrub burnt-on food away.
'Cool-Grip' Handles Don't Work: Cuisinart claims this cookware collection has specially designed 'stay-cool' handles. Unfortunately, the design is inefficient, and the handles get really hot when cooking at high temperatures.
5. Ninja Foodi NeverStick Cookware Set
Ninja's NeverStick range is the brand's first triumphant venture into producing quality but affordable cookware. This 8-piece non-stick collection is a step above traditional non-stick in terms of quality, functionality, and longevity, though it isn't on a par with quality stainless steel products.
While not as optimal as stainless steel for cooking on an electric coil cooker, this excellent set does give consumers a chance to use quality cookware for a low price point.
Set Includes:
8" Fry Pan,
10" Fry Pan,
6.5-Quart Stockpot with Lid,
2.5-Quart Saucepan with Lid,
3-Quart Saute Pan with Lid.
Pros
Superior Non-Stick Properties: Traditional non-stick lasts between six months and a year before it begins to fail and needs replacing. NeverStick has a superior coating that Ninja claims last for five years.
No Oil/Fat Needed: The non-stick properties of this Ninja cookware range are so effective that you don't need to use oil when you're cooking with them. Your food will slide around freely on its own.
Oven & Dishwasher Safe: As well as being super functional and durable, this pan set is also versatile and easy to clean. Oven safe up to 500F.
Tempered Glass Lids: The tempered glass lids for the pots in this collection lock in the moisture while you're cooking, while the thick 1.3 stainless steel rim makes them as hard as nails.
Five Years Warranty: So confident are Ninja of their product's durability that this collection comes with a 5-year warranty for your peace of mind.
Cons
A Little Too Thick: The old cookware adage "the thicker, the better" isn't necessarily true when it comes to cookware for electric stoves. This type of cooker, in general, takes a while to heat up. The thickness of the NeverStick range is good for durability but further compounds the slow heating process.
Made in China: Even though the NeverStick collection is of very high quality for non-stick cookware, they are manufactured in China which might be a deal-breaker for some.
Electric Stove Types & Their Impact on Cookware Performance
While there are technically three types of electric cookers or ranges, (coil, glass, and induction), induction cookers are their own beast. They use electricity to create an electromagnetic field to create friction and, ultimately, heat.
With that in mind, the term 'electric stove' is reserved for an appliance that creates physical heat. Both the electric coil and glass top cookers are similar in their basic premise yet have different properties that affect how they perform.
The one thing both these stove types have in common is that they're generally one of the more affordable cooking appliances on the market; however electric cookers are notorious for their slow heating efficiency and also uneven heating.
The primary difference between exposed coil and glass top cookers is in appearance. However, their difference in appearance does affect performance.
The exposed coils come directly into contact with the cookware and, in turn, heat the pans more quickly. However, they're pretty ugly and not conducive to an attractive kitchen. Glass top cookers operate in the same way but cover the unsightly coils with a pane of glass.
While these appliances are way more pretty than their counterparts, the additional material between the coil and cookware means the pots take even longer to reach optimal temperature. As glass isn't the best conductor of heat, they heat more unevenly.
As a result, it's essential for a pleasant cooking experience to get the best quality cookware you can possibly find. The better the heat distribution of your cookware, the more it will negate the inadequacies of your cooking appliance.
What Kind of Cookware is Best For Electric Stoves?
First thing's first; if you have a glass top electric stove, it's essential to choose cookware that doesn't have a rough underside, or you will severely scratch the glass, making it look ugly. I have prepared a list of recommendations for glass-top stove cookware.
Whether you have an exposed coil electric cooker or glass top stove, you'll need cookware that's both responsive and heats evenly.
While copper cookware fits the bill perfectly, even the most affordable set of copper cookware will probably be more expensive than an electric cooker and, therefore, way out of most people's price range.
Non-stick cookware works relatively well on electric cookers but has noted potential health problems that more and more people are looking to avoid. They also typically warp over time and don't sit flush to the coil.
Cast iron cookware works well with electric appliances in that it retains heat well however, this type of cooker heats as slowly and unevenly and the electric cookers themselves. If you have the patience to wait for your pans to get up to temperature, they are an affordable option.
However, I've found that both stainless steel and carbon steel cookware ticks the most boxes for efficient electric stovetop cooking. The higher the quality steel or carbon steel brands use, the flatter the bottom and more evenly they will heat.
Stainless steel cookware with either aluminum or copper cores are the most effective pieces of cookware in this area but bear in mind the higher the quality, the more expensive the sets.