Best pans for steak: materials and models compared
Disclaimer: we may receive commissions from purchases made via our links at no cost to you
Made In Cookware 5-ply Fry Pan
The Made In 5-ply fry pan gives you the premium performance of high-end cookware at a fraction of the cost:
5-Ply construction for superior strength and warp resistance
Induction compatible. Dishwasher safe and oven safe up to 800F
Made In Cookware use a 'direct to consumer' business model to keep the price low
Made in the USA. American metals. American design. American quality
Limited lifetime warranty for peace of mind
ProCook Elite Tri-Ply Stainless Steel Frying Pan
The ProCook Elite Tri-Ply stainless steel frying is a 3-ply piece of cookware that, while not as effective as 5-ply pans, is still of reasonable quality for its low price point. However, even though it is 3-ply, it's still heavier than you would hope.
It's practical and versatile in the kitchen and is compatible with induction hobs and gas, electric, ceramic, and solid plate stoves. It's oven safe to a temperature of 260C, which makes it an ideal choice for cooking glorious chunks of steak.
It has an ergonomic 'CoolTouch' handle for comfort and safety, and while it's welded on rather than riveted, it's still a relatively solid construction. Because it's stainless steel, it's dishwasher safe and super easy to clean.
Sale 39%
Lodge Pre-Seasoned 10.25-inch Cast Iron Skillet (L8SK3ASHH41B)
Lodge's super affordable cast iron skillet has excellent heat retention and distribution, which is essential for cooking the perfect steak.
Improved upon the original design
Made from cast iron for superior heat retention and will last a lifetime
Useable on any stove, cooker, or campfire
Removable silicone handle & helper handle for ease of use
Skillet is seasoned with vegetable oil, so it's vegan friendly
Beka Chef Stainless Steel Frying Pan
The Beka Chef stainless steel frying pan is a simple yet affordable piece of cookware. There are several size options, all with incredibly reasonable price points, giving you the chance to sample above-average stainless steel cookware without spending hundreds of pounds.
The 3-ply construction is solid enough, while the overall design is sleek and beautiful to look at. The handle is riveted to the pan for added safety while it has a convenient thumb groove, so it's comfortable to use too.
There are no pour spouts on this pan, though it has a rounded rim so that you can pour the contents from any direction with minimal fuss.
Though it is dishwasher safe, multiple consumers say it's challenging to clean, even with the help of a dishwasher. However, you'll need to make some concessions considering the low price point.
What are the best pans for cooking a steak?
The best pan to cook steak in is a cast iron skillet, carbon steel fry pan or tri-ply (or even 5-ply) stainless steel pan. They can reach a very high heat and retain it which is essential for searing a steak.
Our recommended pans for each material:
Lodge Pre-Seasoned Cast Iron – best cast iron skillet
Mineral B Carbon Steel Pan – best carbon steel for steak (lighter than cast iron)
Made In Frying Pan – best stainless steel for steak (easier maintenance than cast iron)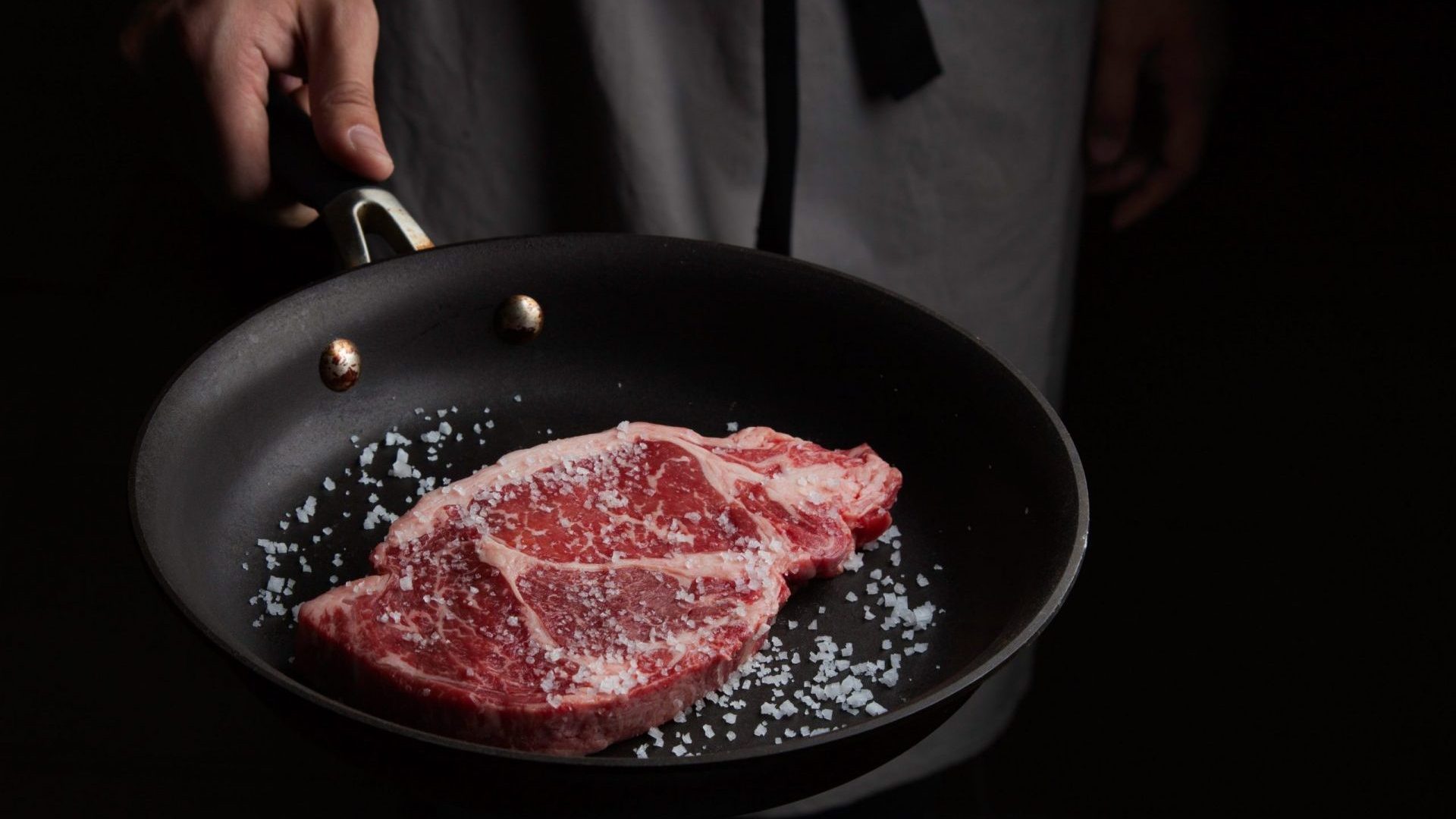 High temperatures are essential for searing steak, and cast iron is a perfect metal to use. Though it takes a while to heat up, it heats evenly and will stay hot for an extended period of time.
Cast iron is a robust material that won't damage easily and will stand the test of time. Maintained properly, a cast iron pan will last a lifetime and beyond.
Many cast iron fry pans come pre-seasoned. While this gives you a solid foundation on which to build, we advise running two or three additional seasoning cycles before use to ensure the best non-stick coating possible.
While most products fade and wear over time, cast iron improves with age, giving you a family heirloom that can be passed from generation to generation. 
Pros:
Unrivaled ability to produce a delicious steak that's juicy on the inside and cooked to perfection on the outside
Excellent value for money
Enormous longevity. Cast iron can last for decades
Doesn't contain any chemicals or synthetics that can damage health
Easy to clean when properly maintained
Adds iron to your food for improved iron intake
Cons:
Heavy and challenging to use, especially for those with weaker hands
Complex seasoning procedures essential to the pan's performance and longevity
Takes longer than other types of pans to heat up
Handles known to get very hot
1. Lodge Pre-Seasoned Cast Iron Frying Pan, 10.25-inch
Sale 39%
Lodge Cast Iron Skillet with Red Silicone Hot Handle Holder, 10.25-inch
CAST IRON SKILLET is 10.25 inches in diameter and includes red silicone hot handle holder. An improvement on the original: the Lodge Cast Iron Skillet, featuring an assist handle. This will be your go-to pan for generations to come
SEASONED CAST IRON COOKWARE. A good seasoning makes all the difference. Lodge seasons its cookware with 100% vegetable oil; no synthetic coatings or chemicals. The more you use your iron, the better the seasoning will get
CAST IRON provides superior heat retention and is unparalleled for even cooking. Lodge Cast Iron Skillets are at home in the oven, on the stove, on the grill or over the campfire
EASY CARE: Hand wash, dry, rub with cooking oil
MADE IN THE USA. Lodge has been making cast iron cookware in South Pittsburg, Tennessee (pop. 3,300) since 1896. With over 120 years of experience, their cast iron is known for its high quality design, lifetime durability, and cooking versatility
The 10.25-inch pre-seasoned cast iron fry pan from Lodge is built to last. Its solid cast iron construction is ideal for use on top of the stove or in the oven for frying, sauteing, searing, braising, and baking.
While the pan is pre-seasoned, the seasoning isn't optimal, so if you don't want your juicy steaks sticking and burning, it's a good idea to run through a few more cycles of seasoning before use. However, Lodge's seasoning uses 100% vegetable oil, so it's vegan friendly, and the cast iron base won't leach any unpleasant toxins into your food.
When properly maintained, cleaning the Lodge 10.25-inch pre-seasoned skillet is relatively straightforward. Lodge recommends washing this skillet by hand using very light dish soap, or no soap at all, so you don't destroy the coat of seasoning. Re-season your pan regularly for optimal use.
This Lodge cast iron skillet comes with a silicone 'hot handle holder' to ensure you don't burn your hands when using the pan at high temperatures. The handle cover is effective up to 600F.
The majority of customers think the Lodge cast iron skillet is excellent value for money. However, they also confirm additional seasoning cycles are essential before use, for the optimal non-stick coating to be effective.
2. T-fal Pre-Seasoned Cast Iron Frying Pan, 12-Inch
T-fal E83407 Pre-Seasoned Nonstick Durable Cast Iron Skillet / Fry pan Cookware, 12-Inch, Black -
Dress up grilled steak; fish and veggies with authentic restaurant stripes which is perfect for browning; searing; flying and saut?Ing
Large; extra long handle with easy to grip side helper handles and signature thumb rest for easy handling
Comes pre seasoned for first use and includes step by step instructions for seasoning case
Heats evenly and consistently, as cast iron is the best material for heat retention and distribution; oven safe up to 600 degree fahrenheit and is pfoa free and cadmium free
Pouring spouts allow for controlled transfer of contents
The T-fal pre-seasoned cast iron frying pan has all the hallmarks and capabilities of a decent piece of cast iron cookware for an incredibly low price point.
It can cook all the same foods in similar genres as the Lodge cast iron skillet, but T-Fal's pan is larger and less expensive. It's functional on all types of stoves and cookers, and you can use it in the oven up to 600F.
While the pan is heavier than its closest rivals, T-Fal tried to offset the heft with an extra-long handle with thumb rest, an easy-grip helper handle, and pour spouts on either side. The pan is PFOA and Cadmium-free.
We have already talked about the importance of seasoning, and it is even more prevalent with the T-Fal pre-seasoned 12-inch cast iron fry pan as many consumers have struggled with food sticking to the base when first using it for cooking food.
There are numerous reports of oxidization too, which further highlights the importance of proper maintenance. That said, when you consider the extremely low price point, it's not that much of a surprise.
It is important to season your cast iron pan properly to prevent it from rusting. Regularly seasoning your pan will maintain the natural nonstick surface and prolong the lifespan of your pan. Customers comment that the pan is heavier than other steak pans. The majority are pleased with their purchase and would recommend it.
Carbon steel bridges the gap between durable and heavy, yet affordable cast iron cookware and lightweight, robust and expensive high-end stainless steel cookware. 
It's the happy medium of the cookware world.
This style of pan has many of the positive qualities of cast iron and few drawbacks. However, this is only true of more expensive carbon steel products. The positives of budget carbon steel pans may not outweigh the negatives.
Even though carbon steel is very robust, it's surprisingly lightweight, giving you more control of your cookware and easier to handle for people who don't have super strong hands. It reacts more quickly to temperature change, so you won't have to wait as long for it to heat up. While it doesn't retain heat as competently as cast iron, carbon steel still performs relatively well in this department to the untrained eye.
The smoother surface makes it more suitable for frying fragile foods like eggs and fish with a reduced risk of sticking.
A carbon steel pan will usually arrive with a wax coating to prevent oxidization, which needs to be removed before seasoning to your satisfaction.
Pros:
Lightweight
Smoother surface sears steak better than cookware with a rough surface
Retains heat relatively well
Can be used on all stove and cooker types and is over safe
No synthetic chemicals in the coating
Better non-stick properties than cast iron
Cons:
High maintenance. Requires regular seasoning
Acidic foods will destroy the seasoning coat
Aggressive cleaning will remove the seasoning coat
Handles may get hot with use at high temperatures
3. Mineral B Carbon Steel Frying Pan, 14-Inch
de Buyer MINERAL B Carbon Steel Fry Pan - 14" - Ideal for Searing, Sauteing & Reheating - Naturally Nonstick - Made in France
CARBON STEEL FRY PAN - The MINERAL B Fry Pan is perfect for searing meat, sauteing vegetables, reheating leftovers, or cooking eggs. It's made of carbon steel, which is one of the most natural cooking materials, praised by chefs around the world.
NATURALLY NONSTICK - Lighter than cast iron & more heat conductive than stainless steel, this fry pan becomes naturally nonstick after seasoning—without any chemicals or synthetic coating—and gets better the more you use it.
HOW TO USE - Follow our instructions on first use to wash off the beeswax & season the pan. Hand wash only & avoid harsh soaps that can strip the seasoning. Can be used on all cooking surfaces, including induction. Oven safe for up to 10 min at 400F.
ROOTED IN FRENCH CULINARY TRADITION - We design and manufacture premium kitchen accessories, pastry equipment, and cooking utensils, continuously innovating to meet the needs of catering professionals and home cooks alike.
De Buyers Mineral B carbon steel pan is both functional and healthy to use. The pan is PFOA and PTFE free so that it won't contaminate your food with nasty toxins. It's also made from 99% iron and is 100% natural.
This pan does require seasoning, though you will need to remove that wax coating that covers the cookware first. Multiple consumers have expressed concerns regarding how much of a challenge it is to remove the wax.
The manufacturer has a set of specific guidelines for optimal seasoning of your carbon steel pan, which includes 'bee's wax' to help with seasoning, and a very gentle cleaning regimen. 
The Mineral B frying pan excels at cooking steak thanks to its ability to reach high temperatures very quickly while simultaneously distributing and retaining heat, which helps preserve food's vitamins and minerals.
While it is possible to put this pan in the oven, you can only do so for a period of 20 minutes without exceeding 400F.
Overall, customers love this pan and believe it is well worth the money.
4. Lodge Carbon Steel Seasoned Frying Pan, 12-Inch
Sale 20%
Lodge CRS12 Carbon Steel Skillet, Pre-Seasoned, 12-inch
14 GAUGE CARBON STEEL heats quickly and retains heat for even cooking; best for searing and browning
Use on gas, electric, induction stovetops, outdoor grills or open fire, Made with nontoxic, PFOA & PTFE free material
Seasoned with oil for a natural, easy-release finish that improves with use. Its lightweight design and long, comfortable handle makes it easy to maneuver from the stove to the table
Easy care: hand wash, dry immediately, rub with cooking oil
Made in USA; Approx. 12" diameter rim to rim/9.875" bottom
Lodge's carbon steel pan can withstand exceedingly high temperatures, which is essential for searing and browning meat, the perfect conditions for cooking juicy steak.
The pan's thickness ensures it heats up quickly, without negatively impacting heat retention. Its sturdy construction is designed for use on all stoves and cookers styles and functions well at both high and low heat. However, it is a little heavier than competing carbon steel pans.
As with most seasoned cookware, we recommend a couple of your own seasoning cycles before use for optimal non-stick properties.
Though the pan's quality is decent, consumers have noted that the pan could warp over time and that its rough surface makes it a challenge to season. However, most people love their pan and are glad they switched from cast iron to carbon steel.
A high-end stainless steel frying pan is the pinnacle of cookware, and in particular, they're fantastic for cooking steak. Stainless steel is lighter than cast iron and carbon steel, yet it's just as durable.
This type of cookware has all the benefits of other frying pan and skillet styles and none of the pitfalls, except for the price point, which can become ludicrously high when you look at the premium quality stainless steel pans.
Stainless steel is a relatively competent conductor of heat, though cookware brands recognize that steel is not the best metal to use, so many of them fit a central core of aluminum to give it a helping hand. Building up layers or 'Ply' helps increase durability and functionality, though more often than not, it also increases the price tag.
Not only are stainless steel pans superb for cooking steak, but you're also able to cook with them using acidic ingredients without fear of damaging the seasoning, as a seasoned coating isn't required with stainless steel cookware.
A lack of seasoning and non-stick coating also means you can use metal utensils with these pans, and they can be washed in a dishwasher with relative ease.
Pros:
Superb heat conduction and retention
No time-consuming seasoning needed
Lightweight yet durable
Suitable for oven use
Not affected by acidic ingredients
You can use a metal utensil with this style of cookware
Dishwasher safe, easy to clean
Cons:
5. Made In 5-Ply Stainless Steel Fry Pan
Made In Cookware 5-ply Fry Pan
The Made In 5-ply fry pan gives you the premium performance of high-end cookware at a fraction of the cost:
5-Ply construction for superior strength and warp resistance
Induction compatible. Dishwasher safe and oven safe up to 800F
Made In Cookware use a 'direct to consumer' business model to keep the price low
Made in the USA. American metals. American design. American quality
Limited lifetime warranty for peace of mind
The 'Stainless Clad Frying Pan' from Made In is an award-winning piece of cookware, and one of the best-selling stainless steel fry pans on the market. Made In carefully selected a range of alloys with different properties to ensure their 5-ply cladding performs optimally in heating the pan quickly, efficiently, and evenly, without leaching nasty chemicals into your food.
Available in three different sizes (12-inch, 10-inch, and 8-inch), this pan has substantial versatility. It's lightweight for ease of use, and the stay-cool ergonomic handle is comfortable in your hand.  The pan is perfect for searing and frying and is even oven-safe up to 800F, so it's possible to use it for roasting. 
When you're finished cooking, there's no painstaking clean-up process. The Made In 5-ply frying pan is dishwasher safe, so it's super simple to clean.
Produced entirely in the USA, Made In's 5-ply frying pan became an instant hit and allowed the company to grow; it is their flagship product. The company uses a 'direct to consumer' business model so that they can sell their cookware for a more affordable price point. Premium cookware for a reasonable cost makes it easy to see why this frying pan is enormously popular.
6. All Clad D3 Stainless Steel Frying Pan, 10-inch
All-Clad D3 3-Ply Stainless Steel Fry Pan 10 Inch Induction Oven Broiler Safe 600F Pots and Pans, Cookware Silver
Experience professional-level cooking with this 10-inch stainless steel fry pan with lid, enhanced by All-Clad's D3 tri-ply construction for impeccable heat distribution and retention.
Fast and Even Heat - D3 tri-ply is fully bonded to the rim for professional performance & durability. The high quality 18/10 stainless steel surface sears to perfection and is ideal to deglaze for pan sauces.
Design You Will Love - D3 has a professionally polished stainless steel finish. Our classic, double riveted stainless steel handles ensure a secure grip.
Built to Last - Trusted by generations of chefs and backed by All-Clad's Limited Lifetime Warranty. Our cookware is oven & broiler safe up to 600°F and compatible with any stovetop, including induction. Handwashing is recommended.
Bonded, Engineered, & Assembled in Canonsburg, PA - USA Since 1971.
The All-Clad stainless steel D3 frying pan is a 3-ply construction with a stainless steel outer layer and inner layer surrounding a central aluminum core. It has a decent capacity and good for searing a couple of medium-sized steaks.
All-Clad produces this pan in the USA from American sourced materials, so the quality is excellent.
This pan is designed for use with any style stove or cooker, and like the Made In frying pan, it can be used for cooking in the oven up to 600F so you can cook your steak to perfection.
There are a couple of drawbacks to this piece of cookware as several consumers report the pan's base can warp over time, and despite its smooth cooking surface, it can still be challenging to clean.
If you're after something more robust, a little larger, or more high-end, consider the All-Clad D5 pan, which is 5-ply rather than 3-ply.
7. Stargazer Cast Iron Skillet
Stargazer Cast Iron 10.5-Inch
Smooth cooking surface. The entire interior of our skillet is machined smooth. That means food sticks less and it's a breeze to clean.
Optimal weight. Lighter than most, our 10.5-inch skillets tip the scales at 5.2 lbs for the perfect balance of heat retention and ease of use.
All natural. No toxic chemicals, no space-age materials, just iron.
Lasts forever. Treat your cast iron properly and it will last many lifetimes.
Drip-free flared rim. No more pour spouts. Pour from anywhere with confidence.
Stay-cool handle. Burn your hand on someone else's pan. Our forked handle stays cooler much longer than the cast iron you're used to.
Cast iron cookware is very popular not only for its robust and durable nature but also because of its affordable price point. However, like with any product, they have varying degrees of quality and affordability along that spectrum.
Stargazer cast iron skillets sit at the head of the table in terms of both premium cast iron quality and expensiveness for this genre of cookware. Though it's worth pointing out that even though Stargazer's skillets are more expensive than most other cast iron brands, they're still some way cheaper than quality stainless steel counterparts.
This 10.5" cast iron skillet (or 12" if you're looking for something bigger) from Stargazer may be relatively expensive, but the craftsmanship is equal to that high price point. The quality of work from this brand isn't only aesthetical; it's practical and versatile.
All that being said, despite being one of the best cast iron skillets for frying steak, the gulf in quality and performance when compared to other brands isn't as great as the gulf in price point. However, if supporting local businesses and protecting the environment is important to you, then the Stargazer cast iron skillet should be right at the top of your shopping list.
8. Misen Carbon Steel Pan
Misen Carbon Steel Pan 10-Inch
A versatile pro favorite — easier to use than cast iron, lasts forever, and develops a nonstick surface through seasoning:
60-Day Test Drive. 
Nonstick From Seasoning. A "seasoned" pan retains microscopic layers of polymerized oil. This easy to maintain coating creates a naturally nonstick patina — without extra chemicals.
Lighter Than Cast Iron. Typical cast iron pans feel more like a medieval weapon than a skillet. The Misen Carbon Steel is 42% lighter than cast iron pans of the same diameter, for less struggle at the stove.
Use It For Everything. Carbon steel allows this pan to bake, sear, saute, and fry, on the stovetop or in the oven. It's compatible with gas, electric, and induction burners, and will clean up in a snap.
Carbon steel is (as it sounds) hybrid steel with a significantly larger amount of carbon than regular stainless steel. This additional carbon makes heat distribution and even temperatures way more efficient than cast iron or stainless steel. It can also withstand extreme temperatures, which is perfect for frying a juicy steak.
Misen's 10" carbon steel skillet (there are 8" and 12" options) has a wonderfully contemporary design that's functional too. This carbon steel pan from Misen has the lightweight feel of stainless steel and the durability of cast iron.
Much like cast iron cookware, the Misen 10" carbon steel skillet requires seasoning to prevent food from sticking to the surface while you cook, though the process needs performing more often than it would with cast iron.
Misen also provides silicon handle grips with each piece of cookware to prevent you from burning your hand. Astonishingly, Misen has kept the price point of this particular pan really low when you consider the relatively premium quality.
9. Misen Stainless Steel Pan
Misen Stainless Steel Pan 8", 10" & 12"-Inch
A versatile and spacious cookware workhorse you can use day in and day out. Perfect for searing, sautéing, and more.
60-Day Test Drive. 
5-Ply Steel. Cookware is made from a 3.0 mm thick, 5-layer (5 ply) composite of stainless steel and aluminum for superior heat conduction and retention. All cookware is compatible with gas, electric, and induction cooktops.
Larger Cooking Surface. Pan's wider base has roughly 19% more cooking area than other "premium" cookware companies. We call it more pan for your money.
Stay-Cool Handle. Ergonomic handles offer a more secure, comfortable grip and remain cool during stove-top cooking.
If you're more of a traditionalist and would prefer stainless steel cookware over carbon steel, the Misen also offers the same configuration of skillets (8", 10" & 12") manufactured from a more typical stainless steel construction.
Misen's 5-ply skillet are rough and ready pieces of kit ideal for sizzling up some hefty chunks of steak. The Misen Stainless Steel Pan combines five aluminum and stainless steel layers to form an extremely robust 3mm thick skillet.
While this thick body takes a little while longer to heat up than more thinly constructed cookware, the substantial pan bottom retains heat incredibly well so you can fry your steak to perfection.
The skillet's sloped sides make it easier to flip your steak, while the ergonomic stay-cool handle is comfortable to hold and is riveted for durability. Misen built these skillets to take everyday abuse on the chin, though their rugged nature comes at a cost.
These skillets are very heavy (especially when you've got a massive steak cooking in them), and the rivets can be challenging to clean. However, if you're looking for an affordable pan to fry a steak in that performs well, will last for a long time, and won't break the bank, the Misen stainless steel is worth your consideration.
10.Made-In Blue Carbon Steel Skillet
Blue Carbon Steel Frying Pan 8", 10" & 12"-Inch
Meet Carbon Steel. It's a perfect hybrid of a cast iron skillet and a stainless steel frying pan. It has a cast iron's heat retention, seasoning, and slick properties and stainless steel's heat control, lightness and cooking speed. French foodies and professional chefs have been using carbon steel for centuries, and we're bringing it to US kitchens.
Oven Safe Temperature: 1200F.
Induction compatible.
Blue Carbon Steel Grill Frying Pan is specially designed to be the best open fire pan
Made-In market their Blue Carbon Steel Skillet (it's not actually blue) as the "perfect hybrid of cast iron and stainless steel" and it's hard to argue with them as this 12" pan (there are smaller 10" and 8" versions) boasts the excellent heat retention of cast iron and the heat control of stainless steel, which are both perfect attributes for frying steak.
The design team at Made-In not only produced a high-performance feat of engineering, but they also managed to make a beautiful piece of cookware that outshines its relatively low price point (though it's not quite as affordable as its Misen rivals).
Not only is this skillet incredibly durable, but it's also highly resourceful too. Because it's oven-safe up to the eye-wateringly high temperature of 1200F, there's almost nothing that you can't cook in this piece of cookware.
Like cast iron skillets and some stainless steel pans, you will be required to season this cookware to make it as non-stick as possible and ensure your steak doesn't stick to the pan's surface. Unfortunately, this style of pan is more difficult to season than most.
However, it is worthwhile taking some time to get the seasoning right before your first use to ensure an excellent cooking experience. This pan might not be the right product for first-time seasoners.
If you love cooking outdoors, Made-In offers a carbon steel blue skillet that has holes machined out of the bottom that allows you to cook on an open fire and get some of that smoky goodness into your food.
11.Hestan NanoBond Titanium Skillet
If you're looking for the pinnacle of high-end steak-frying cookware, then look no further than the 8" Hestan NanoBond Titanium Skillet (Also available in 11" and 12.5" sizes). This beautiful frying pan is the best of the best in advanced kitchen technology.
Hestan bonds thousands of 'titanium nano-layers' to their stainless steel construction, making it four times harder than traditional stainless steel. Coupled with an oven-safe temperature of 1050F, there's literally nothing that you can throw at this cookware that will cause it harm.
Not only is the Nanobond Titanium skillet as tough as nails, but its polished exterior is beautiful to look at, and the flushed rivets ensure the pan is durable yet easy to clean.
To top it all off, the Hestan skillet has approximately 20% more cooking surface area than similarly sized pans and is 100% toxin-free, so you know steaks you fry in this beast will be deliciously safe.
You're probably wondering what the catch is to this seemingly perfect Titanium skillet? The price of near-perfection is high. It's very high and will cost you way more than any other steak pan in this article.