Best looking and performing pink cookware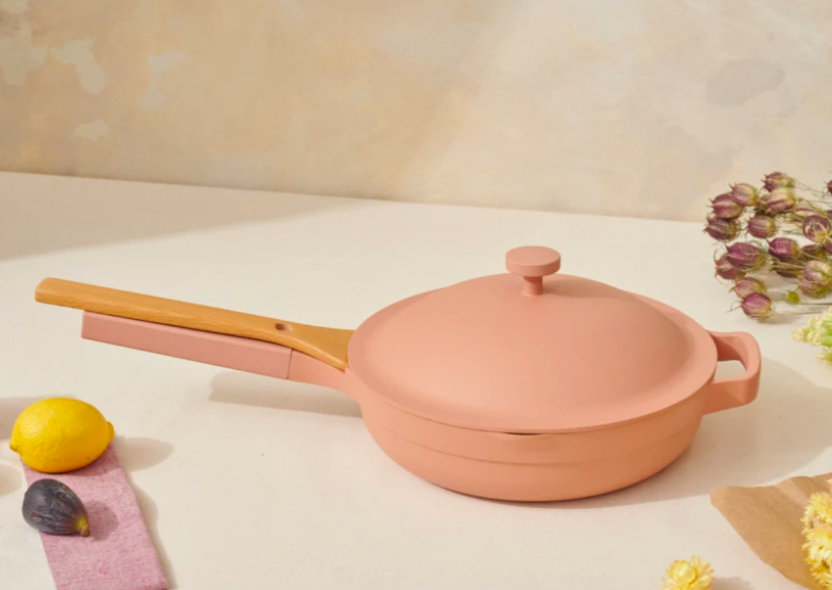 Disclaimer: we may receive commissions from purchases made via our links at no cost to you
In this review, I will look at some of the best cookware sets and individual pieces that are available to buy in the color pink.
This review is for home shoppers who are looking into purchasing new pink cookware or pots and pans. You will find that each one offers something different from the rest and can be a great place to start your search. If you're not sure what type of cookware you should look for, this list will help you decide.
These products have been reviewed based on their quality and price, among other features such as versatility, ease of use, and durability, to provide a comprehensive overview of some high-quality pink products available on the market.
Caraway Ceramic-Coated Cookware Set (Perracotta)
 Set Includes: 
Fry Pan
Sauce Pan & Lid
Saute Pan & Lid
Dutch Oven & Lid
Pan Storage Facility
Things We Love
Contemporary Design: Caraway's cookware design is super-sleek and more suited to a more forward-thinking home chef. The subtle 'perracotta' (think a pink-ish terracotta) coloring, lustrous stainless steel handles, and overall style are perfect for a modern kitchen.

Heats Up Quickly: Caraway's cookware heats up fast, so there's no hanging around waiting. Get your meals on the table much more quickly than you would with many other brands.

A Healthier Option: While ceramic-coated cookware isn't as healthy as a full-ceramic piece like the pans you'll get from Xtrema, this style of cookware is much healthier than non-stick coated products.

Eco-Friendly: This set of Caraway pots and pans is ethically produced in eco-friendly manufacturing plants, so buying pink cookware from this brand isn't only good for your health, it's good for the environment too.

Comes With Storage Solutions: Pots and pans can be a pain to store because of their bulky nature. Caraway provides a clever pan storage facility as standard with their cookware set.
What's Not To Like?
Poor Performance With Induction Appliances: While Caraway markets their cookware set as induction compatible, I noticed a drop in performance when using them on an induction cooker compared with a standard range.

Not Effective at High Temperatures: The effective heating of Caraway's cookware I talked about earlier is, unfortunately, not matched with high-temperature performance, which means these pots and pans struggle to reach and maintain high heat associated with specific cooking methods.

Handle with Care: The ceramic coating has been known to chip away from the cookware, so you'll need to be careful when handling and washing your pans.

Relatively Expensive: While many cookware products are way more expensive than Caraway's pots and pans, they're still pretty expensive for a relatively small set.
GreenLife Soft Grip Ceramic Non-Stick 16 Piece Cookware Set (Pink)
GreenLife Soft Grip Healthy Ceramic Nonstick 16 Piece Kitchen Cookware Pots and Frying Sauce Saute Pans Set, PFAS-Free with Kitchen Utensils and Lid, Dishwasher Safe, Soft Pink
SET INCLUDES: 4" mini frying pan, 7" and 9.5" frying pans, 1QT and 2QT saucepans with lids, 5QT stock pot with lid, 2.5QT sauté pan with lid, 7" stainless steel steamer, and 4 kitchen utensils
HEALTHY CERAMIC NONSTICK: Our healthy and easy-to-clean ceramic nonstick coating is derived from sand and delivers effortless release with quick cleanup
TOXIN-FREE: Our coating is free of PFAS, PFOA, lead, and cadmium so you can make every meal healthier
The 16 piece cookware set from GreenLife is a super versatile set that's very affordable and perfect for first-time homebuyers looking to furnish their kitchen. This large cookware set comes with a ton of accessories and stay-cool 'Soft Grip' handles for maximum comfort.
However, because they're so affordable, they do suffer from longevity issues.
Set Includes:
4" Mini Frying Pan, 7" Frying Pan
9.5" Frying Pan
5-Quart Stock Pot & Lid
1-Quart Sauce Pan & Lid
2-Quart Sauce Pan & Lid
Saute Pan & Lid
7" Stainless Steel Steamer
4 Multi-Purpose Nylon Kitchen Utensils
Things We Love
It's Very Affordable: For the price of a single skillet from 'Made In' or Crockpot from 'Le Creuset,' you can buy this large 16 piece cookware set that is ideal for cooking entire meals for mid-sized families.

Made From Recycled Materials: As their name suggests, GreenLife focuses on sustainability and environmentally friendly products. Their 16-piece cookware set is made primarily from recycled aluminum.

Tons of Accessories: What makes this set an excellent choice for someone looking to furnish their kitchen is the extras that come with this set. Alongside the assortment of seven pots and pans, you get four kitchen utensils and a stainless steel steamer. This set covers all the bases for basic home cooking.

Soft Grip Handles For Ease of Use: The 'soft grip' handles fitted to GreenLife's cookware not only feel comfortable in your hand, but they also stay cool when cooking so you won't burn your hand.

Good For Your Body & T Environment: GreenLife is committed to minimizing the impact its manufacturing makes on the environment. At the same time, their ceramic coating is derived from sand and is free from PFAs and PFAO, so it's healthier than traditional non-stick.

Super Easy To Clean: If you follow GreenLife's best practices for product maintenance, you'll find your pink cookware is easy to clean even when they're cold. In fact, the brand advises that you wipe the mess from the pots and pans once they've cooled down.
What's Not To Like?
Poor Longevity: It may come as no surprise that because this pink cookware set is so affordable that it doesn't have the durability of more high-end products. The effectivity of the ceramic non-stick coating (and, by extension, the ease of cleaning) will begin to wane after approximately six months to a year.

Prone To Staining: While the light pastel pink looks lovely right out of the box, the color will quickly fade and stain, so they don't stay looking new for very long.

Soft Grip Handles Can Burn: The ergonomic soft-grip handles are comfortable to hold and keep you from burning your hand. But if you get them even remotely close to the flames, they can melt slightly and give off a noxious odor.

Use For Medium Heat Only: GreenLife's instruction manual states this cookware can only tolerate heat of up to 350 degrees.
The Our Place "Always Pan"
The Always pan is a superb piece of innovation that's both space-saving and eco-friendly. Designed to replace seven pieces of cookware from your kitchen, this single pan can act as a fry pan, saute pan, steamer, skillet, saucier, saucepan, non-stick pan. While the Always pan can free up a lot of space in your kitchen, it is pretty pricey for a single pan.
Set Includes:
The Always Pan & Lid
Stainless Steel Nesting Basket
Beechwood Spatula
Things We Love
It's Absolutely Gorgeous: In my opinion, this pink pan (also available in a wide range of other colors) is the most beautiful piece of cookware on this list. It manages to incorporate modern ingenuity with a rustic aesthetic that's perfect for a more traditional kitchen.

So Much Versatility: Cooking with this pan is so much fun because you can do almost anything with it. Our Place designed this pan to replace as many pieces of cookware as possible so you can saute, fry, boil, steam (thanks to the steamer basket), and broil without ever switching pans.

Modular Lid: The clever lid design lets you release steam or keep it contained by twisting the lid to either open or seal the pour spouts. So simple but works like a charm.

Ethical Standards: While most brands claim to be ethical and eco-friendly these days, Our Place is one of the most sustainable brands on the market. From the materials to the manufacturing and packaging, this brand does its best to maintain its ethical standards.

Spatula & Holder: The included spatula is a nice piece of kit, and it's specially designed to connect to the pan's handle so you can rest the spatula there when you're cooking. No more messy kitchen surfaces.
What's Not To Like?
It's a Little Spendy: Yes, the Always pan is designed to function as multiple pieces of cookware, which it performs wonderfully. However, it's on the small side, and you can only use it as one pan at a time, so the hefty price tag means it could be out of some people's budget.

Poor Induction Performance: The Always pan has a lackluster performance when used on induction cookers. Despite the aluminum core, it doesn't work as well as it does on other ranges.

It's Not Oven-Safe: You can't use the Always pan in the oven, which may be a deal-breaker for some people.
Kochstelle 13 Piece Pink Marble Cookware Set
Non-Stick Marble Cookware Set, 13Pieces, Rose Gold, Kochstelle
Set Includes: Casseroles 20, 24, and 28 cm whit lid, Deep fry pan 28 cm whit lid and fry pan 26 cm + 2 sets of soft touch handles silicone protectors.
High-performance PFOA Free non-stick coating, Easy Cleaning
Evenly heated -IMMEDIATE HEAT TRANSMISSION. Dishwasher Safe
The unique aesthetic of the Kochstelle pink cookware sets it apart from all other products on the market. But not only is the pan's design different from almost any other pink cookware set, but they're tough, work well on induction cookers, and they're incredibly affordable too.
Set Includes:
8" Casserole Pot & Lid
9.5" Casserole Pot & Lid
11" Casserole Pot & Lid
10" Fry Pan, 11" Rice Cooker & Lid
two pairs of Silicone Protectors
Things We Love
Beautifully Original Design: Beauty is subjective. While I recognize that the styling of this cookware set might not be to everyone's taste, I love the pink marble finish and diamond-patterned exterior.

Works Superbly With Induction Cookers: Induction ranges are notoriously challenging to manufacture effective cookware for. Consumers report the Kochstelle range of cookware performs ridiculously well on induction cookers.

Well Priced: Though this cookware set is marginally more expensive than the GreenLife set of pots and pans and has three fewer pieces, it's still has a relatively low price and is an excellent choice for people looking for an extensive set of cooking tools.

'Immediate Heat Transfer': Kochstelle cookware heats up almost instantaneously, far faster than virtually any other style of cookware, and it's great for people with limited time in the kitchen.

Robust Non-Stick Interior: The ceramic, marble interior of these pans is not only tough and abrasion-resistant, but you can also cook without using any oil at all, making it doubly healthy.
What's Not To Like?
Easily Scratched: The beautiful pink exterior is prone to scratching if you're not super careful, which is not uncommon for cookware, but these pots and pans seem particularly susceptible to damage.

Casserole Pot Handles Get Super Hot: The pot lid handles somehow manage to stay cool enough to touch, yet the side handles get exceedingly hot, which is probably why Kochstelle chose to include silicone protectors as standard.
Crock Pot Artisan 5-Quart Dutch Oven
If you know how to utilize one properly, dutch ovens are one of the most versatile pieces of cookware you can buy. And the pink Artisan Crock-Pot is a beautiful iteration of this kitchen classic. The cast-iron construction and porcelain enamel finish make this dutch oven super robust and an excellent heat distributor.
Set Includes:
Things We Love
It's a Timeless Classic: A home chef's kitchen isn't complete without a dutch oven, and the Crock-Pot Artisan pink dutch oven is a thing of beauty.

'Self-Basting Lid': What Crock Pot calls a self-basting lid is, in reality, a lid that fits perfectly to the dutch oven forming a tight seal for unrivaled steam retention. The results of which are perfectly cooked and juicy food.

Excellent with High Temperatures: Unlike some of the products I've looked at in this article, the Crock-Pot Artisan pink dutch oven thrives on high-temperature cooking. The cast-iron construction is the perfect material to withstand the super-hot temperatures associated with broiling and pan-frying steak.

Large Handles: You'll use this piece of cookware for cooking in the oven most of the time, so it's crucial you use an oven mitt, so you don't burn yourself. The large handles on this dutch oven make it easier to hold and transport from the range to your work surface.
What's Not To Like?
It's Ridiculously Heavy: While the large handles make it easier to carry than would smaller ones, on its own, the Crock-Pot dutch oven weighs in at almost 15lbs, and when it's full of food, it's even heavier. Not one for the faint-hearted.

Enamel Coating Prone to Chipping: Multiple consumers have suffered from their cookware getting chipped after heavy use. While the cast-iron structure is super robust, it appears the coating is not.
GreenPan Padova Ceramic Coated Blush Pink Cookware Set
Sale 25%
GreenPan Reserve Hard Anodized Healthy Ceramic Nonstick 10 Piece Cookware Pots and Pans Set, Gold Handle, PFAS-Free, Dishwasher Safe, Oven Safe, Blush Pink
SET INCLUDES: 8" and 11" frying pans, 2QT saucepan with lid, 6QT stock pot with straining lid, 8 QT stock pot with lid, and 2.8QT sauté pan with lid
REINFORCED WITH DIAMONDS: GreenPan's original diamond-infused nonstick coating offers remarkable durability, balanced heating, and effortless cleanup
TOXIN-FREE: GreenPan's Thermolon healthy ceramic nonstick coating is free of PFAS, PFOA, lead, and cadmium
The GreenPan blush pink cookware set is an extensive collection of pots and pans with a hard-anodized diamond reinforced construction for cooking at unbelievably high temperatures. The cookware's aesthetic is definitely a question of taste, and it'll put a hefty dent into your bank balance.
Set Includes:
11" Fry Pan, 8" Fry Pan
2-Quart Saucepan & Lid
2.5-Quart Skillet & Lid
3-Quart Casserole Dish & Lid
8-Quart Stockpot & Lid
Things We Love
Excellent Performance: The Thermolon ceramic non-stick coating is healthy and coupled with the aluminum body, it makes sure the GreenPan cookware performs exceedingly well. Furthermore, this type of cookware will never leech toxins into your food.

Forged Base: Some cookware brands have products that warp over time. These pans have a thick forged base to stop them from getting bent out of shape.

Safe Up To 600 Degrees: Thanks to the hard-anodized diamond reinforced construction, this GreenPan cookware can withstand temperatures of up to 600 degrees, so you can cook almost any meal imaginable.

Oven-Safe Tempered Glass Lids: The tempered glass lids that come with GreenPan's cookware set are oven-safe up to 450 degrees, giving the set even more versatility.

Dishwasher Safe: Cleaning the GreenPan Padova cookware set couldn't be any easier as the pots and pans are dishwasher safe. Even if you don't have a dishwasher the clean-up process is relatively straightforward.
What's Not To Like?
Comes With an Exorbitantd Price Tag: The GreenPan pink cookware set is easily the most expensive product on this list. While sometimes paying high prices for premium quality products still provides value for money, the next point in my "What's not to like" section brings that into question.

Pots & Pans are Easily Damaged: Despite GreenPan's claim that the diamond-infused coating makes their pans exceedingly robust, multiple consumers report that their cookware scratches and chips after only a few uses. Considering the massive price point of this set, that is entirely unacceptable.