KitchenAid 5-ply Cookware in-depth review
Disclaimer: we may receive commissions from purchases made via our links at no cost to you
KitchenAid 5-ply Stainless Steel 10-piece set
After a few weeks of testing the KitchenAid 5-ply pans and pots, we have been truly impressed. The 12.25" frying pan offers one of the best performances in its category. The products have a high-quality construction that ensures durability. Combined with a lifetime warranty this cookware should last for decades.
What this line of cookware offers is mind-boggling when you compare the price to other 5-ply cookware. KitchenAid makes this set in China but still manages to keep the material and build quality very high.
We think the KitchenAid 5-ply 10-piece cookware set is one of the highest value stainless steel sets you can get. Especially when it's on sale!
The KitchenAid brand is most often associated with mixers and other simple appliances. However, this time we had an opportunity to review their cookware line.
KitchenAid has some rather confusing cookware lineups which differ between stores. We were able to find these sets:
3-ply Base Stainless Steel – just basic stainless steel cookware with a 3-ply aluminum base. Not to be confused with 3-ply clad cookware.
3-ply Copper – a basic set, made of copper on the outside, aluminum in the middle and stainless steel inside.
5-ply Stainless Steel – full clad cookware with 2 outer stainless steel layers and 3 layers of aluminum
5-ply Copper Core – very similar to the 5-ply stainless steel set, the only difference is the middle layer being copper instead of aluminum for improved heat distribution.
Hard Anodized Induction – hard-anodized aluminum cookware with stainless steel base for induction compatibility.
For our review, we got 3 pieces of Kitchenaid 5-ply cookware: 12.15" fry pan, 8-quart pot and 8.25-inch fry pan.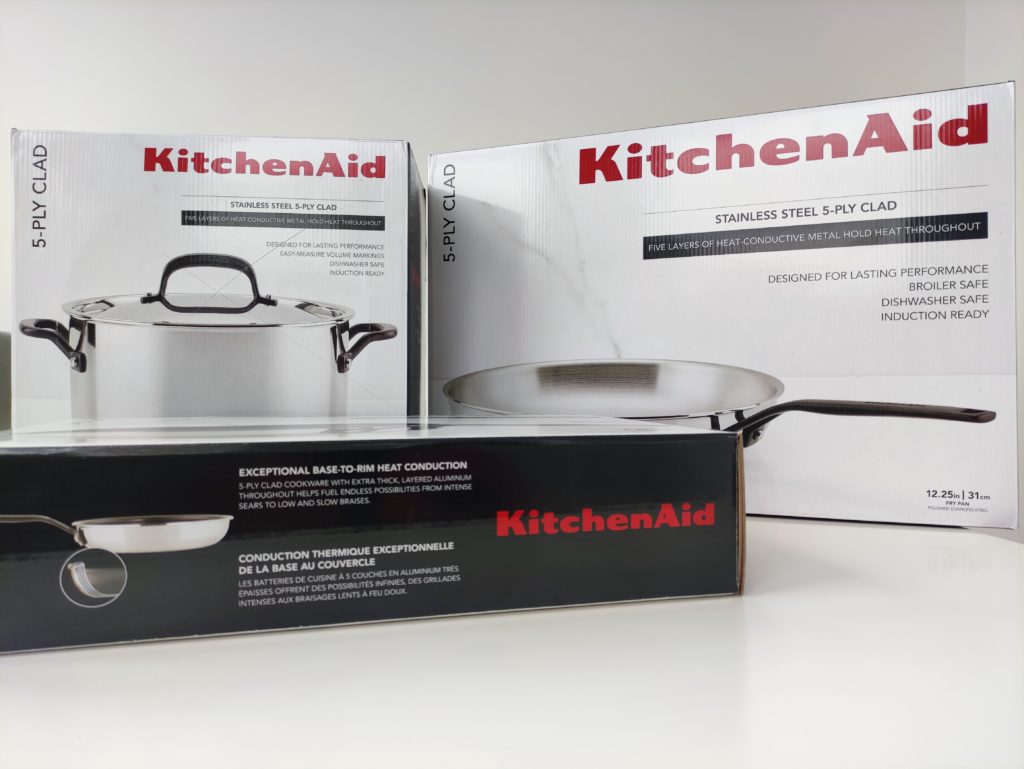 Packaging
Each of the 3 pieces came in well-made and strong carton boxes. Each box has an image of the pan or pot, product information, and the main features. Product information is provided in English and Spanish languages.
Inside the box, there is an additional carton frame to protect the cookware. Each product is wrapped in a plastic bag as is common in the cookware industry. You will also find a manual that explains how to use and take care of the pans. Instructions are provided in multiple languages.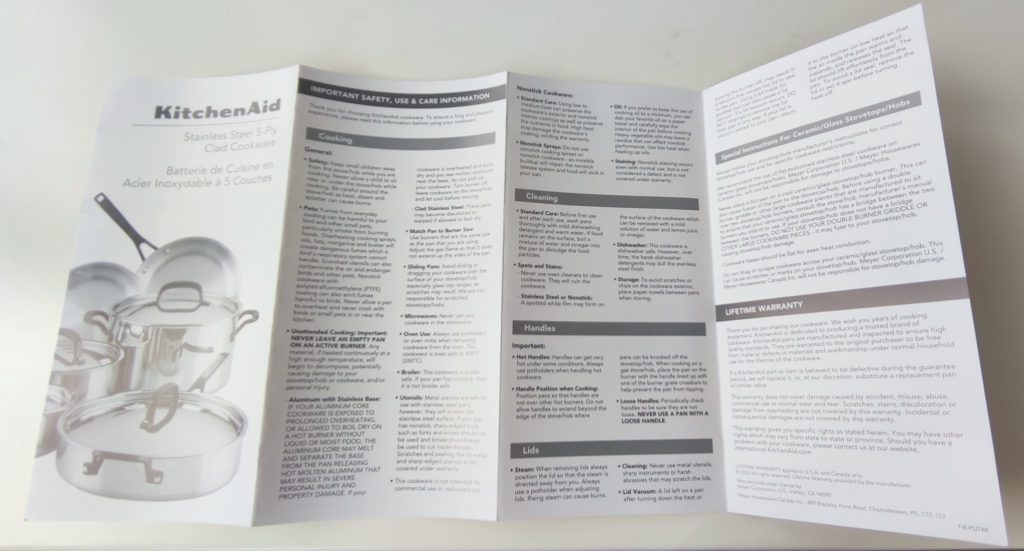 Overall the packaging is above average – it doesn't provide much excitement like Made In or Proclamation Goods but is more interesting than plain cardboard from 360 Cookware. The most important thing is that it keeps the cookware safe from shipping damage.
KitchenAid 12.25" Fry Pan
KitchenAid 5-Ply Clad Polished Stainless Steel Fry Pan/Skillet, 12.25 Inch
FIVE-PLY HEAT CONDUCTION: Three layers of an extra thick, heat conducting aluminum between two layers of stainless steel hold optimum heat from base to rim for endless possibilities from intense sears to low and slow braises
LASTING CONSTRUCTION: Fry pan is crafted from heavy-duty 5-ply clad stainless steel and features a unique brushed base to hide wear and tear for long-lasting durability
COOK IN STYLE: Unique black stainless steel handles are dual-riveted and provide a sleek table top presentation
Design and construction
We are big fans of matte surfaces on cookware. As such, the brushed stainless steel interior instantly caught our eye when unboxing the pan. It gives a premium look to the product and also makes it easier to keep clean. There is a polished stainless steel surface on the outside of the pan. Unfortunately, that might be troubling to take care of even if the surface looks great while new.
The 5-ply construction feels strong and robust. Three-millimeter thickness is among the best in the market and should provide amazing performance and durability.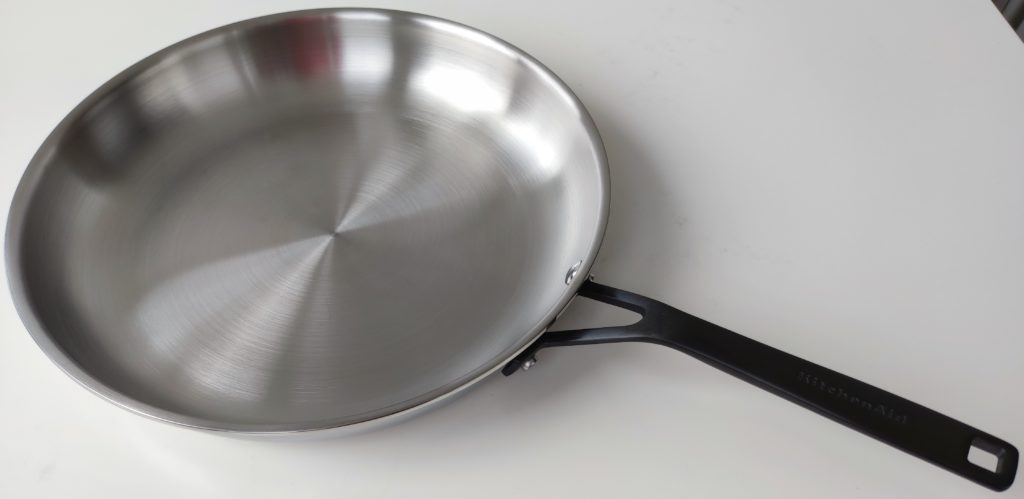 Officially, it's measured at 12.25" but our measurements show that it is 12.40" from rim to rim. There's a 9.45" diameter cooking area which puts their frying pan among the best in the market. Although it might seem not much when cooking for a family of 4 we have certainly noticed increased practicality of fitting more food to the pan. The downside is that it might be hard to find a lid that fits if you use one. KitchenAid themselves, unfortunately, don't offer lids for their 12.25" fry pans.
The height of the pan is almost 2 inches. It's a little bit lower than most other 5-ply pans in the market. However, the lower than usual height will have no impact in nearly any cooking scenario. Additionally, it saves some weight.
Another design choice made by KitchenAid that we like is the matte black handle. The handles are made from stainless steel and attached with 2 rivets. It stands out because the vast majority of multi-clad stainless steel cookware comes with brushed or polished stainless steel handles. Yet, the handle is rather short for this size pan measuring 7.7" from the rim. It also has a hole at the end which is useful if you want to hang the pan.
Handling
The 12.25" pan weighs 3.4 lbs (1.54kg). Which's quite impressive for such a size. Only the 360 Cookware 11.5" pan weighs less; however, it offers less cooking area. Both Proclamation Goods and Misen frying pans weigh a little more (by 0.16 lbs and 0.28 lbs respectively) and offer the same cooking area. This indicates that KitchenAid has used a thicker layer of aluminum which is lighter than stainless steel.
The handle is quite thin and flat, letting you grab it at any place that is most comfortable for your hand instead of limiting your choice to a single point. However, it might not be as comfortable if you have larger hands.
For us, handling was certainly among the best that we have tried. As the weight is rather low and the handle is comfortable, the pan gives a great handling experience even when the pan is filled with food.
Performance
Performance
So far we have been really impressed with the KitchenAid pan but, as always, the most important thing is its performance.
Induction
It only takes 5.5 minutes to reach 392 F (200 C) for this pan on our induction stove. This is the 2nd best result of all the pans we have reviewed. KitchenAid is losing only to the Proclamation Goods stainless steel pan.
Another impressive result comes from the aluminum core layer. It has managed to keep the temperature difference between center and side measurement points under 90 F (32.2 C) which puts it right at the top. Rapid heating time and good heat distribution is a promising result. It's definitely something that you would notice when using the pan daily.
The heat retention wasn't as great, though. It took 6.5 minutes to cool below 212 F (100 C). Given that it heats up so fast this result hasn't surprised us. It will perform fine when searing a steak but you might want to let it heat a little when searing multiple pieces of meat back to back.
The handle has also managed to stay cool during our induction test reaching 104 F (40 C).
Glass
The performance on a glass top stove wasn't as impressive but it still held up well compared to other 12" pans. It took 4 minutes to heat up and 15 minutes to cool down. Both of these results are average for this category.
Heat distribution was also good but not the best. The difference reached 180 F (82 C) between the center and side measurement points.
The handle however still managed to keep the heat low finishing at a very similar result to the induction test 106 F (41 C).
Cooking performance
The pan performs great at daily cooking tasks. We made our beloved scrambled eggs with bacon, mushrooms, onion, and paprika as our first test. First, we heated the pan for about 5 minutes on medium heat. We placed the chopped bacon into the pan and lowered the heat. There were no problems related to sticking. The bacon managed to release its fat and become almost crispy.
We cooked the onion, mushrooms and paprika in bacon fat and, again, the process was a breeze. Even with a larger than usual portion, the bigger size of the pan made this easy.
However, the toughest part for any stainless steel pan is cooking eggs. Eggs didn't stick at first, yet, after a few minutes, some of the egg was already stuck to the pan. This is not a bad result for stainless steel pan as you shouldn't be expecting to have the same result as with a nonstick.
Cleaning and Care
Cleaning the KitchenAid frying pan is easy. Even our scrambled eggs didn't require much effort. We used warm water and a wooden spatula to scrape stuck leftovers. Finally, we finished off the cleaning process with a soft sponge.
As with all stainless steel finishes, keeping the pan clean like new is a noticeable more difficult task. While the matte finish hides the spots better than polished surfaces, it's still not very pretty. Additionally, the polished finish on the outside is difficult to keep clean and becomes a fingerprint magnet.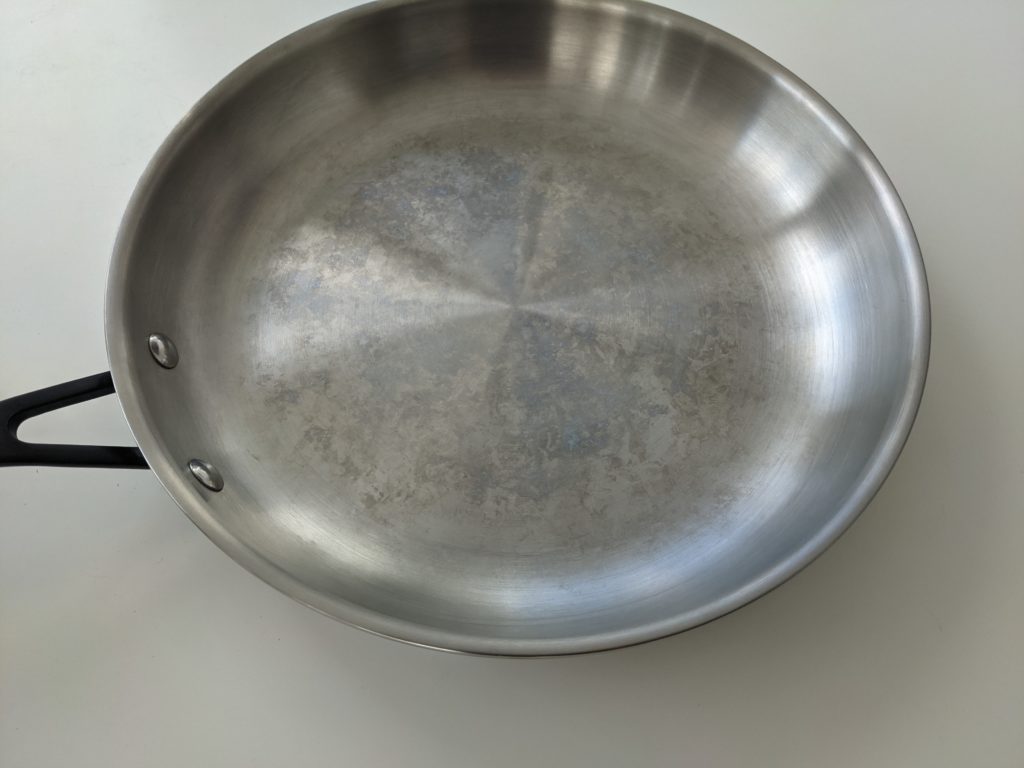 This pan doesn't have a helper handle so you need less space for storage. In addition, the lower height also helps with easy storage. Finally, the total length of the pan from rim to handle is 16.14".
KitchenAid 8 Quart Stock Pot
KitchenAid 5-Ply Clad Polished Stainless Steel Stock Pot/Stockpot with Lid, 8 Quart
FIVE-PLY HEAT CONDUCTION: Three layers of an extra thick, heat conducting aluminum between two layers of stainless steel hold optimum heat from base to rim for endless possibilities from intense sears to low and slow braises
LASTING CONSTRUCTION: Pot is crafted from heavy-duty 5-ply clad stainless steel and features a unique brushed base to hide wear and tear for long-lasting durability
MEASURE WITH ACCURACY: Transform recipes in the moment with etched measuring marks on the stockpot for adding key ingredients
Design and construction
The stockpot carries the same construction and design as the frying pan. It has a brushed stainless steel interior and polished exterior. Additionally, the same 5-ply construction and 3mm thickness feel very high quality.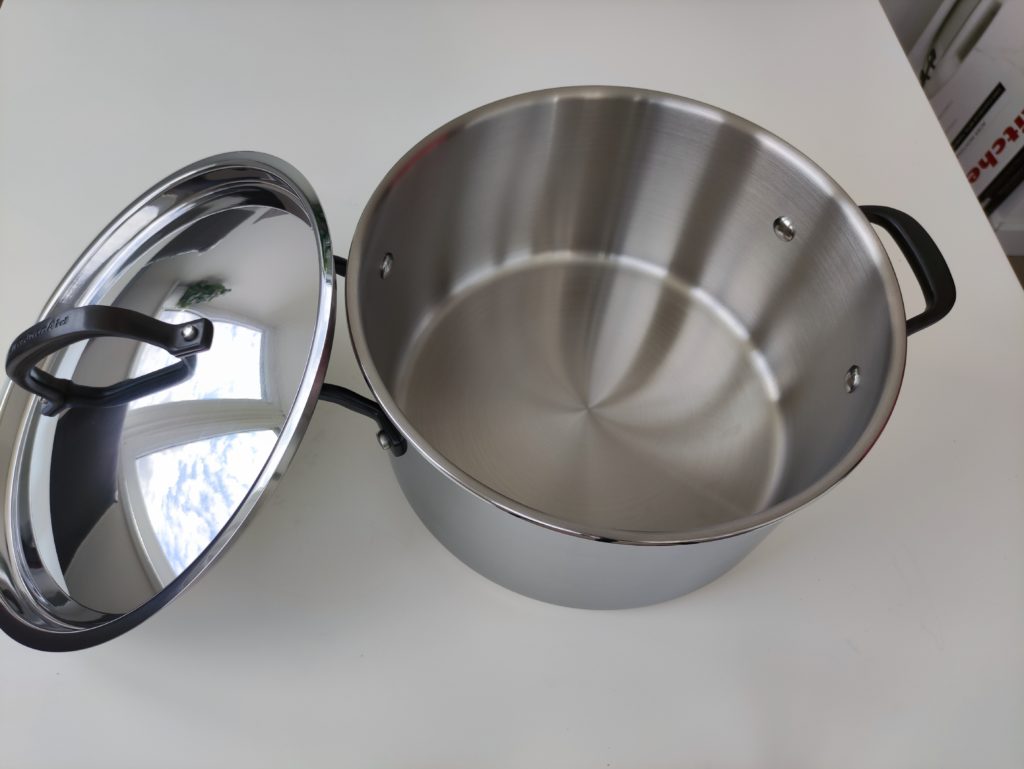 It's a big pot, nearly the absolute largest we would recommend for home use as it's 10.8" from rim to rim. The cooking area is the same size as for the frying pan 9.45". The same construction and cooking area make this pot perfect for soups, stews and other dishes that require sauteing vegetables and searing the meat before adding liquids. You can use a single KitchenAid pot for all cooking processes!
KitchenAid's pot height measures at 5.8" and can store 8qt. There's enough volume for about 8 people so it will be enough for daily use and when guests arrive.
KitchenAid stockpot comes with a lid with a mirror finish on the outside. Their lid is shaped like a cone which seems to trap the moisture better than most other shapes.
Both the pot and lid handles are made from black stainless steel and attached with two rivets each. They feel very robust and of high quality.
Handling
Unfortunately, the large capacity comes with the cost of additional weight. Pot weighs 5 lbs (2.26kg) and the lid adds 1.3 lbs (0.6kg). It's not light but the handles are wide and very comfortable to use so it doesn't feel that heavy even with food inside. Handles are 1.8" in length and about 2.3" in width on the inside so it's easy to grab them even when using oven mitts or a kitchen towel.
It seems that the handle design works great for pans and pots and we feel that every other item from KitchenAid 5-ply lineup would have very comfortable handles.
Performance
Induction
The induction performance is excellent. The KitchenAid pot conducts the energy very well and should work on basically any induction stove. It took 6 minutes and 8 seconds to boil 2 quarts of water – a very impressive result. The pot also holds the heat very well as it took 10.5 minutes for 212 F (100 C) temperature to drop to 194 F (90 C).
Handles do become very warm during use, however. Luckily, you could still grab them with your bare hands without burning them. The lid handle, however, became too hot to hold with bare hands even if it wasn't blazing.
Glass
The KitchenAid stockpot continues to perform great when put on a glass top stove. It took 11 minutes and 42 seconds to boil 2 quarts of water and almost 26 minutes for the water temperature to drop to 194 F (90 C).
Unfortunately, the side handles became very warm during the test reaching 115 F (46 C) and the lid handle had the same issue of getting too hot to touch at 134 F (57 C).
Cooking performance
As we have mentioned before, this pot can cook as well as the KitchenAid's frying pan. We sauteed onion with garlic and a touch of olive oil, then we added ground beef and fried it until it browned a little. We found that the pot managed to show the same performance as the frying pan. We then added the rest of the ingredients and beef stock. KitchenAid's pot made the whole process very easy and didn't require another pan to make the soup.
Cleaning and care
The brushed inside layer is easy to clean like most other stainless steel cookware. However, the large size makes it not as comfortable to wash in a sink and takes lots of space if you wash it in a dishwasher.
The polished surface on the outside requires lots of care to clean. It attracts fingerprints like a magnet. Any other stains require more work than usual to remove. If you want to keep it perfectly clean we recommend using a stainless steel cleaner after each use.
Like all other stainless steel cookware, water stains remain a problem. We wash our pots and pans by hand and even after drying them, we get lots of water spots. They don't affect performance in any way, but might ruin the look for some. Once again, a stainless steel cleaner could help with that.
KitchenAid 8.25" Nonstick Fry Pan
Sale 20%
KitchenAid 5-Ply Clad Polished Stainless Steel Nonstick Fry Pan/Skillet, 8.25 Inch
FIVE-PLY HEAT CONDUCTION: Three layers of an extra thick, heat conducting aluminum between two layers of stainless steel hold optimum heat from base to rim for endless possibilities from intense sears to low and slow braises
LASTING CONSTRUCTION: Skillet is crafted from heavy-duty 5-ply clad stainless steel and features a unique brushed base to hide wear and tear for long-lasting durability
PREMIUM FOOD RELEASE: KitchenAid stainless steel pan is finished with triple layer nonstick to stand up to daily wear and tear
We don't usually test pans smaller than 10" but in this case, we had to make an exception. The reason for that is because it's the only non-stick option in the 5-ply lineup.
This small pan is made using the same 5-ply construction and we think it's overkill for such a small size. You can fit maybe 3 eggs or a few bacon strips. The pan measures 8.5" from rim to rim and the cooking area is 5.9" in diameter. It's certainly designed for a single person's cooking needs.
The black stainless steel handle is attached with 2 rivets. It's 6.5" in length and provides the same comfortable grip as others from the same lineup of cookware. We think that the black color looks even better with the black nonstick interior.
The pan heats evenly and rapidly but we haven't measured exact heat distribution, heating and retention times as we don't have any data for comparisons. The nonstick also performs great, as, for example, eggs easily slide on the surface.
After a few uses, the nonstick surface still looks as new. We can't use this pan for our long-term tests as it is too small for most of our cooking needs.
Cleaning the pan is much easier compared to stainless steel variants. Obviously, it's due to the non-stick inside layer but even the outside one has a very little polished area which makes it easier to look clean.
If KitchenAid would release a nonstick version of their 12.25" fry pan it could be a very strong contender for our best nonstick pans list. Unfortunately, we can't recommend buying this pan – it's too small for most and rather expensive for what you get.
Final Thoughts
Kitchenaid have really managed to combine great performance, high quality and fair price to the 5-ply line of cookware. We think this is way better value than All-Clad or Viking and it competes with direct-to-consumer brands like Made In, Misen and 360 Cookware. The only downside is that these are made in China and that's the reason why they are able to keep the costs down. If you are fine with that then go ahead and buy this but if you want cookware made in the USA then choose one of the brands mentioned above.