How To Cook Pancakes in a Pan
Disclaimer: we may receive commissions from purchases made via our links at no cost to you
Who doesn't enjoy eating a pancake?
Pancakes are an amazing and yet simple creation, only requiring a few simple ingredients, and can be enjoyed as a meal for breakfast, filled with assorted ingredients to create a savory lunch, or drowned in sweet toppings to create a fantastic dessert.
The perfect pancake requires an excellent recipe, the skill, and panache to flip without looking silly, inspiring fillings, and the right equipment.
Let us delve into the world of pancakes, and explore what makes a great recipe, the techniques required to flip a pancake, what are some of the best fillings you can enjoy, some tips on how to cook and keep a stack of pancakes for a crowd. And most importantly what equipment you are going to need to master the art of cooking pancakes.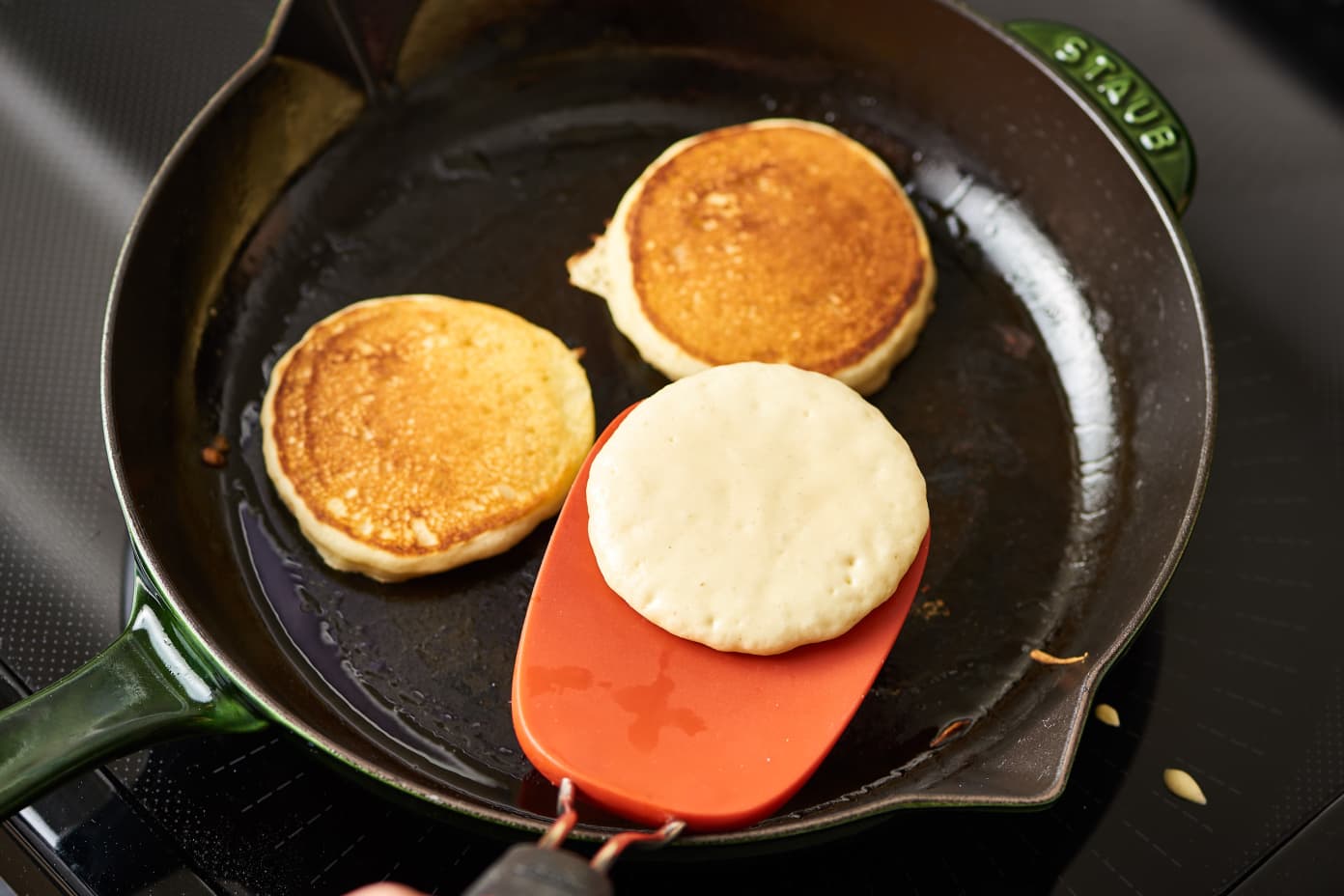 Whether you enjoy sitting down to a high stack of American-style fluffy pancakes or super thin crispy crepes, making pancakes doesn't require more than a good general-purpose nonstick fry pan. A good pan of choice needs to be shallow, flat, and have a small lip to facilitate the important flipping of the pancake.
However pancake aficionados will tell you, it is a must to own a specialist pancake pan.
Specialist pancake pans/crepe pans are constructed to specifically cook pancakes and crepes. They are designed with a flat thin metal nonstick base which provides even heat distribution and even cooking.
When heated, the pan will heat quickly and evenly, allowing crepes or pancakes to cook quickly and evenly without burning the base of the pancake.
The best pancake/crepe pans are constructed from an assortment of materials, including cast iron, nonstick surfaced aluminum, and stainless steel.
Stainless steel and cast iron pancake/crepe pans are heavy, require regular seasoning and maintenance to prevent pancakes from sticking to their surface, as well as require high heat to allow the pancake to separate from the base of the pan. Many cooks and chefs will tell you that cast iron crepe pans produce the best pancakes and crepes because the pan's seasoning, when heated will produce a smokey flavor that becomes baked into the pancake or crepe. Some of the most expensive stainless steel pancake/crepe pans will come coated with a durable nonstick surface that does not require seasoning.
Despite their ability to perform well, stainless steel and cast iron pancake/crepe pans are more suited for an experienced cook. Whereas aluminum nonstick pans are more suited for the everyday home cook.
Cheaper crepe pans made from aluminum will have a nonstick coating which is not durable, scratches easily, and can be harmful if ingested. However, more expensive aluminum pancake/crepe pans are constructed from hard-anodized aluminum and designed with three layers of durable and chemical-free coatings that won't chip or scratch when used. These aluminum pans are ideal for home kitchens as they are non-stick, lightweight, require no or little oil to cook with, easy to clean, and require little to no maintenance.
Pancake Recipe and Technique
This easy no-fail recipe is quick, easy, and all the ingredients for it you will already have in your kitchen. It is foolproof and creates pancakes that are light, fluffy, and delicious, and you can add other ingredients like blueberries, chocolate chips, and lemon zest to create a twist, and in under 30 minutes you will have a stack of light, fluffy pancakes ready to drown with your favorite toppings.
Pancake Recipe
Ingredients
250 grams all-purpose flour
50 grams caster sugar
3 teaspoons baking powder
1/4 teaspoon baking soda
1/2 teaspoon salt
2 teaspoon vanilla extract
2 large eggs
65 grams melted butter (plus extra for greasing pan)
250 ml full-fat milk
Method
In a large mixing bowl, sift together the flour, sugar, baking powder, baking soda, and salt in a large-sized bowl, combine together with a wooden spoon and make a well in the center
In a separate medium bowl combine milk, slightly cooled melted butter, vanilla.
Separate the egg yolks from the egg whites, add the yolks to the bowl of wet ingredients. Add the two egg whites to a small bowl and whisk until peaks begin to form.
Use a wire balloon whisk to combine the wet ingredients together.
Slowly fold the wet ingredients into the dry ingredients and mix together until smooth.
Don't over mix the batter, stir until the wet and dry ingredients are incorporated, overmixing will cause the pancakes to be tough and chewy instead of light and fluffy.
The mixture should be nice and thick. Let the mixture rest for 30 minutes. This will allow any lumps in the mixture to settle and break up in the batter.
Once rested, add the egg whites to the bowl and mix well. Let the mixture rest 10 minutes before using.
Preheat your pan on medium heat. Once hot, lower heat to low-medium heat. Wait 1-2 minutes. Lightly grease the pan with a small amount of butter, and wipe away any excess with a paper towel.
To achieve evenly sized pancakes. Use a 60ml measuring cup to pour your batter into your pan.
Start pouring the batter into the middle of the pan, then continue pouring slowly in a circular motion so that the batter spreads into a perfectly even round shape.
Heat for 1-2 minutes or until golden brown and bubbles begin to appear on the surface and flip with a spatula.
Slide your spatula underneath the pancake, and use your wrist only to flip the pancake gently, don't use your whole arm in this action only your wrist, this will allow the pancake to be evenly placed on the pan and prevent it from being lopsided.
Heat on the opposite side for about 1 minute or until edges are golden. Once cooked, remove the cooked pancake from the pan and place it on a grill rack inside a low heat oven to keep warm to serve.
Clean your pan with a dry paper towel between pancakes, this will prevent the butter from burning.
Repeat with the remaining pancake batter until finished.
Serve hot with your favorite toppings and fillings.
Enjoy.