Knives for trimming brisket: how to choose the best one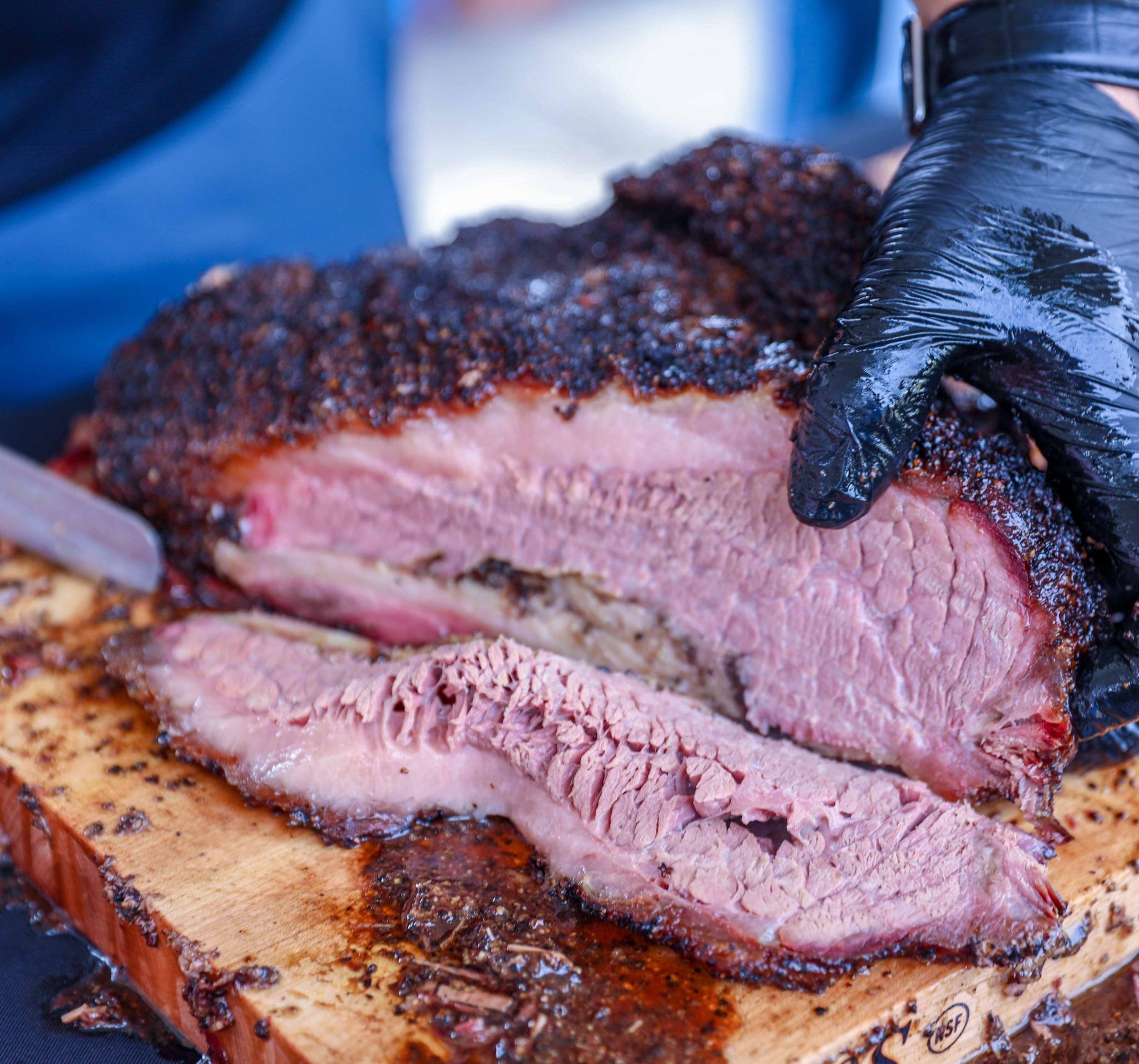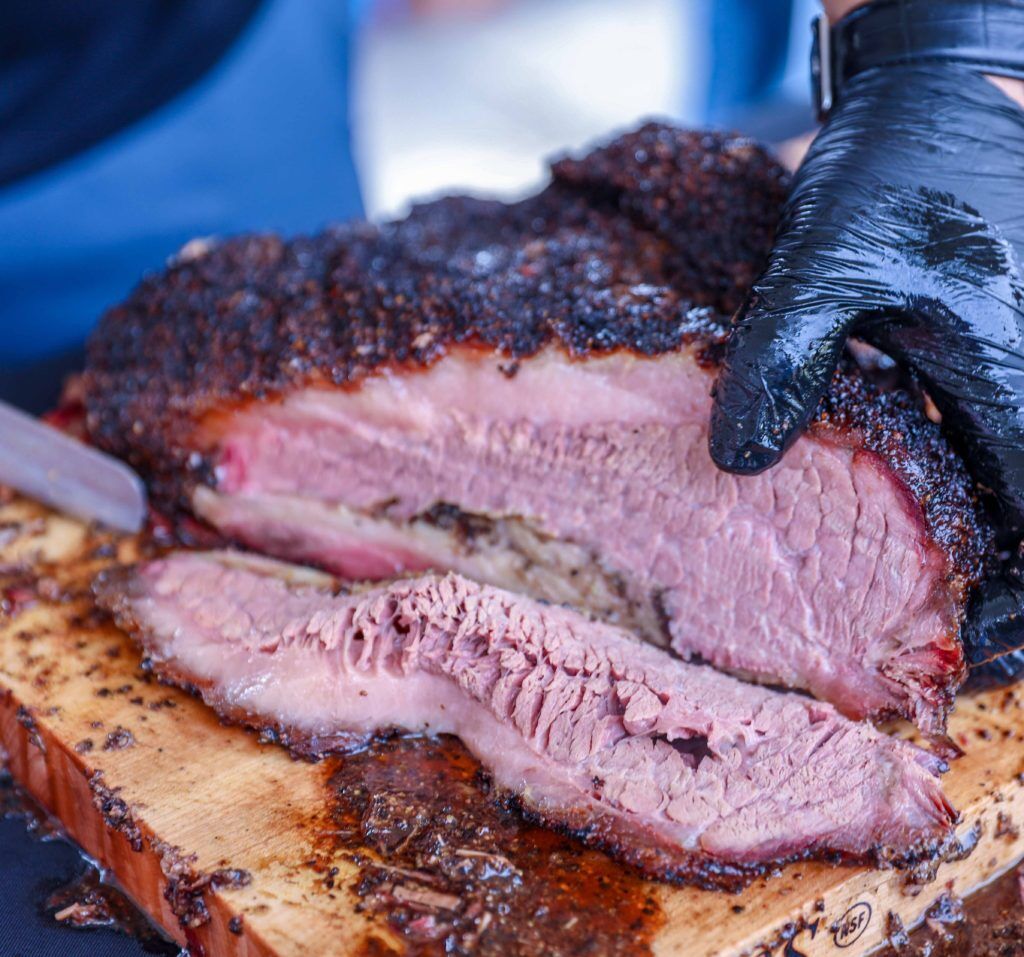 Disclaimer: we may receive commissions from purchases made via our links at no cost to you
Trimming brisket is an essential step in brisket preparation and to getting the best results. First and foremost, it's an effective way of removing the excess fat (the thick cap of subcutaneous fat) on the brisket. It's usually so much and consuming it is not good for health. Trimming the fat before marinating the brisket also helps enhance the overall flavor and taste of the meat as the seasoning and smoke permeate the flesh better.
When you trim the brisket, its shape gets improved too and it as well gets to develop a nice dark and smoky bark. Moreover, the meat gets cooked evenly in every part because it has maximum airflow. No dangling parts that are liable to get charred and dried out during the cook.
In this post, we'll look at everything about knives for trimming brisket, including our best pick, what to look for when making your selection, and how to maintain and care for your knife after trimming brisket, among other useful information. Therefore, keep reading to learn more.
Best Knife for Trimming Brisket
Technically, you can use any knife to trim brisket, but it will take a lot of hard work and time to get results, which are often rough and uneven meat. A trimming knife is completely different as it's very easy to pass through the meat and it slices it evenly and cleanly without shredding it. It's basically the appropriate knife for effectively trimming excess fat to achieve a smooth, uniform brisket.
That said, you would want a trimming knife that has a long (6 to 8 inches long), thin, razor-sharp blade to trim and slice easily. The typical shape should be at least curved so that it can slide under the fat or the silver skin to remove it without really taking any meat off of the brisket.
A trimming knife should also have a somewhat flexible blade since it's easy to maneuver hence more efficient and convenient for slicing meat from different angles. The blade should be made from strong steel that's durable and can hold an edge for a very long time. The handle needs to be comfortable to hold and also provide a firm grip.
Victorinox Swiss Army Fibrox Pro Slicing Knife
The Fibrox Pro Slicing knife offers a good blend of highly effective features and ergonomic design. It has a long sharp Granton blade with a round tip. It's able to trim a brisket cleanly and uniformly without shredding or tearing the meat. It can handle large-sized briskets, both tender and tough, plus the meat or fat doesn't stick on the surface of the blade. The blade is made of a durable high carbon stainless steel and its edge is very sharp right out of the box.
The handle is made of thermoplastic rubber. It's ergonomically designed with a slight curve at the center to provide a comfortable grip. It has a rough-ish texture that keeps your grip stable and secure, plus it's fairly light-weight and the balance is perfect. The only downsides are that it requires frequent sharpening and the sheath is not provided. Generally, if you are looking for the best knife for trimming brisket that's also budget-friendly, then this is the best option.
1. Dalstrong Gladiator Series Professional Breaking Knife
Pros
Curved, Granton edge blade for smooth, even cuts
Extra-sharp edge ideal for tender and tough meat
Long blade that's strong and durable
Really comfortable handle and it's balanced perfectly
Backed by a lifetime warranty and comes with a sheath
Cons
A bit pricey
The handle can slip in the hand when very wet
Why do we recommend it
This is a wonderful knife for trimming brisket. It glides through the meat easily and the long 12-inch, curved blade is able to reach crevices and effectively separate the fat from the meat. It's razor-sharp and has good flexibility. We found that it can slice through soft and tough meat with ease, plus it has rock-hollow divots that reduce friction. We felt much more comfortable when prepping our brisket with it. Our final result was a smooth, even trimmed brisket.
The knife features a great, ergonomic handle made of military-grade G-10 fiberglass laminate. It's well-balanced and triple riveted on a full tang, so it's strong and comfortable to hold, plus it has a large bolster to keep the hand from sliding to the blade. We picked it too for the durability and resilience of the blade. It's a single-piece of high-carbon German ThyssenKrupp steel with hardness level of HRC56+.
2. Mercer Culinary Millennia Granton Edge Slicing Knife
Pros
Long blade ideal for huge briskets
The blade is thin and has a very sharp edge
Granton blade design for smooth brisket trimming result
Has an ergonomic, comfortable handle that's durable
Safe, non-slip handle design
Pretty lightweight and well balanced
Comes with a lifetime warranty
Cons
Not dishwasher safe
It's susceptible to rusting
The handle might be huge for some
Why do we recommend it
This is the best knife for trimming giant briskets or other large meat pieces. It features a 14-inch long sharp blade that's ideal for huge briskets. The blade is made of one-piece high carbon steel which is a quite tough material with minimum maintenance. It's easy to sharpen and keeps its sharpness for a fairly long period. It's feels lightweight and well balance despite its length. The Granton cutting edge design with rounded tip ensures a smooth and uniform cutting action without a lot of exertion or any shredding or tearing of the meat.
The handle fits in the hand well and feels great and durable too. It's a blend of Santoprene for comfort and a tough polypropylene material for durability. It's ergonomically curved to fit perfectly in the hand and features textured finger points for a secure, non-slip grip. It also includes a protective finger guard to ensure a safe and convenient trimming job.
3. Dexter Russell S131F-6PCP Boning Knife for Trimming Brisket
Pros
Very sharp, curved blade that trims neatly
Made of quality and durable carbon steel
Easy to re-sharpen and holds its edge well
The handle is comfortable to hold and use
It offers a tight, non-slip grip
It features fingers guard for extra safety
Cons
Short blade not ideal for trimming large briskets
The blade is not quite flexible
It's likely to rust if not well taken care of
Why do we recommend it
This is the best knife for trimming small to medium-sized briskets. The blade is 6-inch long and made of DexSteel, which is a high-carbon, high-alloy stainless steel. It's not very flexible but the curved design and straight edge makes removing the excess fat from the brisket easier without removing the meat layer. It neatly trims extra fat and it also has a sharp pointed tip that can pierce through any thick fat layer covering the base of the brisket. The blade is extremely sharp and seems to holds its edge well.
The handle is made of polypropylene and is of the right size for most hands. It feels much comfortable when holding it in the hand, making controlling the knife easy. It's coated in "Grip-Tex" which is a special textured material that ensures a firm, slip-free grip while working with the knife. The handle also features fingers guard for extra safety.
4. Kessaku Samurai Series Carving Knife
Pros
The blade is super sharp and has Granton edge
Trims the brisket smoothly and uniformly
The blade retains its sharpness for long
Suitable for trimming large briskets
Strong handle that's comfortable and safe to hold
Comes with a protective sheath for storage
It's backed with lifetime warranty
Cons
Might feel a bit heavy for some
The handle surface is not really non-slip
Why do we recommend it
The Kessaku is a super sharp knife that cuts neatly. It's another great option for trimming large briskets as it has a long 12-inch blade which is made of 7CR17MOV high-carbon steel that's resistant to corrosion and rust. It's thin and surgically sharp, honed to 16-degree on each side. It feels sturdy but has a nice amount of flex to it, making it effective at trimming brisket. It's sharp, Granton edge also allow for smoother cuts which is essential when trimming brisket.
The handle is made of Pakkawood that's protective of heat, cold, and moisture. It's strong and even has a full tang design for added strength. It feels comfortable in the hand and it's properly balanced, not likely to strain the hand much, although the whole knife is a bit heavy. The handle also has a blade guard for safety.
5. Cuisinart CEK-40 Electric Knife
Pros
Powerful motor and razor-sharp blade
Can trim both soft and firm meats
The blade is durable and fairly long, ideal for large briskets
Convenient and efficient for trimming many briskets
Easy to operate and has a safe and comfortable handle
Comes with a butcher block for safe storage
Comes with an additional bread blade
Cons
Doesn't give quite a neat trimming result like manual knives
The power cord can get in the way while trimming
Handle doesn't offer a pretty firm grip
Motor sound can be a bit noisy
Why do we recommend it
We find this Cuisinart electric knife much more convenient for those that don't have the strength to use a manual knife for trimming brisket. It makes the job easier and gets it done quickly and efficiently, especially if you need to frequently trim a large number of briskets. It comes with a stainless steel carving blade that's razor-sharp and suitable for trimming brisket. The motor is powerful (130 watts), making it easy for the sharp blade to trim even thick fat off the brisket. The blade is 8-inch long, which is enough to handle both small and large briskets.
The motor handle is ergonomically designed. It fits comfortably in the hand and it's easy to use for both right and left-handed people. It has a large blade guard to protect the hand when the blade is running. It also features a one-touch pressure-activated on/off trigger that makes operating the motor easy. The power cord is slightly long too, so you can maneuver the knife around the counter or table where you are trimming the brisket without much restriction.
How to Pick the Best Knife for Trimming Brisket
The Blade
This is the first most important consideration since it's what does the actual trimming. There are four main aspects that you need to look at when considering the blade of a knife for trimming brisket:
The Blade Material
A good trimming knife should have a blade made of a durable material that can be sharpened. The common materials are stainless steel and carbon steel. Stainless steel blades offer better resistance to corrosion, rust, and discoloration, but require some care and are not easy to re-sharpen. Carbon steel blades are much easier to sharpen and to keep sharp, but they require extra maintenance.
Both materials are strong and durable if well maintained. Most knives tend to have stainless steel blades. If your pick has stainless steel blade then ensure it's of the highest quality and doesn't need re-sharpening regularly to make the brisket trimming process more enjoyable.
The Blade Type
The blade type refers to the edge or design of the blade which can be straight, serrated, scalloped, or Granton. Each type has its advantages and disadvantages.
Straight blade – achieves a clean and neat cut but starting a cut at first may be tough. Cutting away silver skin can be a struggle too.
Serrated blade – ideal for cutting through the tough exterior of a brisket. It's better at starting a cut and a little easier to cut the fat away from more intricate sections of a brisket. However, the final cut is not that clean as others – it often tears and shreds the meat.
Scalloped blade – this is a middle-ground between the options mentioned above. You can get a clean cut and also start it without causing damage to the meat. However, it can still cause tearing a bit if the meat is tender.
Granton blade – this is a straight-edge blade with vertical indentations running along its length. The indentations create air pockets that reduce the drag when trimming brisket. They also prevent grabbing, tearing, and damaging the meat. The air pockets as well prevent the meat from adhering to the blade.
Of all these kinds, the Granton blades are the perfect option for trimming brisket because the reduced friction makes trimming faster and easier, plus you get smooth cuts.
The Blade Sharpness
It's essential to select a sharp blade to trim the brisket neatly. A thin, strong blade ensures sharpness and makes trimming a brisket easier as it doesn't take a lot of effort to glide through the meat. A dull knife requires more effort and time to trim a brisket, as well as regular sharpening, so make sure the blade is very sharp from the onset and stays sharp for longer.
Flexibility and Shape
In terms of flexibility, a semi-stiff, thin blade is best. The brisket is itself a naturally flexible meat, so a blade that has a little flex will work best with it because it can also adjust or bend slightly to match the brisket's shape while you are trimming thereby ensuring a clean and efficient cut. You don't want a blade that bends too much as it will compromise control, plus you also don't want it to be too stiff to cut through the meat with ease.
The shape of the blade should be at least slightly curved or tilted up from the handle. This design provides better leverage on the brisket as it allows the blade to get into crevices and as well match your brisket's shape. It will be able to easily glide under the brisket fat and slice it away without accidentally removing any meat.
The Handle
The handle is just as important as the blade. You should consider the following with regards to the handle:
Material
There are a variety of handle materials such as wood, rubber, and different types of plastics and metal. The most recommended material is plastic, rubber, and wood. These are durable and often ensure comfortable use.
Shape
The shape of the handle is almost a matter of personal preference. Even so, trimming a brisket requires a comfortable handle that's easy to use. Therefore, you need something that will provide you with a comfortable but firm and steady grip so that you have full control of the knife to reduce fatigue on your wrist when cutting and to prevent injuries.
It needs to fit perfectly in your hand. If you have large hands, getting a bigger knife would be more appropriate. If you have smaller hands, then a smaller one might work better. The goal is to get a handle that fits comfortably in your hands according to its size.
Non-slip
The handle should have a non-slip surface to ensure safety and prevent accidents. Briskets naturally have high-fat content. Contact with the fat can easily make your grip greasy and slippery. Therefore, ensure the surface of the handle is textured to provide a proper grip, or otherwise you may not be able to properly control the knife while making cuts.
The handle should as well have a substantial bolster or extend towards the heel of the blade to stop your hand from accidentally sliding down on the sharp blade. This will ensure the knife is safe and simple to use.
Construction
The handle construction is essential mainly for its strength and durability. Some knives feature full-tang handles while others feature a partial tang design. The best option here is a full tang handle as it's stronger and will survive longer.
The Size
The size of the blade as well as the overall size of the trimming knife matter a lot. Generally, the size is often determined by the size and number of briskets you are planning to make. Longer knives or blades are the best option, especially when handling or making a lot of briskets because they create cleaner cuts and are easier to handle. They also create a juicier cut and increase flavor from brisket pieces compared to shorter knives.
Ideally, you should look for a trimming knife with a blade length of about 8 to 12 inches. That range is ideal for trimming brisket as it would make the process which is often difficult, more manageable. You can get a slightly shorter blade if you have smaller hands though so that it's more comfortable for you.
Another important factor is weight. Generally, the ideal weight tends to vary from one person to another. Some prefer a lightweight knife for trimming while others prefer heavier knives. They all have their downsides. Light-weighted knives usually offer less control in the hand when trimming while heavier blades can be difficult to carry for longer periods as they increase fatigue and strain. So avoid knives that are too light or too heavy.
Carving, Slicing, and Trimming Brisket Knives: What's the Difference?
Slicing Knife
A slicing knife usually has a long, thin, flexible blade with a straight edge. The tip is often rounded (blunt) but it can also be pointed. While most have flexible blades, some are rigid and there are even versions with a serrated edge. The blade length of these knives range from 8 to 14 inches, but some are between 6 to 10 inches.
Slicing knives are specially designed for cutting briskets and steaks into thin and delicate slices. They also usually feature a Granton blade design to produce very thin consistent slices. These knives can as well be used for trimming off layers of fat on brisket and they are pretty reliable – a good example is the Victorinox Swiss Army Fibrox Pro Slicing knife above.
Carving Knife
Carving knives look quite similar to slicing knives. They share similar blade lengths and designs. However, the blades of carving knives are a little thicker and rigid with a sharp straight edge. They feature a pointed tip that's used to also cut meat from a bone and disjoint it or to piece through a bark without actually squishing it. The blades can equally be smooth or beveled.
These types of knives are specially made for carving purposes like to carve different kinds of meat such as legs of lamb, ham, or poultry. You can certainly use a carving knife to cut brisket into slices but it's less efficient compared to a slicing knife because the cuts you'll get are often considerably less smooth and clean.
Trimming Knife
A trimming knife is slightly different from a carving or slicing knife. Most have a curved blade that's small in size (about less than 5 inches long), designed to slice under the brisket fat. Its shape is almost similar to the boning knife but a little more curved. They usually have a very sharp edge with a pointed tip.
As the name suggests, trimming knives are purposely designed for trimming off excess fat on a brisket when it's still raw meat and they do so effectively. It's used before marinating the brisket. These knives can also be used for various tasks such as decoration purposes, removing meat from bones, slicing vegetables, skinning, filleting, and more.
Maintenance and Care for Your Knife after Trimming Brisket
It's very important to maintain and take good care of your knife after trimming briskets. Doing so will ensure better performance and also increase its lifespan allowing you to get better value out of it. Here are some tips on how to go about it:
The correct way of cleaning knives after trimming
Typically, you need to clean your knife immediately after you are done. You should wash it by hand. For best results, you should use warm soapy/foamy water and a soft cloth to clean the blade and the handle. From there, you rinse the knife and dry it immediately before storing it where it belongs in order to protect it from staining.
Don't throw the knife in the dishwasher whatsoever because it's bad for the blade as it can collide with other knives or utensils, dulling the edge. The handle can also get severely damaged by the heat or the chemical detergents.
Likewise, you should avoid intensive hot water/super-boiling water and chemical detergents or rough synthetic materials when hand washing the knife as they can cause serious damage or disintegration of the handle and the blade. Handwashing with warm soapy water and drying immediately is the best practice.
When to store after use
Once you rinse and dry the knife, you store it right away in a proper storage area if you're not planning to use it soon. You can store it in a sheath, a blade square, magnetic knife strip, in a knife block, knife bag, or any other place that will protect the blade's edge – not in a drawer with dozen other pieces because they can collide with the frequent opening and closing of the drawer, thereby dulling the edge. A quality protective sheath is much more recommended as it's able to effectively protect the edge from deterioration as well as your hands and family members from accidents.
Frequency of sharpening the knife
For optimum performance, you need to ensure your knife is always sharp and that means sharpening it when it starts to lose its edge. Based on how frequently you use it, you can sharpen it anywhere from every few months or weeks (like say 8 weeks) to every two years. You can even sharpen it after every couple of uses when you feel it's not cutting smoothly.
You can sharpen it yourself by purchasing a budget-friendly simple knife sharpener like a sharpening stone and steel which are good if you're handy. There are also honing rods and sharpening rods, but we would recommend sticking to stones.
Sharpening rods do work, but if you're not sure what you're doing, you will likely ruin whatever edge you already had on the knife. You can buy and use an electric sharpener too, but this too will require some basic DIY skills to use. If DIY sharpening isn't your thing, we'd suggest hiring a professional to sharpen the knife for you.
Can I Use an Electric Slicing Knife for Brisket?
An electric slicing knife is a good alternative to a manual knife for trimming brisket. You may consider it if you want convenience and to simplify the job. It has a couple of advantages over a manual knife. First, it gets the job done much faster and more efficiently. Secondly, it requires minimal effort from the user to prepare the meat. You just hold the knife and then guide it easily in the right direction – nothing else.
Thirdly, it can cut through difficult spots. Changing the blade is also pretty easy in an electric knife and you can even control the slicing power as you need or as per the meals required. Most also come with multiple interchangeable blades that you can use for different tasks.
There are some disadvantages though. One is that it may take lots of practice to master. An electric knife is also heavy and bulkier due to its motor parts. It's equally more susceptible to damage compared to a manual knife. Most models even overheat while working requiring you to stop in the middle of slicing the brisket.
The motor parts also need to be maintained appropriately while for a manual knife the only maintenance is sharpening the blade. An electric knife will as well produce noise since it's powered by a motor and you can't use it when there's a power outage or no power outlet nearby. These knives are a bit expensive too on first purchase and even in the long term.
Generally, if you don't have that much strength or energy to trim or slice a raw brisket, an electric knife would undoubtedly be helpful. It's also a good alternative if you are slicing/trimming a lot of briskets or for use in a commercial environment like a restaurant.
Can a Bread Knife Cut Brisket?
It certainly can because it's often long enough to cut brisket, plus in most cases, it's sharp enough. However, if it's dull or it has been used many times, it may not really be up to the task. The results won't be too encouraging. You will get uneven cuts, shredded pieces of meat, rough edges, and so on. Your best bet would be a knife with a long, sharp blade that you can push through meat and pull in even strokes, without using too much pressure or hassle. That said, you can still get a good quality bread knife, specifically for trimming briskets, provided you always keep it in excellent condition.
Is a Fillet Knife Good for Trimming Brisket?
A fillet knife is certainly better than most other knives when it comes to trimming brisket. They have sharp blades that are curved and flexible, meaning they can get into crevices and bend according to the shape of the brisket allowing you to make nice, thin cuts easily. The downside is that they are often too flexible hence you don't really have much control over the knife or the blade which can make it difficult to make more precise cuts. They are usually entirely flexible and that's not good for trimming work. However, if you find a fillet knife with a slightly stiff blade, then it can work great for trimming brisket.