Oishya Knives: excellent craftsmanship and attention to detail
Oishya Sakai Kyuba 3-piece Knife Set
Oishya knives are for those who want the best there is. Beautiful craftsmanship and excellent performance. Each item is unique and handmade. And if taken care of properly they will last for generations.
All these perks have a price and a rather large one compared to mass-produced alternatives.
Despite the price, we strongly recommend the knife set if you can afford it or want to give a very special gift to someone.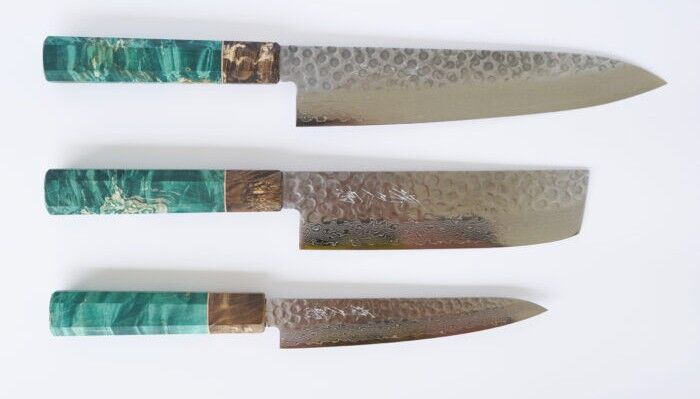 Reviewing the Oishya Sakai Kyuba set of knives was a beautiful journey filled with symbols, heritage and beautiful craftsmanship. We fell in love with them and it's our current knife set for our daily use.
Packaging
The Oishya SAKAI KYUBA knife set comes in a beautiful wooden box with its logo on it. According to Oishya , it's a handcrafted, minimalist European Oak wooden box with a delicate wax finish. It's also wrapped in a Oishya signature illustration strip presenting Onna Bugeisha – Japanese women warriors. This beautiful box is perfect as a gift to friends or family.
When you open the box you will find 3 unique knives with a card and a 5 yen coin. The card briefly introduces how the product is made, what makes it special, and why the 5 yen coin is included. The yen coin is related to an ancient superstition that giving someone a knife is bad luck. Superstition states that gifting a knife cuts the relationship between the giver and the recipient. The recipient of knives should give this coin to a giver as a form of payment so they can keep their relationship intact. Interestingly, some European countries have this superstition as well. It's always a very nice touch if you plan to give the knives to someone.
Each knife has its own place, keeping them safe during transportation. The blades seem to be covered with something akin to dark oil. Always wash them with warm soapy water before the first use.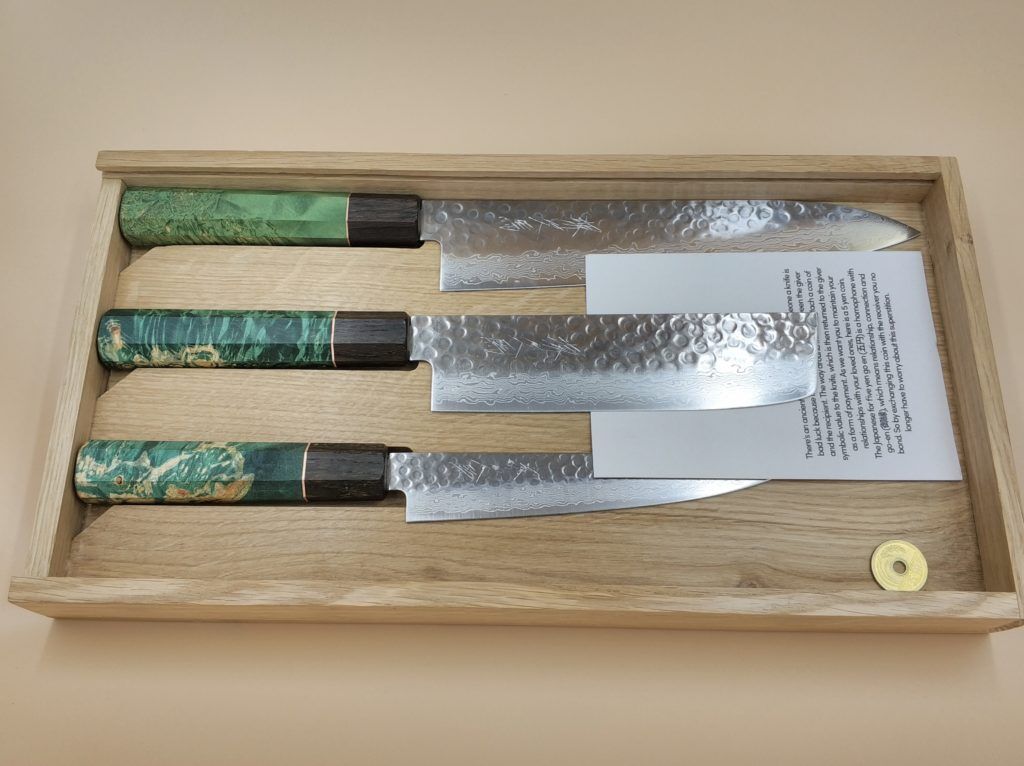 If you have purchased a knife stand or a rack or already have one at home, the wooden box has another use. You can store pencils, letters, paintbrushes, postcards, jewelry, or other small items. Additionally, the box might also be useful if you plan to transport the knives as you can be sure that you won't damage the knives or other items in your bag.
Although we love the packaging, we would prefer to have an option to choose whether the knives arrive in a handcrafted wooden box or a much simpler mass-produced packaging. Of course, this would go against the philosophy of Oishya who want to perfect every detail. Having some plastic box would ruin some of the experience.
However, there would be numerous advantages. The first advantage would be a reduced cost. If you don't want to store anything in the box it will just take up shelf space. Many people would rather save some money. These savings, however, might be negligible given the price of the set.
Unfortunately, the lid is quite fragile. We have managed to damage the lid and we are not entirely sure how. Something was probably placed on the box, resulting in the lid cracking.
Design
The knives come in standard Japanese knife shapes: Gyuto, Nakiri, Petty. We have ordered the Olive Green version.
The knives look stunning. The fact that each of them has a unique pattern on the blades and handles should impress you even more if you like unique items.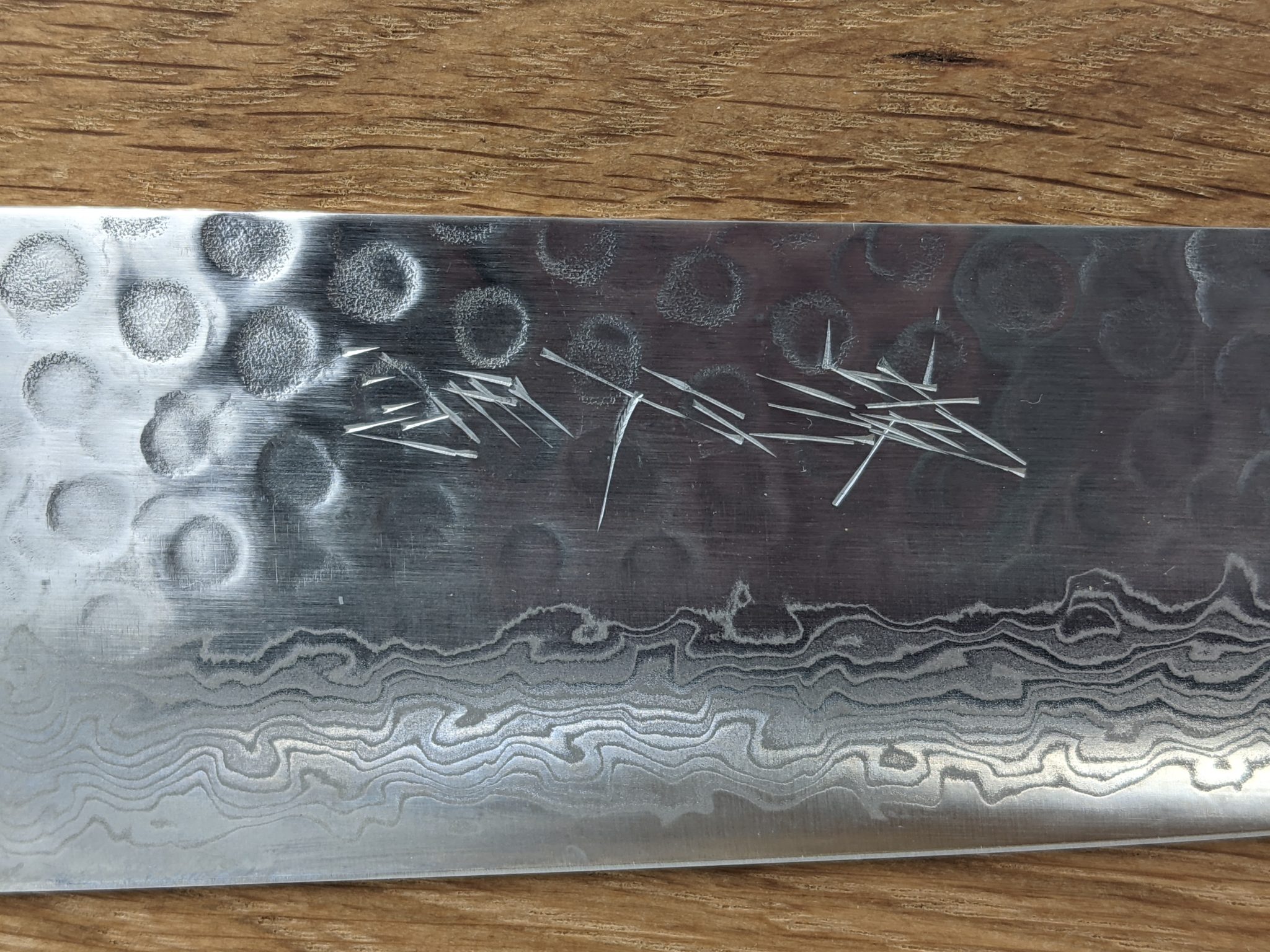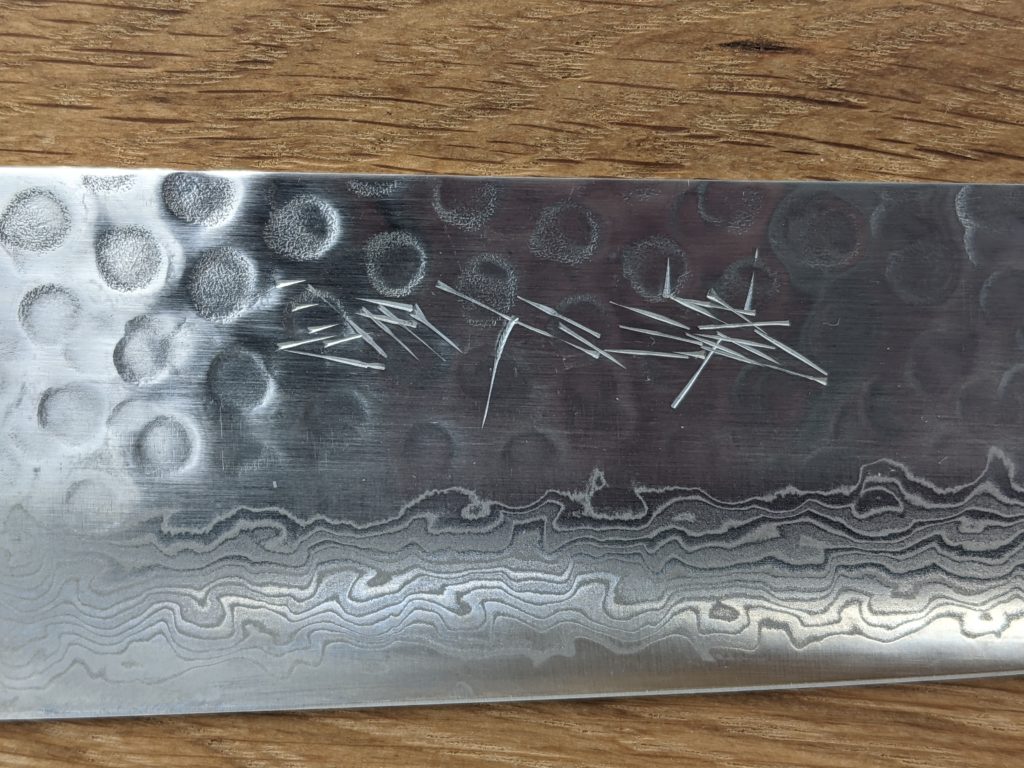 Oishya blades are made with VG10 stainless steel and forged with 46 layers of Damascus steel. Multiple layers are what give the unique pattern on the blade. Blades also have hammering marks which are also unique for each blade.
The handles are made from European Maple Burl and then dyed in 3 available color options: Olive Green, Mediterranean Blue, or Natural Brown. The dying process also gives the handles unique patterns. In our case, one of the handles has a lighter green color compared to the other two. No big problem unless you would love to have a consistent color palette.
Dimensions of knives
Gyuto (Chef's knife) is 35.6 cm in total length and 4.5 cm in height. The handle length is 13.2 cm
Nakiri (Vegetable knife) is 30.6 cm in total length and 4.4 cm in height. The handle length is 12.9 cm
Petty (Paring knife) is 28.2 cm in total length and 2.8 cm in height. The handle length is 12.2 cm
Each blade is about 1.9 mm thick.
Handling
The first thing you notice after picking any of the knives up is how incredibly light they are. Due to the dark shade of the steel, it gives you an impression of being heavy but they are lighter than most usual stainless steel blades.
We have weighed the blades:
The longest Gyuto knife weighs 156 grams
The Nakiri blade is the heaviest with 158 grams.
Petty is the lightest and smallest and comes at only 95 grams.
In comparison, an IKEA 365 utility knife weighs 152 g, and Made In's 8" Chef's knife weighs 241 g. They are about 50% heavier and you can really notice the difference.
The handles are very comfortable and provide a good grip so no complaints there.
Performance
The blades are razor-sharp and excel at cutting. Combining the low weight and excellent performance makes using the knives very easy. However, you have to be careful as even the smallest mistake can cut you.
We have tried slicing tomatoes, celery, and carrots. Nakiri is the best tool for vegetable chopping. The shape and the balance make slicing carrots effortless. We have tried slicing carrots with the Petty knife as well and that has required more force and wasn't very comfortable.
Some people prefer smaller knives but the lightness and good handling could convert them to use the Nakiri for their vegetable slicing and dicing.
The Gyuto easily cut through cold-smoked Atlantic mackerel. Even the backbone didn't give any challenge.
We were very impressed with the cutting performance of each knife.
Cleaning and caring
Oishya knives are gorgeous, very comfortable to use, and perform great. However, taking care of these blades is a challenge. For the most part, all you have to do is just pour some warm water on the blade and clean it with a towel. While that sounds simple, that isn't the end of it.
After slicing carrots the blade had some orange residue that required using a sponge to clean as a towel wasn't able to take it away.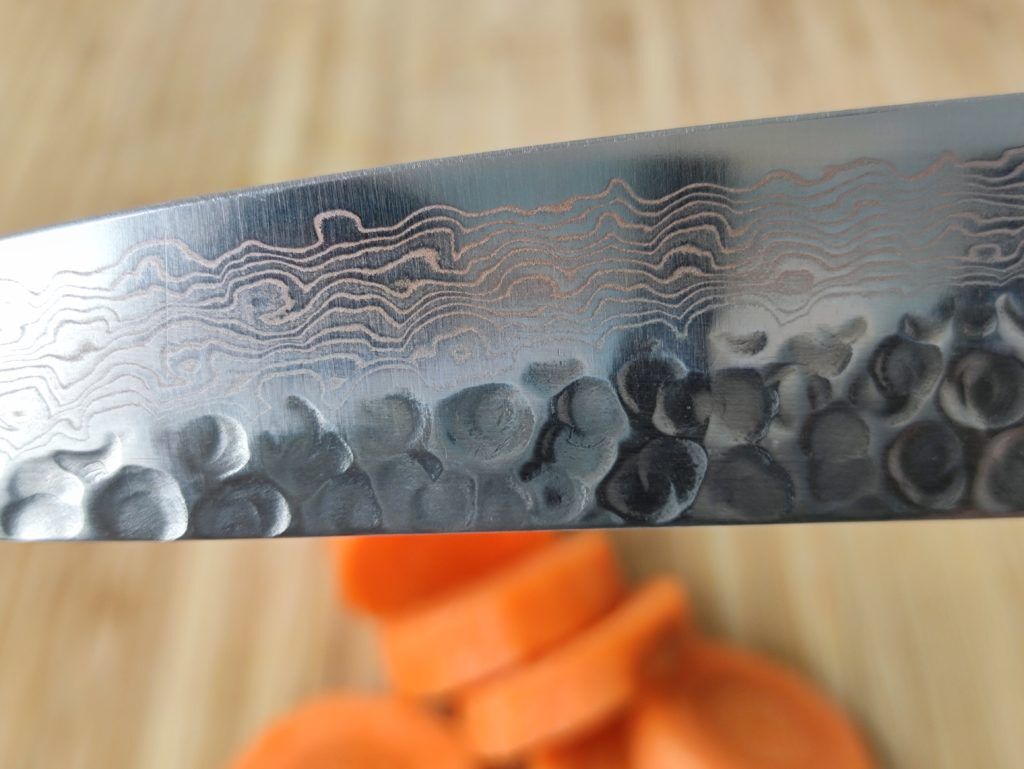 A larger issue became apparent when we started using Oishya knives daily. We noticed that cooking sometimes became more stressful. These are expensive items and you feel worried that you might ruin them.
Oishya states that the wood is completely waterproof and can last generations. They achieve this by drying the wood for two years before it undergoes the process of stabilization.
Even knowing that we always try to keep the handle safe from moisture just to make sure it will last. Also, it must not be put in a dishwasher. That's compared to a Made In knife for example which you can keep in a damp environment for multiple days without worrying if something happens to it. You can even put it in a dishwasher although it's not recommended for any knife.
Another challenge is keeping the blades sharp. After a couple of weeks of daily use they are as sharp as they were when they arrived but no knife stays sharp forever. Eventually, there will come a time when you will need to sharpen them. If you are experienced with sharpening knives and have the right equipment this is no big deal. However, for someone who has just basic knowledge of sharpening and little practice, completing the task will be a big challenge. If done incorrectly it can ruin the edge and blade.
You will have to look for a sharpening expert if you can't do it yourself and that's an additional cost of maintaining it. Of course, this applies to any knife purchase, however, more people can risk ruining a $20 knife than any expensive one.
Storage
If you don't have a knife stand or rack then we very much recommend purchasing one when buying Oishya knives or any expensive knives in general. Oishya has multiple options for storage. We chose the Wooden Magnetic Knife Stand Block – Oak.
It's made according to the same quality standards and attention to detail as the knives. It looks beautiful, sturdy, and comes with very strong neodymium magnets to hold the knives. These magnets are hidden inside the stand. They are essential for safety because otherwise a knife might fall and hurt you, damage the countertop or even damage the blade.
The stand features an engraved Oishya logo – Kamon symbolizing three Geisha fans, a family crest from the Edo period.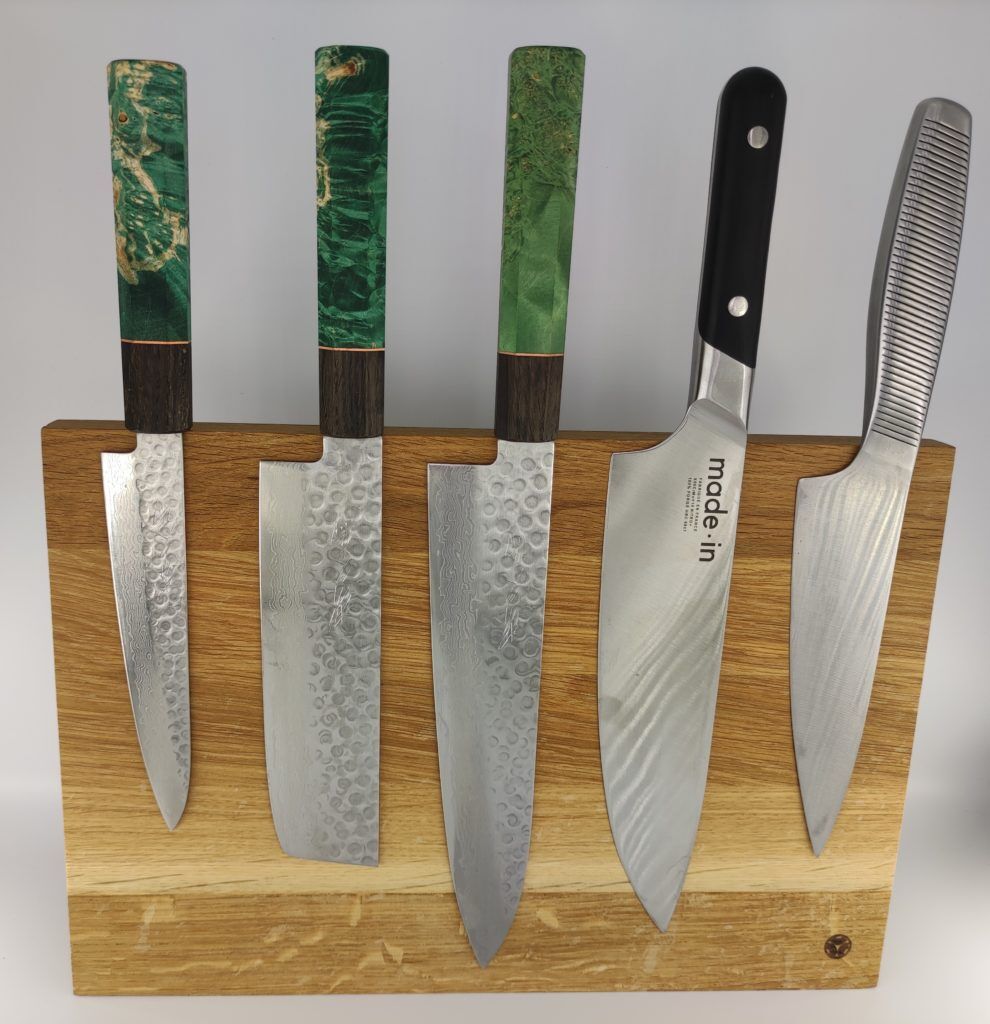 The stand is also a great option to showcase your knives in the kitchen. Additionally, it can always be within reach. Note that you should put only dry and clean knives on the stand, otherwise, it might cause a coloring reaction. The stand has plenty of space for the 3 knives and can easily fit 2 additional ones. It could fit 3 additional smaller knives but taking them off could be challenging as the handles would be very close to each other.
Value
The value depends very much on the reason you are looking for a new set of knives. If you just need quality knives that perform well on your daily cooking needs then Oishya products won't be good value. It's like buying an expensive car just to do grocery shopping. The knives are very expensive but deliver exceptional results, a great overall experience, and make cooking more enjoyable. We continuously look forward to using Oishya knives again.
However, if you are looking for the best quality, excellent craftsmanship and love having unique items instead of mass-produced stuff, then Oishya knives have great value. If treated right these knives will last generations and be a joy to use. By purchasing Oishya knives you support a company that puts love and care into each and every product they make and also support the 600-year-old craftsmanship.