Grilled peach summer salad with mozzarella & arugula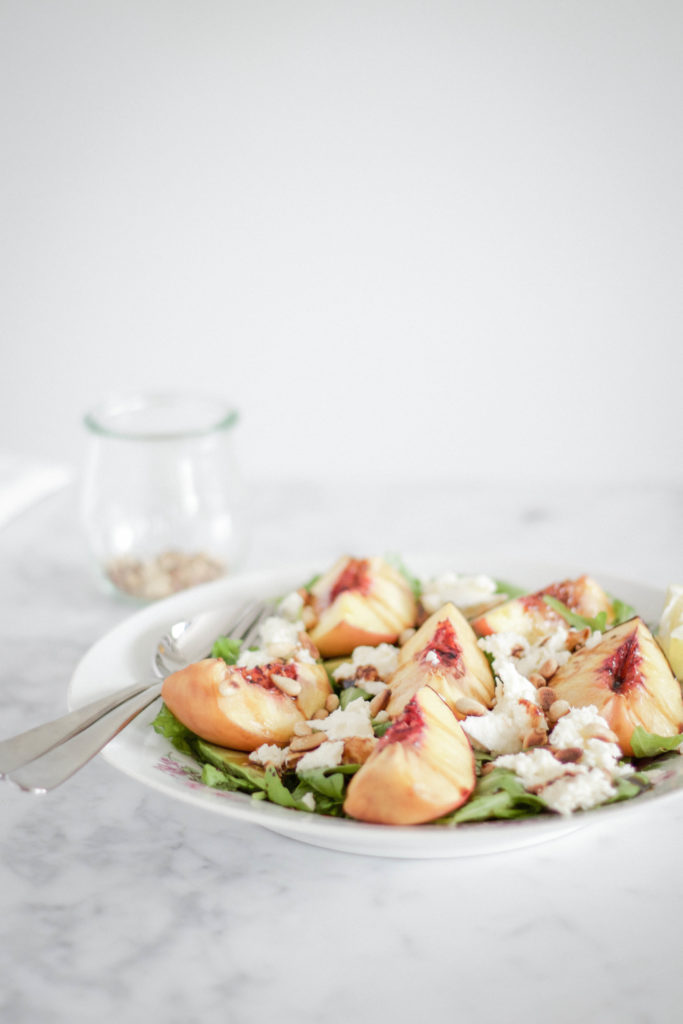 It is a perfect recipe for these end of summer-days. Salty mozzarella, sweet peaches, pepper-y arugula, savory pine nuts, and a sweet and tangy glaze.
Grilled peach summer salad with mozzarella & arugula
You need:
For the salad:
2 peaches, quartered
½ tbsp olive oil
pinch of salt
2 cups arugula
fresh mozzarella, torn in pieces
1 avocado, cut in slices
a handful of pine nuts, toasted
salt & pepper
For the balsamic glaze:
¼ cup balsamic vinegar
1 tbsp of palm sugar
How to make it:
In a bowl, coat the peaches in olive oil and sprinkle with a small pinch of salt.
Heat your grill to medium high heat. Place the peaches on the hot grill, cut-side down, and cook for about 3 minutes on each side. Set aside to cool.
In the meantime you prepare the balsamic glaze. Mix the vinegar and sugar in a saucepan on medium heat. Turn down the heat when it starts to boil, let simmer until it thickens. Keep stirring frequently.
Coat the arugula in a little bit of olive oil and sea salt. Assemble the salad. I started with the arugula first, before adding the avocado, then the peaches, mozzarella and toasted pine nuts. Sprinkle with a little bit of balsamic glaze and add a squeeze of lemon juice. Best enjoyed right away.