MAPLE ROASTED CARROT SALAD W/ APPLE & DATE
Today I want to share one of the recipes from the cookbook. This salad is perfect for lunch, on a weekday when you are at home, or in the weekend. I adapted the recipe a teeny tiny bit to fit the season. It has such a warm taste and is both sweet and savory at the same time. Just perfect! I used fairtrade dates, olive oil, and orange. I suggest you do the same if possible. 
MAPLE ROASTED CARROT SALAD W/ APPLE & DATE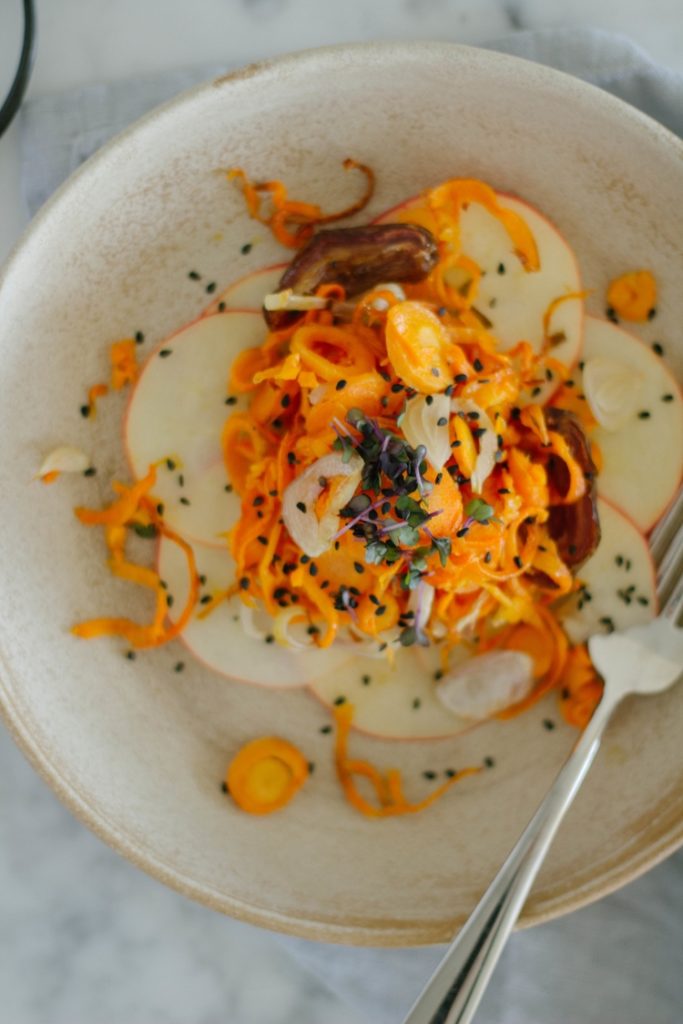 (2 persons)
You need:
200 gram carrots, scraped
1 large shallot, or 2 small ones, finely chopped
1 orange, juice
1 tbsp maple syrup
1 apple, sliced
2 dates, cut in quarters lengthwise
1 tbsp black sesame seeds, roasted
olive oil for drizzling
sea salt to taste
How to make it:
1. Preheat the oven to 200C/400F. Use a spiralizer to create carrot noodles, or cut them in slices.
2. Place the carrots and shallots in a bowl and sprinkle with olive oil, salt, maple syrup and the juice of half of the orange. Toss to coat. Transfer the carrots to a baking sheet and roast for 15 minutes.
3. Arrange the apples on the plates and add the roasted carrots & shallots. Add the dates and squeeze the orange juice of the other half on top of the salad. Sprinkle with sesame seeds. Enjoy!