Spring Salad With Fried Zucchini, Peas and Pickled Cucumber
Spring Salad With Fried Zucchini, Peas and Pickled Cucumber
A spring salad. As temperature rises, I become more lazy in the kitchen. Meals have to come together quickly and have to consist of lots of fresh ingredients.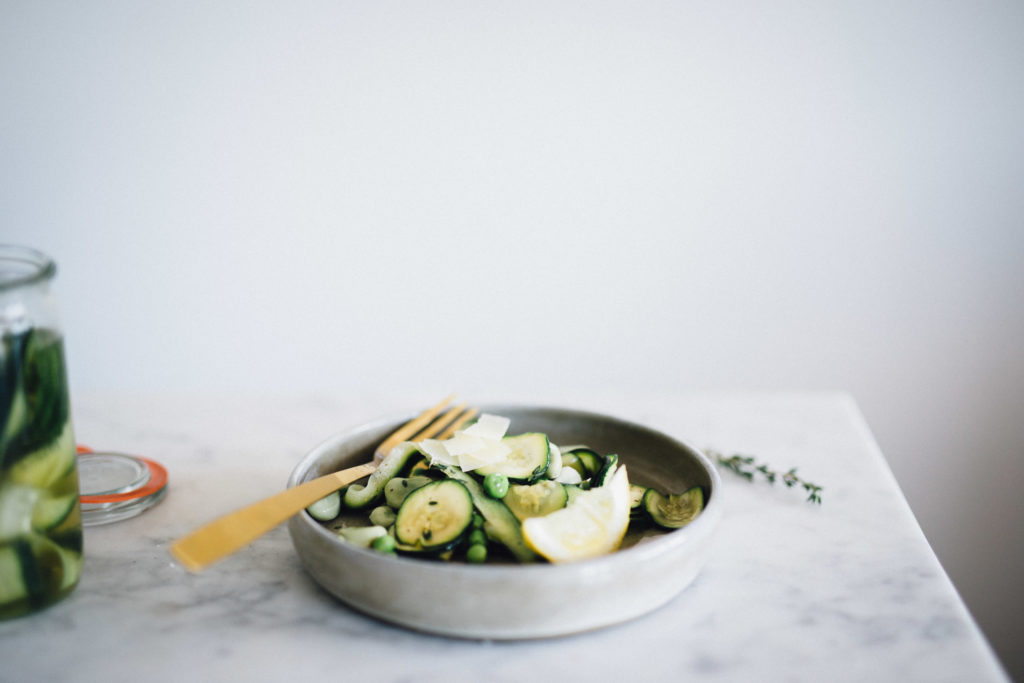 You need:
For the pickled cucumber
1 cucumber, sliced thinly lengthwise
1/2 cup apple cider vinegar
1/2 cup water
1 tbsp maple syrup
1/2 tbsp salt
For the salad:
1/3 cup fresh or frozen peas
1/2 cup fresh broad beans
1/2 zucchini, sliced thinly
1 tbsp good quality olive oil
a splash of lemon
thyme
salt & pepper to taste
pecorino or goat cheese
How to make it:
Combine the vinegar, water, maple syrup, and salt. Stir until the salt is dissolved. Add the cucumber to a weck jar and add the liquid. Close, give it a shake and place in the fridge for at least 30 minutes. (It's best to make this a day ahead)

Add a knob of ghee to a frying pan on medium heat. When melted, add the zucchini and the peas. Fry for 6-8 minutes. Stir every now and then to prevent from burning.

Bring a small pan filled with water to a boil. Add the broad beans and cook for 6 minutes. When ready, add to a salad bowl together with the zucchini and peas.

Add the pickled cucumber. Stir. Add thyme, olive oil, lemon juice, salt and pepper. Top with some cheese. Enjoy!