Ninja Neverstick Cookware: a good value offer
Ninja NeverStick 8-piece set
Ninja's first delve into producing cookware has been a rousing success. Despite a couple of minor issues (and a lifetime warranty that isn't exactly what you'd expect), their NeverStick cookware range provides consumers with the opportunity to own excellent pots and pans for an affordable price.

This set includes two fry pans, a saute pan, a saucepan, and a stockpot (with three lids). The non-stick properties are flawless. And while there are larger sets, we think this one is the best value for money and delivers unrivaled performance in this price range.
Ninja is well known for its affordable yet excellent quality small kitchen appliances. We've covered many of their blenders, food processors, air fryers, and toaster ovens on Kitchenfold in the past, so we were excited to see the brand branch out into cookware with the release of their 'Foodi Neverstick' cookware range in September 2020.
People love cooking with non-stick cookware because it's straightforward. Food won't stick to the pots and pans, you don't have to use copious amounts of calorific fats and oils, and it's super easy to clean. Unfortunately, we've come to learn that when the non-stick coating starts to peel, it can contaminate your food and is extremely bad for your health.
Ninja, however, claims to have invented some cookware that has all the non-stick abilities with zero drawbacks.
We're going to take a look at the 8-piece set that comes with an 8-inch fry pan, 10-inch fry pan, 6.5-quart stockpot, 2.5-quart saucepan, 3-quart saute pan, and three lids, and take a deep-dive into their design and construction, how they perform, and how their stack up against their main rivals.
Design & Construction
The NeverStick technology and the hard-anodized coating (which is PFOA-Free) are applied to the cookware at 30000F, a massive 21000F hotter than traditional non-stick pots and pans. Ninja says this boosts the non-stick properties' longevity to 5 years instead of the typical six months of rival products.
It's unknown whether this process makes the cookware's surface rough to the touch or if that was by design. But there is a distinct difference between the surface of NeverStick pans and traditional non-stick cookware.
The production process also increases durability to make sure the NeverStick coating doesn't chip, scratch, or flake, though these pots and pans are in no way as durable as cast iron or even stainless steel.
Ninja is so confident in their product that they offer a lifetime warranty.
Don't get too excited though, the small print on the packaging refers to the "lifetime" being that of the product, not the consumer. Their claims that the non-coating will last for five years suggest beyond that point; the warranty will cease.
Despite being made in China, the Ninja NeverStick is surprisingly durable, and each pot and pan feels solid in your hand. The large stainless steel handles are held in place by two huge rivets and are designed to stay cool during use.
The Ninja Foodi NeverStick cookware works with all stovetops and cooker types, including induction cookers, thanks to a 4.5mm aluminum base that promotes even cooking throughout. However, the thickness of the metal does mean the cookware takes a little longer to heat up than standard pots and pans.
The saute pan, stockpot, and saucepan all come with lids with tempered glass and 13mm stainless steel rims. In keeping with the rest of the set, these lids feel sturdy and well made.
Ninja advises that while the cookware is scratch-resistant and you can use metal utensils with it, you should avoid using anything sharp. They also suggest placing paper towels between the pots and pans if you're storing them together, which seems a little odd if the exteriors are supposed to be so robust.
All the pots and pans are dishwasher-safe oven-safe up to 500F.
Individual Pans
8 & 10 inch Fry Pans
Both 8 and 10-inch skillets have a stunning aesthetic. The dark gun-metal great base contrasts beautifully with the stainless steel stay-cool handles. The gorgeous appearance is equaled by a level of performance that consumers can't help but be in love with.

Though these pans take a little longer to heat up than cast iron or stainless steel, they retain their temperature remarkably well, and aside from a slight cool spot close to the handle rivets, they heat very evenly.

Ninja's commercials for the NeverStick products show fried eggs sliding freely around the fry pans, and while the eggs might need freeing up a little bit at first, you can recreate that scenario even when you don't use oil or fat.

Scrambled eggs, omelets, and steak can all be cooked without oil and will not stick to the cookware, even if you accidentally burn them.
Cleaning this cookware is super easy. The leftover food will wipe away with a paper towel and rinse under a hot tap. Alternately all these pans are dishwasher safe.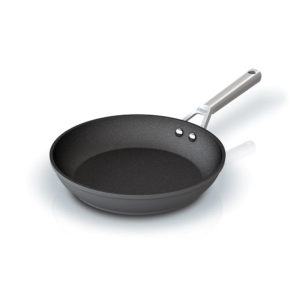 2.5-Quart Saucepan
No saucepan is complete with a decent lid to help retain heat and moisture. As previously mentioned, the NeverStick cookware set comes with three lids that are robust and sturdy. However, after prolonged use, some consumers have complained that water has found its way between the tempered glass and has proved troublesome to dry.

The saucepan itself performs flawlessly. Boiling milk or other dense fluids don't stick to the sides. This saucepan seems perfect for making cheese sauces without burning any of the contents.

In one test, a reviewer melted some candy on the base of the pan to the point that it burned. Not only did the melted sugar not stick to the pan, but it also didn't stain or leave any visible residue.

6.5-Quart Stock Pot
Every kitchen needs a sizeable stockpot for cooking stews, chilis, and large batches of soup, and the 6.5-quart NeverStick is a hefty piece of cookware.

Keeping in line with the rest of the set, cooking with this stockpot is effortless. The NeverStick technology really lives up to its name. Unlike some of its competitors, you won't find any burnt food on the bottom of the pot or around the edges.

One possible drawback could be the weight of the pot, especially when it's full. It could be a struggle for some people to handle the weight because of the thick metal. This pot is noticeably heavier than the other items in this set.

Once again, this pot is ridiculously easy to clean.

3-Quart Saute Pan
By now, it should come as no surprise to learn that the Ninja NeverStick saute pan will meet all your sauteing needs. And it'll do it without issue.

Like the other pans in this set, it will take an appreciable amount of time to heat up because of the thick aluminum base, but once it hits the desired temperature, it will retain heat well and cook very evenly.

Though the 3-quart saute pan is a decent size for cooking for 2-3 people, we feel the Ninja could have utilized the size better if the pan were shallower and more expansive, providing a larger cooking surface.

This pan, like the others, is effortless to clean.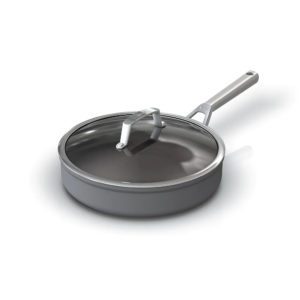 How Do They Compare?
While the price of the NeverStick cookware set is a decent chunk of change to layout all at once, the value for money is nothing to be sniffed at when you consider how many pots and pans you get for your money.
But how do they compare to some of the rival brands on the market?
All-Clad's D5 stainless steel cookware is considered some of the best pots and pans for personal use. Needless to say, it's doubtful that Ninja NeverStick will come anywhere close to the longevity of these products, but when you consider that one 8-quart stockpot will cost $100 more than the 8-piece Ninja, set, it's to be expected. Though the non-stick properties from the NeverStick cookware are superior to the D5. However, it remains to be seen how long that will last.
There is always the All-Clad D3 range, but that is still far more expensive than this set.
Xtrema Pure Ceramic Cookware has been shown to be one of the healthiest cookware ranges on the market. Though the NeverStick manufacturing process promises to be far more effective at keeping your food toxin-free than traditional non-stick cookware, it won't come close to Xtrema's health benefits.
However, NeverStick pans are far more robust, last longer (as Xtrema cookware is exceedingly fragile), and have far better non-stick qualities. While Xtrema cookware isn't as expensive as All-Clad, it's still noticeably more pricey than Ninjas.
Cast Iron pots and pans are incredibly popular thanks to its affordability and because it's almost indestructible. Lodge cookware is one of the more well-known cast iron brands, and you can put together a set of similar products for a price close to that of the Ninja NeveStick set. You're guaranteed that cast iron cookware will last longer, in fact, they'll last a lifetime if you look after them properly. However, cooking with the Ninja pans is far more manageable, and they require almost zero maintenance, unlike cast iron which requires constant care and attention.
If you're on a budget, T-fal non-stick cookware is a much cheaper alternative to Ninja NeverStick, it will offer comparable results initially, but this kind of cookware is notorious for failing within a year. It is widely considered as being bad for your health.
Final Verdict
Ninja's first foray into cookware has been hailed a triumph. The famous brand has struck the sweet spot between performance, durability, and affordability.
The NeverStick cookware sets are attainable to a larger area of the population than All-Clad and even Xtrema cookware; they're easier to use than cast iron and will last longer than traditional non-stick pots and pans.
Despite a couple of minor drawbacks, Ninja lives up to the marketing promises of their cookware.
However.
Because these products are relatively new, we have no idea of their long-term practicality. Though their 2020 release date has already proven the cookware to be far superior to traditional non-stick pots and pans, it's not beyond the realm of possibility that it could fall short of their 5-year life span.
Only time will tell.