Knife for Cutting Meat: how to choose the best one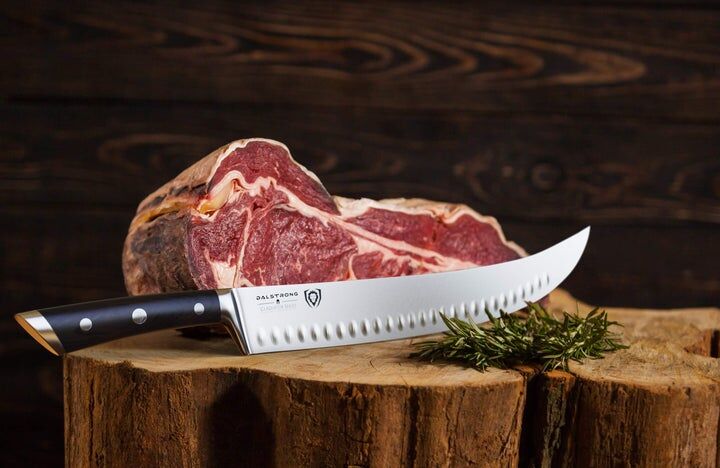 Disclaimer: we may receive commissions from purchases made via our links at no cost to you
Cutting up meat whether it's raw or cooked requires a proper knife. A regular kitchen knife or a chef's knife will no doubt cut through the meat, but you'll have to put in quite some effort to do so. What's more, you won't get the smooth cut you're after. The wrong knife might also increase the chances of cutting accidents. For these reasons, you need to ensure you use the right type of knife, one that's specifically for cutting meat. This is so essential because having the right knife will greatly speed up your cutting process. It will make the work simple, neat, and safe.
A good quality knife for cutting meat should be sharper than other knives considering that meat is tough and sinew. It also has to have a slightly larger and longer blade to cut cleanly through any size of raw or cooked meat. These knives generally come in various types, which differ depending on the type of meat you're cutting. For instance, we have the carving and slicing knives, which are primarily used for carving and slicing cooked meat.
There's the cimeter knife which is great for cutting, slicing, and trimming meat of any size (raw or cooked). To break down an entire portion of raw meat like briskets and sirloins, there's the butcher's knife. On the other hand, if you want to cut the bone, then there's the meat cleaver and if you want to remove meat from the bone, then you'll need a boning knife. So, as you can see, you have different types of cutting knives for different types of meats.
We've put together this guide to share some of the best and most viable options available in the market today. We've also included useful pieces of information about knives for cutting meat, including important features to look for, how to best care for your knife as well as answers to some of the commonly asked questions. You'll find this guide quite helpful when it comes to deciding the ideal cutting knife for the type of meats you deal with.
Three Best Knives for cutting meat:
1. Best Value Butcher Knife: DALSTRONG Butcher's Breaking Cimitar Knife (Gladiator Series)
Pros
Works with almost all meats, small and large
It's able to produce smooth and thin slices
Divots along the edge keep food from sticking
Blade has good edge retention and doesn't rust easily
Durable handle that offers a strong and comfortable grip
Includes a BPA-free protective sheath
Available in four different sizes
Cons
The handle may be slippery when wet or slimy
Some people find it to be a little heavier
The blade may tarnish easily when not properly dried
The blade's tip is not particularly strong
Why it's the best
This is quite a versatile knife that you can use for breaking down large slabs of raw meat like sirloins, briskets, and flanks. It's incredibly razor sharp (edged at 16-18 degrees angle per side) with a curved, long blade that provides sufficient leverage to cut through large chunks of raw meat without really ruining the texture. It's able to produce smooth and thin slices which are not easily achievable with regular knives. There are slight divots along the edge which help decrease friction and also prevent food from sticking to the blade. The blade itself is long making it ideal for cutting through almost any size of meat. It's made of German steel with a Rockwell hardness rating of 56+, so it's strong and durable. It will keep its edge for a long time.
The handle design and balance is incredible too. The handle is made of laminated pakkawood that's triple-riveted to the full tang blade, so it's sturdy and very strong. The pakkawood is ergonomically designed. It offers a comfortable and secure grip for easy control and maneuverability of the blade, especially when cutting large portions of meat. The blade and handle are well balanced hence don't cause much fatigue, plus the stainless steel end cap also helps stabilize the blade to ensure just the perfect balance. The handle as well has a bolster bluff to prevent the fingers from sliding to the blade hence providing extra safety during cutting.
2. Best Ergonomic Knife for Cutting Meat: Mercer Culinary Genesis Carving Knife
Pros
Ideal for slicing and carving raw and cooked meat
Taper-ground edge offers outstanding sharpness
Durable blade made of high-carbon German steel
Holds edge for long and it's corrosion and rust resistant
Handle is sturdy, well balanced, and comfortable to hold
Santoprene handle material provides a secure, non-slip grip
Comes with a limited lifetime warranty
Cons
The knife feels a bit light in hand
Not dishwasher safe
Why it's the best
This Mercer Culinary knife offers the most ergonomic handle out there. It's made of Santoprene that's slightly contoured to fit well in the hands. The material is comfortable to hold and has a texture that provides a solid and secure grip that's non-slip even if the handle gets wet. It's very secure in the hand, safe from any slippage which is an essential feature for a knife for cutting meat. The knife has a substantial bolster which together with the full tang reinforces its strength and makes it steady and more uniformly balanced allowing you to use and maneuver it with ease. The thick bolster also provides ample protection to your fingers, stopping them from slipping to the blade during cutting.
The performance of the knife itself is impressive. The blade has a 15-degree taper-ground edge that offers outstanding sharpness and it's made of high carbon German steel with a Rockwell hardness rating of 56+. It's sharp and stiff enough for carving large slabs of raw meat with great precision. It can handle both tough and tender meat, plus it's long enough (10-inch long) to cut almost any size of meat. It can easily work through most boned meats and even carve thinner slices. The blade is strong and durable, and also resistant to corrosion and rusting. The edge is easy to hone and does hold its sharpness for a pretty long time.
3. Best Professional Butcher Knife Set: Jero 4 Piece Butcher Knife Set
Pros
Best for almost all meat cutting tasks
Sharp, slightly curved blades for precision cutting
Blades are made of very durable high-carbon steel
Hold the edge for a long time and are easy to sharpen
Handles are comfortable to hold and the grip is solid
Handles are sturdy and securely affixed to the tang
Feature finger guards to keep the hands safe
Company offers a lifetime warranty
Cons
Handles may be a bit small for those with big hands
No block or sheaths included with the knives
The knives feel slightly lightweight
The handles are not completely non-slip
Why it's the best
This is a great option if you want an all-purpose butcher knife set. It comes with all the essential knives for almost all cutting tasks and comes at an affordable price. It includes a 10-inch cimeter knife, an 8-inch breaking knife, and a 6-inch curved boning knife. With these three knives, this set is ideal for well-rounded butchering. You can use it to break down large and medium-sized portions of meat as well as for trimming, slicing, and even boning out meat. They have a curved profile which further helps them achieve additional precision when cutting. All the blades are high-carbon German stainless steel. They are strong, sharp, and hold the edge for a long time. The set also includes a 10-inch Danmark steel rod that you can use to sharpen the blades.
The handles are made of impact and temperature resistant polymers that have been injection molded to the tang. The polymers are wear-resistant and highly durable. The fact that they're injected molded means that they're firmly affixed to the tang which not only improves the sturdiness and durability of the handles but also makes the knives to be very well balanced. The handles are ergonomically designed and feel soft, so they are quite comfortable to hold even for a prolonged period and the grip is solid and secure. They have a protective finger guard hence the hand won't slip to the blade when busy cutting meat.
Other Product Recommendation:
1. Best Slicing Knife: Victorinox Swiss Army 47645 Fibrox Pro Slicing Knife
Pros
Ideal for slicing soft and firm types of meat
Cuts smoothly without food sticking on the blade
Blade is sturdy, durable, and keeps its edge for long
Ergonomic handle offers a comfortable, non-slip grip
Handle is sturdy and well balanced to reduce fatigue
Available in several different sizes
Comes with a lifetime guarantee against defects
Cons
Heavy use may dull the blade quickly
Challenging to store due to its extreme length
It doesn't come with a knife guard/sheath
Why we choose it
The Victorinox Swiss Army Fibrox Pro provides great slicing performance for almost all kinds of meat. It has a long, narrow, straight blade with a razor-sharp edge that's capable of slicing through both firm and soft types of raw or cooked meats. The blade also has a rounded tip and Granton edge to minimize friction and enhance its slicing efficiency and performance. It slices through the meat smoothly without tearing it. You're able to make smaller, thinner, and more uniform slices of meat. Moreover, the Granton edge creates air pockets that prevent food from sticking on the blade. The blade is high-carbon stainless steel hence it's sturdy, durable, and will rarely need frequent re-sharpening. It will have no trouble cutting through thick meats.
The handle is ergonomically designed. It fits perfectly in the hand and it's made of a strong fibrox/nylon material that feels quite sturdy but comfortable to hold. It has a non-slip texture hence you get a firm and secure grip even when the handle is wet. The handle is around half an inch wide, so it can accommodate almost all hand sizes perfectly and it has a substantial finger guard to prevent the hand from getting into contact with the sharp blade. The handle and the blade are overall weighted and balanced evenly hence reducing hand and wrist fatigue when using the knife for prolonged periods.
2. Best Chef's Knife for Cutting Meat: Wusthof Classic Series Chef's Knife
Pros
Does a great job at cutting and slicing meats
It's able to handle firm and soft meats
Strong blade with good edge retention
It doesn't stain and corrode quickly
Handle is sturdy and comfortable to hold
Compact design for easy storage
Comes with a limited lifetime warranty
Cons
Handle may get slippery when wet or slimy
Not ideal for slicing larger chunks of meat like whole turkeys
It doesn't come with a protective sheath
Why it's the best
The Wusthof Classic Series knife is a solid chef's knife that's ideal for cutting meat of any kind from hams to sirloin steaks to poultry. It's designed like any other basic chef's knife but it features an ultra-sharp blade that's made of a strong high-carbon stainless steel with a Rockwell hardness rating of 58. It surprisingly does a great job at modestly cutting and slicing meats. It's able to make thin, even cuts without tearing or shredding the meat. The blade is a single block of high-carbon steel, so it's sturdy and durable, and has good edge retention. It's also resistant to stains and corrosion. Its 8-inch length makes it ideal for handling meats of all sizes as it offers great control which equally makes it a suitable introductory knife for beginners.
The handle is made of a synthetic material that seems sturdy and long lasting, not likely to fade or discolor. It's triple-riveted to a full tang to further reinforce its strength and keep it securely in place. The handle feels soft and it's contoured to fit in the hand so that it's comfortable to hold for a prolonged period of time and also easier to control. It feels properly balanced and the grip is fairly firm. The handle has a full bolster and a complete finger guard to ensure optimal safety when cutting meat.
3. Best Electric Knife for Cutting Meat: Hamilton Beach 74250R Electric Knife
Pros
Easily cuts through raw and cooked meat
Slim, serrated blade creates uniform cuts of meat
It can handle small to large chunks of meat
Blade is strong and resistant to rust and corrosion
Handle is comfortable to hold and has a finger guard
Handle detaches for easy cleanup
Comes with a fork and storage case
Cons
Handle may be a bit bulky for those with smaller hands
The handle tends to overheat according to some reviews
There's no safety lock on the trigger to prevent accidental starts
You have to hold the trigger throughout when cutting
Why it's the best
The Hamilton Beach 74250R does a fine job at cutting through both raw and cooked meat quickly and evenly or carving up a turkey. It comes with a slim serrated blade that's very sharp. It moves back and forth so smoothly and uniformly allowing you to make precise cuts with little effort. It's able to consistently cut even slices of meat. The blade is thin but it's made of a sturdy stainless steel and the motor is equally powerful (100-watt), so it's able to handle heavy-duty jobs like denser meats or even carving or cutting through bones. The stainless steel blade doesn't lose its edge quickly and it's resistant to rusting. It's also 7.5 inches long, perfect length for handling small to large chunks of meat. It also comes off easily for cleaning.
The handle is molded plastic and has a round, ergonomic shape that allows you to hold it firmly. It feels comfortable and secure in the hand, plus it has a good finger guard for extra safety from slips off. However, it's a bit large, especially for those with small hands. It features a simple trigger for turning on the knife for slicing and although it doesn't have a lock on the trigger, the knife doesn't vibrate much, so it's easy to keep your finger locked on the trigger without slipping. Included with the knife is a carving fork which is a handy tool when serving your slices of meat. Also included is a handy storage case for safely storing your knife and fork.
What to Consider When Choosing the Best Knife for Cutting Meat
1. Weight
The weight of knives for cutting meat varies greatly and affects their use accordingly. Heavier knives, for instance, are robust and can cut meat without the user applying a lot of power. You don't have to use much physical strength to work with them as they make use of gravity – more weight means more power. These are the best when you need to break through bones or thick cuts of meat that have a lot of fat or cartilage.
However, the heavyweight knives can generate too much force which can end up damaging the delicate texture of meat. Besides that, it can cut or crush the bones into many tiny pieces that won't be pleasant to bite while enjoying the steak or ham.
Lightweight knives, on the other hand, are usually much easier to operate and control. They allow for easy maneuvering and directing of the blade while cutting meat which makes them a better choice for beginners and also for precision work. However, ultra-lightweight knives won't produce the desired result if you use them on tough meat – they would be too soft to handle beef and bones.
That said, your choice here will depend on your personal preference and the kind of meat you'll be handling. Nonetheless, you want to ensure you pick a knife that you can handle easily and for a long time. It shouldn't be too heavy to make you feel uneasy or cause discomfort on your wrist. We would recommend going for light-medium to medium-weight knives, especially if you'll be handling beef or firm meats.
2. Size
The size of the blade of most knives for cutting meat range from 6 to 14 inches and again your choice here will depend on the size of the meat you'll be dealing with. Cuts of meat whether raw or frozen are usually large and as such they require longer blades, around 10 to 14 inches or 12 inches to be more precise. These long blades ease cutting larger chunks of meat like ham or turkey, plus they are able to tackle different other kitchen tasks. Using a short blade knife on big chunks of meat wouldn't be quite convenient as you won't be able to cut the entire piece evenly.
The smaller-sized blades (6 to 8 inches) are suitable for smaller pieces of meat such as chops or poultry. They are also good for more precise cutting tasks like getting around bones. You can as well opt for a small sized blade if you have smaller hands and you aren't too comfortable with long blade knives.
If you are not so certain about the size, though, we would recommend picking knives with blade length of anywhere between 8 to 12 inches. These are great sizes for home use and can tackle meats of almost all sizes. The longer blades (12 to 14 inches) are more ideal for bigger chunks of meat hence are commonly used by professional chefs.
Besides the length, the thickness of the blade is another aspect you should look at when considering the size of the knife to pick. Thickness is generally related to the strength of the blade, so the thicker it is, the stronger the blade. For instance, carving knives tend to be stronger than slicing knives because they usually have thicker blades.
However, stronger isn't necessarily better, especially when you need to make thinner cuts of meat. In this case, you'll be better off with a thin blade knife. Thinner blades offer more flexibility and much more precise cuts. They are better all-purpose knives. They may lack the strength as well as the control of thick blades, but they are perfect to slice with which is why most slicing knives tend to have long, narrow, blades.
3. Blade material
The blade material is very important when it comes to choosing a knife for cutting meat. You'll be using the knife weekly or even daily if you cook a lot at home, so you'll need a knife that's strong and adequately durable to endure such immense workload, especially considering that it will be passing through bones, fat, oil, water, and whatnot. It should also be razor sharp and have good edge retention.
With that in mind, blades of knife for cutting meat are usually made using materials such as stainless steel, carbon steel, high carbon stainless steel and other less common materials like ceramic and cobalt. Each of these materials has its strengths and weaknesses.
3.1. Stainless Steel
Stainless steel is the most widely used material for blades for cutting meat because it's sturdy, durable, and generally easier to keep sharp. It's the perfect option for regular uses as it gives the blade the strength needed to handle heavy workload. These blades are often ideal for cutting large chunks of meat. They are also used for slicing and carving tasks.
The other advantages of stainless steel are that it's easy to clean and maintain, and it doesn't rust and corrode easily if taken care of properly. Keeping stainless steel blades sharp is equally easy. They are not difficult to sharpen. However, they tend to lose their sharpness quickly, especially soft stainless steel blades hence they require more frequent re-sharpening.
3.2. High Carbon Steel
This is another best material for knives for cutting meat because it's just as tough and durable as stainless steel. It can withstand regular heavy use. However, what makes high carbon steel blades really stand out is the fact that they are able to retain their edge for much longer than the other materials hence they don't require to be sharpened as often. Moreover, they are pretty simple to sharpen when required.
Taking care of high carbon stainless steel blades is easy too. They are resistant to rust, and corrosion, so you can use them in wet conditions without worrying much about the blades getting damaged. Due to their quality though, these knives often come at a high price compared to stainless steel or carbon steel blades.
3.3. Carbon Steel
Carbon steel is an alloy of carbon and iron which has been hardened. It's a softer metal compared to stainless steel and high carbon steel. The blades made of this material are relatively strong and often razor-sharp. They do also retain their sharp edge for a fairly long time than standard stainless steel blades. However, their biggest advantage is that they are quite flexible which makes them ideal for slicing and doing other more delicate tasks like fileting fish.
The disadvantage of carbon steel though is that it's highly susceptible to staining, rusting, and corrosion. It's not really durable, especially if not cared for properly. You have to keep the blade far away from moisture.
The other materials used to make blades of knives for cutting meat are ceramic, titanium, and cobalt. Ceramic in particular, is tougher than high carbon steel and stainless steel, plus it's not prone to rusting or corrosion. Sharpening it is easy and it does hold its edge longer. Its major downside is that it's fragile because of its brittle nature. It can easily crack or break if you drop the knife.
Overall, out of all these materials, we would recommend going with either high grade stainless steel or high carbon steel as they are strong and have a longer lifespan, plus they offer a sharp edge which is also durable. Moreover, they are not likely to corrode or rust over time or when wet. The perfect option, however, would be a blade made of high carbon steel core that's been further layered with stainless steel. This would give you a tougher blade that's highly resistant to rust and corrosion, and can keep its sharp edge for a very long time.
4.
Blade Design

Blades for cutting meat come in different designs, each serving a different purpose. The most common options include:
The Straight/Plain Edge Blades – they are the most popular kinds of blades and are typically used for cutting, slicing, dicing, and chopping. They provide a smoother cut, ideal for cutting through meat. They are able to deliver clean slices on both soft and thick meats without fraying them.
The Serrated Edge Blades – these have jagged edges that almost resemble a saw's blade. They are ideal for cutting through thick, hard meat. They are not ideal for soft meat because they can tear through it or shred it. However, there are serrated knives where the blades are wider and more scalloped hence don't tear meat as much, plus they keep some of the meat's juices.
The Hollow Edge Blades – hollow ground edges refer to blades that have indentations just above the edge. It's a design that helps you achieve a cleaner cut and it also prevents food or meat from sticking to the blade during cutting. These knives are perfect for making thin slices of meat. They can as well be used to make sushi-grade cuts of meat. They are also particularly useful for removing sinew or skinning meat.
The Granton Edge Blades – these have scallops which create air spaces between the blade and the meat you are cutting. This feature helps prevent tearing or ripping of meat as you cut. The grooves along the blade's edge also prevent food from sticking to it. These knives are generally great for slicing thin portions of meat. The meat releases easily from the blade during cutting hence allowing you to achieve smoother cuts.
The other aspect of blade design that you need to consider is the blade sharpness which is directly related to the bevel angle. A bevel is typically created by angling the blade edge. It can be double beveled or single beveled. Double beveled means both sides are angled hence you can use both sides to cut meat. This is the style for most European knives. Aside from convenience, these blades offer great sharpness and longevity.
The single beveled blades are mostly associated with Japanese knives and they are usually identified by their one-sided razor-sharp edges. The advantage of these blades is that they are able to deliver a clean cut with just a single stroke. You can slide any cooked or raw meat with minimum effort. The downside is that the non-beveled side can certainly ruin the meat and even cut across the bones accidentally.
As for the bevel angle, it generally ranges from under 10 degrees all the way to above 30 degrees. A good meat knife bevel will be around 12 to 16 degrees. This is a great range because it maintains a nice balance between hardness and flexibility. Blades with a small bevel angle (less than 12 degrees) are soft and not ideal for any tough meat cutting tasks. On the contrary, any blade with a bevel angle above 30 degrees will certainly be too tough or stiff for the tenderness of the meat.
5. Handle
The handle is yet another very important thing to consider, especially if you'll be using your knives more frequently for meat cutting. You want to ensure you pick a knife with an ergonomic handle that fits well in your hand and feels comfortable to hold, even after using the knife for a while. It should be made of a low-slip material that's strong and durable. The two most crucial factors to look out for when considering the handles are the material and shape of the handle.
5.1. Handle Material
There are different materials used to make the handles of knives for cutting meat. The common ones are wood, plastic, rubber, and stainless steel. Each of these materials has its strength and weaknesses:
Wood – wooden handles are probably the most attractive amongst all. They are comfortable to use and offer a decent grip. They are usually sturdy and tend to add some weight to the knife, making handling and using it easier. One of their crucial flaws though is that they quickly get slippery when wet or slimy. So, if you work mostly in wet conditions or have a sweaty palm, controlling a wooden handle will certainly be tough. These handles are also hard to care for. They easily absorb nearly any smell and are likely to hide bacteria in the millions of microscopic holes in them. They are as well less durable than the other materials. Hot water and intense heat can easily damage them.
Plastic – plastic handles are more lightweight and offer a good, comfortable grip. They are often sturdy too and easy to maintain. They clean up easily and don't soak up smell or hide bacteria like wood. However, they can become slippery, especially when cutting meats or when generally used in wet conditions. Besides that, plastic handles can wear out quickly. They tend to crack over time and can easily get damaged when used near fire or high temperatures. There are handles made of more heavy-duty plastic materials that are able to last for much longer.
Rubber – this is probably the best handle material for knives for cutting meat. It's lightweight and offers a soft, rubberized grip that's comfortable to hold. Its grip is the most firm amongst all and it is non-slip hence providing better control and stability, even when used in extremely wet conditions. Rubber handles are equally easy to maintain as they don't usually soak germs or have a meaty smell. However, they are not pretty sturdy and durable like wood handles.
Santoprene – this is yet another great handle material for knives for cutting meat because it's durable, easy to clean, and provides a solid grip that's slip resistant.
Metal – handles made of metal are more sturdy and durable than the rest. They are easy to clean too and don't soak up the bad smell. They do offer a soft, comfortable grip but they can be very slippery when wet or slimy.
5.2. The Handle Shape
The shape of the handle has to be ergonomic such that it fits comfortably in your hand because if it doesn't fit well in your hand, then it'll make cutting meat much harder, plus it can be potentially dangerous as the chances of the knife slipping will be high. The best option here is a contoured shape with indentations where fingers can rest. This is an effective handle design that not only provides a comfortable, firm grip but also helps keep the hand from slipping during cutting.
There are also some handles that are textured or have special grooves all over. These are good to consider too because they will enhance your grip, making it more firm in wet conditions.
The tang is another thing you should look out for when considering the handle shape and construction. It can be either full or partial tang. A full tang handle that's attached by three rivets is the best option as it's much stronger and durable, plus gives you better control over the knife.
Overall, having a reliable handle is crucial because it will make using the knife much easier. Regardless of the material, you should go for a handle that's sturdy, fits comfortably in your hand, and doesn't slide. We recommend a soft-grip rubber handle as it can offer all these things. However, if you prefer a plastic or wood handle, then ensure it has a non-slip design like a contoured shape or textured finish so that you are guaranteed a firm and secure grip when it gets wet or slimy while working.
6. Finger Guard
A finger guard is one feature you should look out for especially if you're a beginner or generally new to cooking. You may not have grasped all the knives using techniques yet, so incorrectly using the knife can result in unnecessary injuries that you can easily avoid with a knife that has a finger guard.
The finger guard is usually located right at the bolster and it helps prevent the fingers from slipping towards the sharp blade while cutting, hence allowing you to use your knife safely and swiftly. You should go for a metal finger guard rather than a plastic one as the latter can break more easily.
7. Balance
A well-balanced knife is essential because it gives you more control over the knife hence allowing you to carry out your cutting tasks more precisely. It also helps you avoid hand aches and fatigue. In general, most high-quality knives for cutting meat tend to have proper weight distribution from the handle to the blade. However, the level of balance is often proportionally based on the specific purpose of the knife.
For instance, cleavers require more force behind the blade for chopping down. Carving knives also need a bit of pressure behind the blade, but still the knife has to be more evenly proportioned. For slicing knives and other knives used mainly for delicate cuts of meat like fish, the handle and blade should be evenly balanced throughout.
Besides the purpose, the construction of the knife can as well affect its balance. Full tang knives, for example, are considered to be better balanced and ideal for those who prefer the feel of a heavy knife. The bolster and finger guard can also affect a knife's balance. They work as a counterweight during use hence can help maintain the weight balance of both the handle and the blade.
The idea here is generally to ensure you get a well-balanced knife so that you are able to achieve more accurate cutting.

The difference between slicing and carving knife for meat
Slicing knives feature long, thin, and narrow straight blades that have either a rounded or pointed tip. The average length of the blades is usually 12 to 14 inches and they can have straight, serrated, or a Granton edge. The blades are also quite flexible which along with their thin, lightweight nature allow you to neatly cut very thin, even slices of meat. These knives are mainly used for slicing cooked meat like roast, steaks, venison, ham, pork, barbecued beef, and turkey.
Due to their flexible nature, they can also be used to prepare raw meat or for cutting delicate cuts of meat into thinner and smaller pieces, such as boneless legs of lamb or prime rib. Slicing knives can also be useful for cutting and slicing vegetables and fruits. They can even be used for layering cakes and slicing bread loaves. The only area you can't use them is cleaving meat bones.
Carving knives, on the other hand, feature a more rigid blade that's usually thicker, heavier, and wider for extra stability. The blades tend to be a bit shorter than slicing knives with their length ranging from 6 to 12 inches. They also often have a curved, pointed tip that's designed to cut meat away from the bone. Much like slicing knives, the carving knives are used for slicing and carving mainly cooked meat such as roasted ham, leg of lamb, and fried turkey.
Their heavy-duty construction, however, makes them ideal for carrying out more intense cutting tasks than slicing knives. They can be used to cut through dense pieces of meat such as a large chunk of meat. Carving knives are also useful for cutting around bones and they can as well cut through cartilage smoothly. Their pointed tip along with the stiffer blade can easily work through a boned meat and even carve thinner slices.
You should note though that both of these knives are not made to cut through bone. If you try to do that, then you are highly likely to damage your knife a lot.
Comparison of manual and electric knife for meat
Knives for cutting meat can be manual or electric which you need to consider because each option has its advantages and disadvantages.
1. Manual Knives
Manual knives are the most common option and they usually rely on the muscle or effort of the user wielding the blade. They are ideal for precision works because you have full control of the blade throughout which makes it a lot easier to maneuver it. The fact that they don't require a power source to use makes them pretty convenient and portable. You can take them with you anywhere as you don't have to worry about sockets or carrying batteries. Their only major downsides is that they can be quite tedious to use, especially when cutting lots of meat. They are also slow since they depend on the speed of the user.
2. Electric Knives
Electric knives connect to a power source which runs the blades automatically at just the press of a button. They require much less effort to use compared to traditional manual knives as you only need to guide the blade through the meat to make the cuts you want.
These knives are the perfect choice when you have lots of meat to cut or when you need to cut a big chunk of meat like a large turkey. They are particularly great for cutting raw meat. They are capable of cutting thinner than most people are able to, which makes them ideal for tasks like carving a prime rib into very thin slabs. Electric knives are also able to easily cut through cartilage in the meat as well as other bony parts.
Moreover, these knives offer great speeds, meaning you can cut through large chunks of raw meat much faster than when using a manual knife. They are ideal for those whose hands are not strong and for avoiding fatigue when cutting large chunks of meat.
However, using an electric knife to cut meat requires skills and experience hence if you're a beginner it will take some learning to master it. Besides that, you can only use these knives on raw meat, particularly large chunks of meat. Doing more precise cuts can also be challenging because you don't have full control over the blade's movements. Sharpening electric knives isn't easy either.
Another disadvantage is that you have to connect it to a power source to run it which makes it less convenient when you need to carry your knife to an outdoor activity like camping. You can't really use them when there's no source of power, although there are models which utilize rechargeable batteries. These might be a better option when camping out.
Three Tips for the Perfect Cuts of Meat
Certain meats do slice or cut better than others. However, there are a few tips that can help you achieve perfect cuts at home regardless of the meat you are dealing with. They include:
Letting your meat rest – before proceeding to cut your meat you should let it first rest so that all the juices can redistribute throughout the meat. This is important because if you decide to slice your meat right away, then all the juices will likely spill out onto the cutting board, leaving you with dried meat. Therefore, for instance, if you're preparing a steak, you should let it rest for around 5 to 10 minutes. If you have roasted a whole bird, then you should leave it for around 30 to 45 minutes to rest, so that all the juices can redistribute efficiently.
Freezing your meat beforehand – while this may not really be common knowledge, it's one of the effective ways to ensure perfect cuts of meat. Freezing the meat beforehand allows the water inside it to freeze and crystallize, thereby adding structure to the cut which makes it easier to slice it the way you want.
Cutting against the grain – cutting your meat against the grain is an effective way of creating incredibly tender pieces that are chewable far more easily. This means looking for the direction that the muscle fibers of the meat run and then cutting perpendicular to them using your meat knife. Doing so will leave you with incredibly tender bites.
What to do with a knife after cutting meat?
Maintaining your knife is certainly important if you want it to last for years or even decades. The first step of maintenance is always cleaning it immediately after cutting meat. You hand wash it with soap and warm water. To do so, you soak a sponge in the warm soapy water and then rub it all over the knife starting from the back of the blade all the way to the edge – ensuring your fingertips don't touch the edge while rubbing it.
From there, you can turn to the scrubby part of the sponge and use it to remove remnants of meat or any grease from the blade. Once you're done, you then rinse the knife using lukewarm water so as to clean off all the dirt and foam.
When you finish the cleaning, you can soak the knife in liquid chlorine (one tablespoon in a gallon of water) to disinfect it and then wash it once more and rinse it thoroughly. This is an important step especially after slicing and chopping raw chicken, but you can skip it if you've used your knife to cut cooked meat.
After you're done washing the knife, you should dry it immediately by wiping the blade with a soft dry cloth, a dish towel or a smooth paper towel. Do not let it air-dry as many would suggest. This would help prevent it from oxidizing and keep it cutting meat for many years.
If your knife has a wooden handle, then it may need more maintenance because it can get rough over time. Once you're done washing and drying the knife completely, you would have to rub the wooden handle with a mineral oil so as to help preserve it.
One thing you want to avoid, regardless of the type of meat knife you have, is putting it in the dishwasher as it can cause damage to your knife. It can cause them to dull, discolor or even cause the handles to crack and separate from the blade. You shouldn't also let the knife soak in the soapy water for too long, especially in the sink along with other dishes. Too much soaking will absolutely damage the handle and it can as well rust the blade.
Therefore, hand washing is the best way for better cleaning and longevity. You should also be careful with the kind of cleaning solution you use as it might affect the blade. If the blade of your knife is carbon-based steel, then you should avoid washing it with soap but if it's a stainless steel blade, then it's fine to use soap. Just make sure you check the manufacturer's maintenance instructions for your particular knife and follow them.
How often do you sharpen a knife for cutting meat?
Keeping a razor sharp blade is another critical step to maintaining your knife for cutting meat. It makes it easier for it to cut through the meat and as well lessens chances of accidents or damaging the knife over time.
Depending on your regular use and how you maintain the knife, it's recommended sharpening a knife for cutting meat once every one to three months. There are various methods you can use, including a whetstone or sharpening stone, traditional kitchen knife sharpener, or a diamond sharpener.
Whetstones
Whetstones are the most preferred option by most professional chefs for manual sharpening of especially blunt knives. The whetstone has to have a coarse and fine side, and you always have to keep it wet with water throughout the sharpening process.
To sharpen the knife, you hold the blade at about 20-degree angle with the stone and then grind the edge a few times against the rough/coarse side first, starting from the tip to the hilt and then repeating the same amount of times on the other side of the knife while maintaining the same angle you used so as to work over the entire length of the blade for a better sharpness.
From there, you turn to the finer side of the whetstone and then repeat the same grinding process for another about 40 strokes each side, ensuring that you get optimal contact on the entire length of the blade. This finer side of the whetstone will help polish the new sharp edge and equally take off the burr, so you are left with only a smooth razor-sharp blade at the end.
To tell if your knife is really sharp enough for cutting meat, you can try and chip a newspaper or magazine with it. A great knife for cutting meat would be sharp enough that it's able to cut through the paper without needing much force.
Once you are done with the sharpening process and you're satisfied with the sharpness of your blade you can finally hit your knife on your honing rod a few more times to just dial in the edge.
Honing rods
You can as well use a honing rod for regular sharpening of your knife, especially if you use it more frequently. It's a convenient tool for weekly sharpening, which may sound like a lot of work but it's quite easier to use than a whetstone when it comes to periodic sharpening. It allows you to realign the edge of the blade without really shaving off too much metal. You hold the knife on your dominant hand, at about a 20-degree angle to the honing rod which should be in your other hand – the tip of the rod should be elevated above the handle and your fingers should also be away from the blade.
From there, you move the knife across the top part of the rod starting from the lower end all the way to its tip ensuring the movement incorporates your hand, wrist, and arm action, all in a fluid motion. You then shift to the other side of the blade and repeat the same movement and the same angle, starting from the bottom part of the rod. When you're done with both sides, you would have completed what's known as a revolution, and you should do six to eight of them before starting to use your sharpened knife.
In general, you should hone your knives after every four or so uses, or immediately you notice it's beginning to dull and then, once a month, you should use a sharpening stone to sharpen it even better.
The whetstone will take some practice to master, plus there are certain knives like the Japanese or Sashimi knives that have to be held at different angles than the standard 20-degrees and will require different levels of force to ensure proper sharpening. A honing rod would therefore be a better choice if you are less experienced as it's easier to use and can sharpen the knife with great effect just like a whetstone.
There are also electric sharpeners which are equally convenient to use as you don't have to worry much about knife angle. This would be a great choice too if you are less experienced with whetstone sharpening. However, should you go the whetstone way, you should always ensure to use a base that offers traction or place a towel underneath the stone to keep it from slipping, which can lead to cutting yourself.
Where to store knives after use/cutting meat?
There are lots of options when it comes to ways of storing your knife after use. You can use wood/plastic blocks, magnetic strips, storage cases, storage bags, or protective sleeves/sheaths. Storage blocks are the most common option and they offer a very safe way of storage and like the magnetic strips, they allow you to display your knives for others to see. These two methods are less likely to cause damage to the blade or the handle of your knives.
Storage cases and storage bags are also very safe and convenient, especially when you need to carry your knives for cutting meat with you on a camping trip or some other outdoor activities or to work if you are a chef and work in several different restaurants or travel a lot.
Protective sheaths or sleeves and boxes are perhaps the best options when you need to store your knife safely for long at home. The protective sheaths, in particular, often come with the knife or are sold separately as accessories which you can buy along with the knife.
These are the perfect storage methods for knives as they are able to maintain the integrity (sharpness) of the blade as most of them are designed to fit exactly the size of the knife and they are often made of materials like leather which doesn't take in water or moisture that might cause rusting.
They also keep the blade hidden hence no direct or accidental contact that can lead to injuries. Protective sheaths are also highly portable. They allow you to easily and safely take your knife with you anywhere. Moreover, they help reduce the excess countertop clutter compared to knife blocks. Therefore, if possible, go for a knife that includes custom blade sheath/sheave, especially for unusually sized knives.
Proper storage of your knives for cutting meat is generally important, especially if you have young children around the house. You must ensure you have them stored correctly and out of your children's reach. We wouldn't recommend storing them loosely in a drawer with other utensils as they will collide and get damaged quickly.
What knife shape is ideal for cutting meat?
Knives for cutting meat are typically shaped according to their intended purpose. The shape here generally incorporates blade design as well as edge and thickness variations.
For instance, carving knives are shaped almost like a chef's knife but they have much thinner blades to allow them to carve thinner, more precise slices. They also have curved, pointed tips to cut meat away from the bone and are generally straight-edged to deliver clean, straight cuts possible.
Butcher's knives have wide blades with a curved tip which are designed to cut through different kinds of raw meat without ruining the texture. Cimeter or scimitar, which are also a type of butcher's knife, have long, slightly curved blades with pointed tips. This shape is ideal for cutting bigger chunks of meat into smaller ones and for trimming fat off ribs.
The breaking knife is yet another type of butcher's knife with a long, curved blade that's slightly narrower compared to the cimeter. This is ideal for most tasks of cutting meat, especially cutting down a carcass. Most of all these butcher knives also have granton edges that allow you easily and cleanly slice through the meat without tearing or shredding it.
Slicing knives typically have longer, straight, narrow blades with a blunt or rounded tip. These are for cutting cooked meats into thinner and smaller slices or pieces. Many slicing knives also feature granton edges to prevent meat from tearing while cutting.
Boning knives, on the other hand, are used to get smooth cuts around a bone and these can have straight or curved blades that are either stiff or flexible, depending on the function. Those used for cutting meat around bones usually have semi-flexible blades that are straight and have a pointed tip. Those that have curved end blades are often used for trimming and slicing.
Therefore in general, there's no one particular standard shape that's ideal for cutting meat. Each shape is meant for a specific cutting task, so the bottom line is picking the shape that will work best for the type of meat you'll be handling frequently or the type of cuts you want to make.
What kind of knife do you use to cut a beef tenderloin?
A razor-sharp boning or filet knife would be ideal for cutting a beef tenderloin. Their narrow, pointed blades are slightly flexible and curved for precise, careful cutting strokes, which is essential when cutting a beef tenderloin because you don't want to destroy the tender meat when cleaning and trimming the tenderloin to remove the tough silverskin. A small thin paring knife can also work, but they are usually hard to use because of their short blade.
Which model is good for frozen meat and meat bones?
Given its strength, heftiness, and versatility, the butcher's knife is probably the ideal knife for cutting frozen meat and meat bones. Its blade is much thicker and sturdier, and it has a sharp edge with a point for puncturing. It has the heft behind it to cut through a large frozen meat, separate frozen chicken pieces, sausages, or even cut down a frozen rib rack.
A serrated utility knife is yet another good option, particularly for cutting and sawing through most of the smaller frozen meats such as chicken and sausages. It's not able to do the same job as a heavy-duty butcher's knife, but it does excel at slicing through smaller frozen meats or roasts.
The meat cleaver is equally a heavy-duty option for cutting through frozen meat and meat bones as well. Due to its large, heavy blade, it offers a lot of leverage when it comes to handling large pieces of frozen meats like breaking down relatively frozen full chicken or prying apart frozen meats which are stuck together. It can work well too at chopping meat bones without causing damage to the blade.
For the more substantial and robust, solidly frozen large cuts of meat and getting through large bones, saws are the best option. However, if you happen to handle such kinds of jobs often, then investing in a frozen meat slicer would be more suitable. These are professional equipment that are made of a levered blade, designed for precision slicing and also have a special holding platform for keeping the meat in place.
You can also consider an electric knife for very tough circumstances. They can provide the necessary power to get through any type of frozen meat or bone.