ILVE Ranges: luxury in your kitchen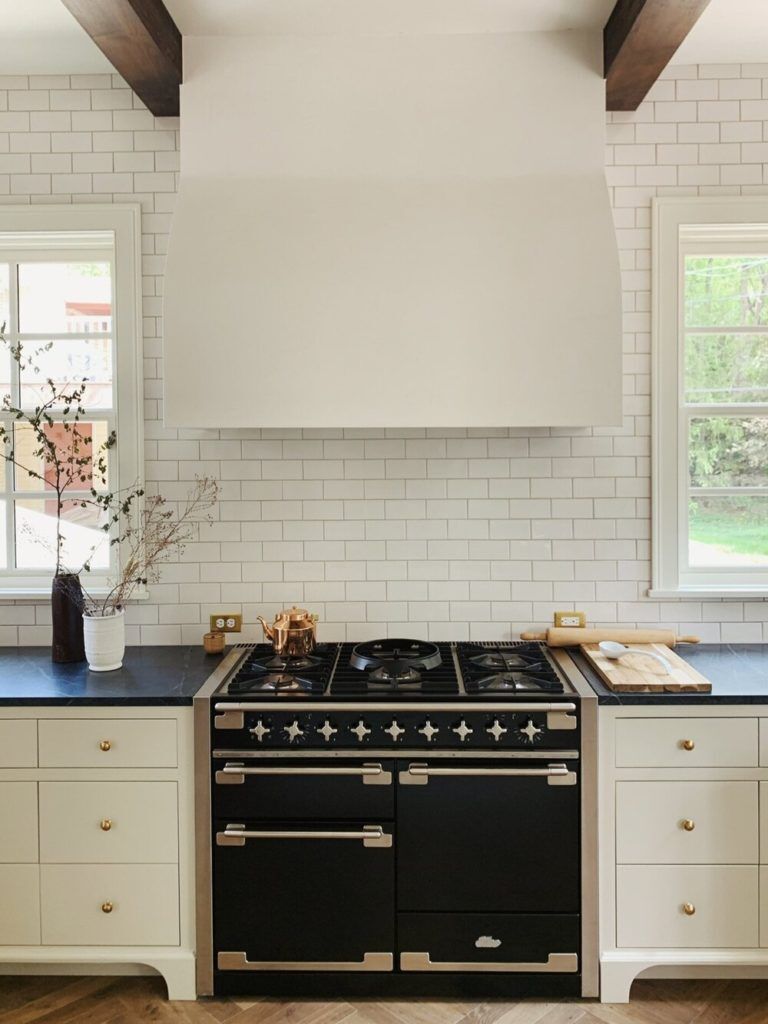 Disclaimer: we may receive commissions from purchases made via our links at no cost to you
More affordable stoves, cookers, and ranges will undoubtedly get the job done in cooking everyday meals for you and your family. However, if you're looking for a little something 'more' to add versatility, efficiency, longevity, and improved performance to your cooking experience, then a high-end range might be just what you're looking for.
While your options are relatively limited when it comes to premium ranges, Italian brand ILVE has been at the forefront of the high-end cooker industry for more than half a century.
ILVE produces hand-crafted stoves and ranges from premium materials encompassing most cooker types. Choose from built-in, freestanding, gas, electric, and induction appliances, with pizza ovens, warming drawers, and vacuum drawers available to purchase also.
While ILVE began life primarily catering to professional chefs, restaurants, and businesses, this brand is becoming increasingly popular with home cooks as people seek to enhance the cooking experience in their own houses and make their kitchens more aesthetically pleasing.
Let's take a look at some of the best products from the brand to help you choose the perfect ILVE range for you and your family.
ILVE ranges come highly regarded. The performance of all the models listed above is no doubt impressive as many users have attested.
However, the ILVE Majestic II UMDI10QNS3SSG stands out the most due to its versatility in terms of features as well as the number and heating style of its burners. It's a great choice for professional cooks and home chefs that really love to experiment.
If you are just after something that performs well but don't care much about the extra level of detail and features, then the other models may work for you depending on your particular needs.
ILVE offers a wide range of different styles to their customers with seemingly endless customization options, so you get the perfect aesthetic for your kitchen.
Of all the ILVE ranges, the Majestic line is the most spectacular-looking of them all. With a traditional "farmhouse" appearance, this range offers consumers a range that will be the focal point of your kitchen.
The ostentatious knobs and trim make a real statement, yet their flamboyant appearance doesn't overstep the mark.
Don't be fooled by the rustic appearance, though, as the Majestic range comes with all the mod cons, including touchscreen operation, precise temperature control, ECO cooking, multiple fan cooking settings, a child safety lock, steam release, 15 cooking modes, and a cooking probe (among a host of other features too numerous to mention).
You have four size options with this range (90cm, 100cm, 120cm, and 150cm) and eight color choices (stainless steel, matt graphite, gloss black, white, antique white, burgundy red, midnight blue, emerald green). You can even choose between four different trim colors to perfect the appearance.
The oven is electrically powered, while you have a choice of heat sources (depending on the size you choose). Gas hobs are available on size ranges, while you can have full induction on the 90cm and 100cm options. Two-zone inductions sources are available on the 90cm, 100cm, and 120cm ranges.
The Nostalgie range finds the happy medium between traditional and contemporary. This cooker style comes with the same fancy knobs as does the Majestic line. However, the overall appearance of these cookers is a little more refined, bringing the farmhouse look into the 21st century.
While the Nostalgie ranges might have a more modern appearance than the Majestic range, it lacks a few of the technological features that appear on the high-end Majestic (and Panoramagic) cookers.
The touch screen control panel is the most notable absence, while the cooking probe and defrost mode are also missing.
What Nostalgie ranges lack in technology, it makes up for in size options making it a perfect choice for folks with smaller kitchens. You can choose between the 60cm, 70cm, 90cm, 90cm Twin, 100cm, 120cm, and 150cm widths.
Color options for the Nostalgie are as varied as the Majestic with Stainless steel, matt graphite, gloss black, white, antique white, burgundy red, midnight blue, emerald green for the main exterior, and the same four trim choices.
Full induction heat sources are only available on the 60cm, 90cm, and 100cm cookers, while two-zone induction on 90cm, 100cm, and 120cm. The electric oven is standard, and gas hobs are available across all sizes.
If the Majestic rearrange offers you that rustic appearance, is the Panormagic line is the polar opposite. This ultra-modern and futuristic set of ranges is the pinnacle of contemporary cookers.
The stainless steel exterior is handcrafted from the finest materials that look exquisite and give your kitchen an authentic professional look. To enhance the futuristic look, Panoramagic ranges have LED back-lit knobs that give off a comforting glow (especially if you're cooking at night).
There are no color choices on with the selection of cookers, with stainless steel and glass being your only option. However, that's not a huge deal as this cooker is absolutely stunning.
To offset the lack of customization, you'll find your Panoramagic range is the most feature-packed cooker of all the ILVE ranges. You'll find all the same excellent features that the Majestic line has, but it also comes with a warming drawer.
Your width size options are limited as you only have the smaller 90cm range or larger 120cm cooker. Electric ovens come as standard (as they do with all ILVE ranges) and gas hobs and two-zone induction heat sources are available on both sizes, while the full induction choice is only compatible with the 90cm range.
ILVE claims the Roma line was inspired by professional kitchens, and that's probably what makes these ranges from this particular brand look like a more standard cooker you might find in Home Depot or Walmart.
That's not to say the Roma line of cookers isn't beautifully crafted, but they just have a more familiar feel.
Unlike the other stainless steel cooker from ILVE, you have a few more customization options with the Roma with four colors (stainless steel, matt graphite, gloss black, white) though only one trim color.
The feature list and heat sources for the Roma line of ranges are precisely the same as you'll find on the Nostalgie.
ILVE's Roma cookers have the most extensive size options with 60cm, 70cm, 80cm, 90cm, 90cm Twin, 100cm, 120cm, and 150cm widths to choose from.
ILVE's Torino range line attempts to make high-end appliances more accessible to folks on a tighter budget. While still incredibly attractive when compared to more out-of-the-box high street brands, I feel that Torino ranges have been dumbed down to keep the cost lower.
The cooker's knobs are a little bland and unappealing, the overall finish is a little more bland, and the reduction in features is a significant blow.
You'll find the 50° – 250° temperature range is significantly reduced (compared to 30° – 320° on the Majestic and Panoramagic, and 30° – 300° on the Nostalgie and Roma). There are only nine cooking modes, no warming or storage drawers, no touch screen control, no safety lock, no precision temperature control, and a whole host of other mod cons.
However, the quality and craftsmanship are still prevalent, and the price decrease is significant and can save you up 75% compared with the top-of-the-range cookers from this brand.
You will have four size options, 60cm, 90cm, 100cm, and 120cm, and five color options (stainless steel, matt graphite, white, antique white, burgundy red) but only one finish to choose from.
Best ILVE gas and electric freestanding ranges
1. ILVE Majestic II UMDI10QNS3SSG
Stovetop Performance
The ILVE UMDI10QNS3SSG is an electric range featuring a smoothtop cooktop with 6 burners. Users said all the burners heat up quickly and consistently. They spread the heat evenly and retain it well which allows food to cook properly.
They also found the different sizes of the burners very convenient as they can use pots and pans of varied sizes. The cooktop is spacious too with sufficient room between the burners. It can handle multiple large ports simultaneously with no problem in space.
Users as well found the front left burner quite useful due it's quick boil feature. They said it boils water faster (taking just a few minutes) than most other ranges they had.
They liked that the burners have varying heat levels which are ideal for cooking different kinds of food. The smooth surface of the cooktop was also appealing to most users as it allows them to easily move heavy pots from one side to another without having to lift them.
Oven Performance
The unit features a convection oven with three racks which users said it's large enough to bake several dishes at the same time. They also mentioned that it pre-heats faster and maintains a consistent and even temperature allowing food to bake uniformly every time.
The oven remains cool to touch which is important if you have a little one. Users liked too that it beeps when it has preheated to the correct temperature hence you won't need to guess when to put your food in.
ILVE has included a warmer zone which is a nice addition that users found convenient as it allows them to keep their cooked food warm before serving.
Operating the Unit
There were no notable issues when it comes to operating this unit either. The digital oven control which features a TFT full touch screen is easy to use as a lot of users attested. Same applies to the cooktop controls. The knobs are sturdy, precise and easy to handle.
Cleaning and Overall Build Quality
The ILVE UMDI10QNS3SSG cleans easily because of the smooth cooktop. Spills don't go beyond the top and the surface around the burners are easy to clean too.
Cleaning the oven is simple as well since the unit is equipped with a self-cleaning feature that bakes off any encrusted food on the sides of the oven.
In terms of build quality, users agreed that the unit is very well constructed. The grates and oven racks are heavy-duty same to the door handles. The oven light comes on automatically when the door opens which is a nice touch compared to having a light switch.
In general, for an all-around reliable cooking and baking performance, the ILVE UMDI10QNS3SSG range is a good choice to consider. It comes with several useful extra features too and most users said the delivery and installation services are quick and smooth.
2. ILVE Majestic II UMD10FDNS3WHG
The ILVE Majestic II UMD10FDNS3WHG has a lot of features that are identical to the ILVE Majestic II UMDI10QNS3SSG range like adjustable temperature levels, pre-heat mode, warming drawer, digital control, timer, rotisserie and self-cleaning mode.
Its performance seems quite impressive based on the general consensus and it does have several unique features that set it apart from the rest.
Stovetop Performance
While it has 6 burners much like the ILVE UMDI10QNS3SSG above, the ILVE UMD10FDNS3WHG model is a dual-fuel range comprising of an electric oven and a gas cooktop. This design allows users to take advantage of the two fuel sources for optimal cooking.
Another notable difference is the cooktop style. The ILVE UMDI10QNS3SSG comes with a sealed burner cooktop which tends to be a bit slow to heat up but offers more control over the flame.
A majority of users though pointed out that the burners heat fairly fast and the heat is well distributed. Front burners have plenty of BTU which users said provides high temp ideal for stir frying or water boiling.
Unlike the ILVE UMDI10QNS3SSG above, the grates of this range have a nanotechnology non-stick coating which makes cleaning easier. The coating prevents stains, spatters and spills from getting stuck on the grates, so you get to easily wipe them off.
Besides that, the grates are large, very stable and continuous which users said reduces chances of pans or pots tipping, and also makes it easy to slide them on and off heat or moving them from one burner to another.
Oven Performance
The unit comes with a convection oven which is the same size as that of the ILVE UMDI10QNS3SSG. It only has two racks but ILVE has included a griddle which lacks in the ILVE UMDI10QNS3SSG model. Users said it does heat up fairly quickly and the heat is adequately distributed by the fans for even baking.
Cleaning and Overall Build Quality
The sealed cooktop is generally easy to clean same to the oven which features a self-cleaning mode. The overall build of the unit is solid as many users noted and the two glass doors are very sturdy too as they are made of three glass panes.
If you are after a dual fuel range, then this ILVE Majestic II UMD10FDNS3WHG model might be worth a look. It's a good value and you get most of the extra features that the ILVE Majestic II UMDI10QNS3SSG has.
3. ILVE Nostalgie UPN76DVGGN
The ILVE Nostalgie UPN76DVGGN is a single door range which makes it a bit compact in width (measuring 30-inch wide) than the other two models above which have dual doors (measuring 40-inch wide). It also lacks several extra features that the other two models have but overall, users were pleased with its performance.
Stovetop Performance
While the ILVE Majestic II UMDI10QNS3SSG and the ILVE Majestic II UMD10FDNS3WHG models are equipped with 6 burners, this UPN76DVGGN range has 5 sealed burners. The center burner is bigger than the rest which users found useful for cooking with big pots.
All the burners ignite faster and the heat is evenly distributed as most users pointed out. The center burner, in particular, has high power output hence gets much hotter than rest which users said it's ideal for boiling water quickly.
Moreover, it has triple rings whereby you can switch off the flames of the outer ring and use it as a simmer burner which is another feature that users found to be quite useful.
They also liked that the grates are very robust as they provide a more stable cooking environment. They are also designed such that they form a continuous levelled surface throughout the cooktop which allows for easy movement of pots and pans.
The other feature that was appealing to users is the thermocouple safety valve. It's a safety precaution that shuts off the gas supply instantly in case of a malfunction or when the burner goes out.
Oven Performance
The oven is large equipped with two racks, and it heats up quickly and evenly. It's also able to alert you when it's done pre-heating. Unlike the previous two models though, the ILVE UPN76DVGGN has a storage compartment instead of a warmer section. It's not that spacious but it can accommodate a few pots and pans.
Cleaning and Overall Build Quality
The cooktop of this ILVE UPN76DVGGN is easy to clean as many users said but it lacks the oven self-cleaning mode which means clearing out encrusted food on the sides of the oven might be a little hard since you have to do it manually.
The range also doesn't come with a griddle, a temperature probe or the delay bake feature. However, it has all the other extra features which include a preheat mode, timer, interior oven light, electric rotisserie and digital control and knobs for operating the oven and cooktop. The entire construction is very sturdy too.
Although it lacks some useful extra features, the cooking performance of this ILVE UPN76DVGGN model is great. It's a decent option if you are looking for a slightly compact 5-burner ILVE gas range.
There's also an identical 36-inch model available, the ILVE Nostalgie UPN90FDVGGN, which offers the same performance and comes with a griddle. But unlike the ILVE Nostalgie UPN76DVGGN model, it lacks the interior oven light.
4. ILVE Majestic II UMI09NS3RALP
Stovetop Performance
A lot of users seem to agree that the smooth cooktop of this ILVE Majestic II UMI09NS3RALP range performs wonderfully. The 5 electric burners deliver quick and uniform heat every time.
They have different heat styles but the front left burner stood out the most for most users since it's more powerful suitable for rapid boiling of water.
Users also liked the different sizes of the burners as they can handle multiple pots. They equally noted that the grates are large and heavy-duty hence keep pans and pots very stable while stirring.
Oven Performance
The oven of the ILVE Majestic II UMI09NS3RALP received a lot of praise too from users due to its large capacity that can easily hold large meals. Users mentioned that it pre-heats quickly and keeps the heat consistent allowing food to cook evenly.
Unlike the other two 5-burner gas ranges we mentioned above, this Majestic II UMI09NS3RALP model comes with a delay bake feature which users found to be convenient especially when they are at home or too occupied to switch the oven on or off.
ILVE has included a warming drawer in this unit too which lacks in their 5-burner gas ranges as they feature a storage drawer instead.
Cleaning and Overall Build Quality
The stovetop is a breeze to clean, same as the oven which is equipped with a self-cleaning mode. One thing that stands out from the rest is that the oven door has triple glass which are removable for easy cleaning.
The unit has solid knobs too and robust overall construction. Operating it is quite easy since it has the same digital controls and knobs as the other models.
All in all, this is a great versatile range that's well-made. It's a good option to consider especially if you prefer an electric range over a gas-fueled range.
5. ILVE Nostalgie UPN60DVGGMX
For those seeking a more compact and basic ILVE range, then the Nostalgie UPN60DVGGMX model is worth looking at. It's a 24-inch (width) gas range that would fit in most standard kitchens. It doesn't offer much in terms of features but it's very functional and its performance is impressive according to the comments of a majority of users.
Stovetop performance
The ILVE Nostalgie UPN60DVGGMX stovetop comes with 4 sealed burners with different BTU ratings. Almost every user seemed pleased with the cooking performance of the burners.
They said they work well and heat evenly with the big front left burner delivering lots of heat for rapid boil or quick frying. The grates are large and continuous providing stability and easy movement of pots and pans across the stovetop.
Oven performance
There's plenty of space in the oven to make big meals and its performance is great as users said it pre-heats quickly and maintains the heat very well allowing food to bake evenly.
However, unlike the other units above, the oven of this ILVE Nostalgie UPN60DVGGMX model is not equipped with a rotisserie, so if you love to prepare spit-roasted meat then you may have to consider the other options.
Like the ILVE UPN76DVGGN, ILVE UPN90FDVGGN and the Majestic II UMI09NS3RALP models, this range has a storage drawer instead of a warmer.
Operating the Unit
The ILVE Nostalgie UPN60DVGGMX is a more basic range as both the oven and stovetop burners are controlled using knobs.
There are no digital controls which some users found a little inconvenient, especially for the oven control since it doesn't offer programmable functions like delay bake.
The unit also lacks a temperature probe. Nonetheless, the knobs are easy to use and a digital temperature display is included.
Cleaning and Overall Build Quality
Cleaning the stovetop presents no challenges as users mentioned due to the sealed design of the burners. As for the oven, cleaning it may be a little challenging, especially when food gets crusted on the sides of the oven since the unit doesn't have a self-cleaning function.
Generally, this is a standard gas range with reliable oven and stovetop performance. It's an option that will suit anyone that doesn't want a large-sized range. The overall construction is heavy-duty and the knobs are pretty sturdy.
6. ILVE Majestic II UMI30QNE3WHC
The ILVE Majestic II UMI30QNE3WHC model also has a 4-burner stovetop but unlike its counterpart above, it's an electric range and besides that, it's more advanced as it comes with all the extra features that the ILVE's 6-burner ranges have.
It includes the rotisserie, delay bake function, pre-heat function, temperature probe, digital oven control and the self-cleaning mode.
Performance
Both the stove and oven performances are impressive. A lot of users said that they heat up faster and evenly. The oven is spacious enough to bake a lot of things at once while the stovetop consists of large front burners that have sufficient power to facilitate high-heat cooking.
Cleaning and Overall Build Quality
The ILVE Majestic II UMI30QNE3WHC has a smooth stovetop and self-cleaning function which make cleaning a breeze. The oven door is also removable which further simplifies the cleaning process in case you want to do a more thorough cleaning.
One major downside though is that the unit doesn't come with any drawer. You only get a stovetop and an oven but the build quality is solid and operating the unit is simple thanks to the digital oven control.
In short, compared to the ILVE Nostalgie UPN60DVGGMX, this is a much suitable option if you are after a 4-burner range that will give you the same extra features found in the more advanced 6-burner ranges from ILVE.
Are ILVE Ranges Any Good?
There's no getting away from the fact that even the most affordable ILVE range is extremely expensive and far beyond the price point of most standard stoves and cookers. So, before you put a hefty dent in your bank balance, you'll want to know if these ranges are worthy of your cash.
While I can't comment on the quality of every single product in the vast ILVE catalog, the general opinions from the cult-like customer base (myself included) of this Italian kitchen behemoth are of overwhelming praise.
Not only are the physical appearances of these first-class ranges more stunning than any other appliances on the market (seriously, photographs do not accurately represent how beautiful ILVE cookers are), but they're manufactured from the highest quality materials.
Each component fits perfectly into the next to ensure there are no wobbles, scrapes, or bangs. The parts are handcrafted by industry experts, making them some of the finest ranges on the market.
ILVE does an incredible job of combining traditional farmhouse-style cookers with modern technology to bring some genuinely unique appliances to your home.
But are they worth the money?
That probably depends on your disposable income. If you have a massive budget to spend on a new cooker, then ILVE ranges will be a gorgeous addition to your kitchen. However, the eye-watering large price-points of this brand's appliances will not provide significantly more benefits than more affordable mid-range appliances if you're on a tighter budget.
ILVE is the brainchild of two Italian friends, Mr. Illotti and Mr. Berno, who formed the company in Campodarsego, Venice, in Italy over half a century ago.
Using their extensive knowledge in manufacturing, the duo began building ranges for local businesses, chefs, and restaurants. During the following ten years, word began to spread about the quality of their work, and it became clear that there was a domestic market for ILVE products.
In 1983 Illotti & Berno retired from the business and passed custodianship to their sons (who still run ILVE today), who eventually took their products to Australia.
What began as a one-product brand branched out to produce a variety of different lines such as the Majestic, Nostalgie, Roma, Torino, and Nostalgia ranges that are still incredibly popular and provide consumers with a wide choice of the very best hand-crafted cookers, stoves, and ranges.