Hexclad Cookware review and recommendations
Disclaimer: we may receive commissions from purchases made via our links at no cost to you
The most exciting part of living in the 21st is the command technology has taken over every aspect of our lives. And while that's not always a good thing, it's an exciting thing when it happens in the cookware industry. I've played around with pieces from many local and international brands, and I can say with certainty that testing out HexClad ranked high on my to-do list for a while.
When I first saw images of the pan, particularly the 12'' pan, I immediately thought of another popular premium set that I'd gotten to test–the Anolon X. Not to say that they are side-by-side similar, but they do feature a hybrid construction that allows chefs to get the best of nonstick and stainless steel on one cooking surface.
As if the innovation wasn't enough, the brilliance of the cookware got a big thumbs up from the King of Hell's Kitchen, Chef Gordon Ramsay. Today, many cookware brands get celebrity endorsements and collaborations–think Rachael Ray, Jet Tilla, Martha Stewart, etc. However, a tip of the hat by Gordon and his fiery temper certainly warrants interest.
So, I saved up (significantly, if I might add) and went out and got these little pieces of kitchen Tiffanys. I would have been just as happy hanging them on display, but alas…duty called. I went on to play with my pretty, shiny new toys, and I'm excited to let you know what I found. I had done significant research before taking the plunge; therefore, I verified what some users said while disputing some of the common claims and discovering new takes myself.
Is Hexclad worth the price?
Our Recommendation: Consider it, the technology makes a case for itself!
HexClad is definitely making the airwaves in the culinary industry, and it's not without cause. This brand has redefined triply with a hybrid technology that sees the interior deliver a Teflon nonstick surface with stainless steel etchings. The triply is an aluminum core sandwiched between two layers of stainless steel that give the cookware increased strength, durability, and great heat conductivity. But that's not where everyone's attention is at.
The interior's floor is made of nonstick, and through a highly complex process, HexClad laser etches stainless steel hexagons that seem to create a hovering perimeter over the recessed nonstick. What does this mean? It means that you can use your metal utensils, and all you'll hear or experience is the metal glaze over the stainless steel etchings, leaving the nonstick unharmed–great for durability.
But does it perform? What has been my experience is that on a low to medium flame, even the most delicate of proteins, like shrimp, will cook without breaking. Now, the meat doesn't move without being dislodged, but that's what you have to contend with for the searing benefits of stainless steel that regular nonstick wouldn't usually accomplish. There's a slight glaze after cooking, but that wipes off quite easily. Even better, you can use abrasive scrubbers to get everything off.
HexClad 7-Piece Hybrid Stainless Steel Cookware Set with Lids and Wok - Metal Utensil and Dishwasher Safe, Induction Ready, Easy to Clean Non Stick Fry Pan with Covers
HexClad Cookware combines high quality stainless steel with a laser-etched non-stick surface using our patented hexagonal design to provide the ideal hybrid cooking performance. Utilising a tri-ply construction, our cookware has a layer of aluminum encapsulated between two layers of stainless steel for perfect heat distribution.
HexClad Cookware is completely non-toxic. The surface is a combination of ceramic, diamond dust and stainless steel for the best balance of utility and performance.
HexClad Cookware is ready for any kitchen, thanks to compatibility with all types of cooktops including induction, gas, electric, and ceramic, as well as being oven-safe up to 500 degrees Fahrenheit. Please note HexClad Lids are only safe up to 400 degrees Fahrenheit.
You need to season your cookware edge-to-edge to ensure good release–the cooking surface does a pretty good job. However, after cooking, you will notice discoloration, especially along the edges. This is quite normal with stainless steel, although not welcome. It doesn't affect the performance, but most of us are buying HexClad for aesthetics, so that's a huge bummer. But as mentioned, with a lot of elbow grease and a tough scrubber, the problem is manageable.
The big elephant in the room–the price–and it is hefty. There are many pots and pans that will perform as well as HexClad for a fraction of the price. However, not many will give you the properties of hybrid stainless steel and nonstick surface in one. Some would argue that the cost of one HexClad pan could buy you both types of pans, but we know the quality would have to be compromised. Therefore, for the performance and durability you're getting, I do think this brand is worth giving a try if your finances allow for it–a real 2-for-1 deal.
Construction
HexClad is a beautifully constructed cookware set. Right off the bat, the hexagonal print on the interior and exterior caught my eye long before I noticed the other intricate patterns that lined the cookware's surface. The cookware is dark-hued, with a glow from the polished stainless steel.
The pieces feature a tri-ply construction, with an outer magnetic stainless steel layer, an aluminum core, and a hybrid interior with both nonstick and stainless steel etching. The metal-clad gives the cookware increased strength and good heat distribution. The ferromagnetic exterior also allows for induction ability.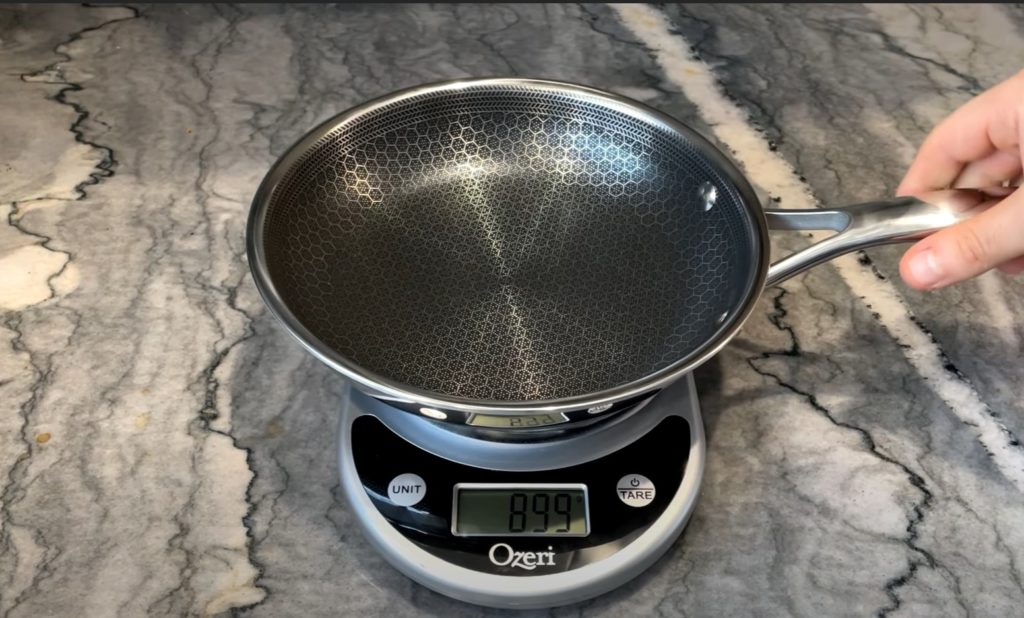 I found the handles to be ergonomically designed–thick, rounded, and medium-sized. They are very comfortable, and I rarely say that about medium-sized handles. They also feature a deep cutout where the handle joins the body via dual rivets. This has been instrumental in keeping the handles cool, which is more than I can say for most brands that promise the same.
The pieces in this collection also come with flared rims made of pure stainless steel. They help in the easy pouring of food and provide a decent resting place for the cookware's domed lids. The lids also come with stainless steel handles and rims; they have been the source of ridicule for their seemingly cheap construction–I've seen better, and I will also trade the food monitoring of glass lids for the heat efficiency of stainless steel lids.
I'm pleased with the set as it forms a natural stack due to the limited variety of pieces, and the reducing dimensions of the existing ones. The hybrid exterior and interior keep the nested pieces from scraping the bottom-placed piece. I also like that the pieces were not completely flat–the curved edges allowed me to use the large pans on smaller-sized burners while retaining the same level of heat efficiency.
Coatings
The interior is quite interesting. From photographs, you can't tell what's going on with the hexagonal print. I was, therefore, quite curious to see and feel what they described as a raised steel surface over nonstick that quite clearly was different from Anolon X's SearTech. From the interaction, I can describe the surface as holographic. The steel seems to rise in 3D fashion, creating a continuous raised barrier over the nonstick–hence the metal safe.
The stainless steel is laser etched onto the nonstick to form hexagonal rings that hover over the lower-situated nonstick 'valley.' In fact, I read a claim somewhere by HexClad, and they say that the laser etching process is so complex they couldn't find a reliable factory in the US. This is their explanation for the company's factory base being in China (but right down from iPhone's factory–a hilarious but clever thing to say).
Right under the rim is another interesting but less pronounced pattern that I'd thought was plain stainless steel when I first saw it online. Turns out HexClad designed the ring in a herringbone pattern to keep up with aesthetics. It looks nice but is not really functional. Alternatively, the exterior features a plain stainless steel ring, a herringbone pattern ring in the middle and the rest is the hybrid surface, with the HexClad logo and some manufacturer's info on the base.
Performance
The purpose of the hybrid surface is to give the cookware the best of nonstick and stainless steel when cooking. Does this actually work? First of all, my biggest fear going in was the numerous reports that said the nonstick's function was abysmal. At its price tag, that is not money you want to hard-wash down the drain. However, the manufacturer does give a disclaimer to season the pan–a step that a lot of people either skip from ignorance or conduct inefficiently.
I followed my sure-proof method–avocado oil, rim to rim, cranked the heat up to 525℉, and waited till it reached smoking point. Now, you can follow your preferred method and repeat the process should you wish. Recognizing that the surface has stainless steel also lets you know that heating on high will lead to sticking. 
I prepared all sorts of meals on my pans and was especially pleased to see my eggs slide with a little bit of oil. I went in with my salmon, and on low heat and with a bit of oil, I was able to get it evenly cooked without breaking. My chicken breast cooked just as well without the need for oil, though it left quite the glaze and needed significant nudging to flip. I sizzled some shrimp and managed to get a good brown on them, but searing a piece of beefsteak was not as efficient as with a fully stainless steel pan. 
Durability
Cooking was fun, and I hope the pan retains its food release. However, we know that nonstick degrades. And despite the lifetime warranty guarantee, HexClad has not been around long enough to make large claims on lifetime assurances–the technology patent was filed in 2016.
Other than that, the brand does an excellent job of preserving the integrity of the cookware's surface. The raised stainless steel parameter keeps the recessed nonstick safe enough for use with all kinds of utensils, including metal utensils. I even tested out my electric mixer, and I'm happy to report that it did not leave any superficial or other markings.
The cookware does discolor along the edges–as most stainless steel does, and this, despite me seasoning it. HexClad claims that we can use the abrasive side of our scouring pads and even steel wool scrubbers. I was somewhat worried that this would not work, or rather, would work so well that it would destroy the nonstick–the stainless steel shield stole the show once more. 
While it took way more effort than I appreciated to scrub the discoloration off, the nonstick remained intact. This display of resilience goes a long way in making a case for HexClad's durability. The cookware is dishwasher safe, but I'd advise sticking to handwashing to preserve the nonstick. And, you might need to get a tough scouring powder to keep the grime from ruining the aesthetics, but it definitely feels like this newcomer might have the bite to back its bark.
Stovetop Compatibility and Oven Ranges
The cookware is compatible with all stovetops, including induction tops. The entire set is oven-safe up to 500°F. This is lower than full stainless steel cookware because of HexClad's nonstick element. The glass lids will also tolerate limits of about 300°F. I figure it is lower than standard because of the plastic ring that serves as a pad between the lid handles and the glass–users have reported that the plastic rings melted right off with no amount of significant heat.
Price Range
The cost of HexClad cookware is premium, and the prices both compare and vary slightly with established brands like All-Clad and Hestan. Compared to the closest competitor, the Anolon X collection, the price difference was near-insignificant. The pieces don't compare apples to apples in size, but you can tell there's a higher markup on HexClad offerings.
Available Set Options
HexClad comes with a few set options, and most pieces sell as open stock. However, the variety is restricted to pans, pots, woks, and a griddle. Below are the options available:
7-Piece set: 12″ Pan w/ Lid – the foundation of the gourmet cook's toolkit, 10″ Pan w/ Lid – the perfect size for everyday meals, 8″ Pan w/ Lid – the essential sauces and sides pan, 12″ Wok 
13-Piece set: 12″ Pan with Lid, 10″ Pan with Lid, 8″ Pan with Lid, 12″ Wok, 2-QT Pot with Lid, 3-QT Pot with Lid, 8-QT Pot with Lid
Hybrid pan in different sizes: 12'', 10'' and 8''
Hybrid wok with lid: 12''
Hybrid wok without lid:12''
Hybrid wok with two short handles and lid: 14''
Hybrid griddle 12''
Hybrid deep saute pan/ chicken fryer with lid: 7 qt
Hybrid pots with lids: 1 qt, 2 qt, 3 qt, and 8 qt
Starter bundle: 10'' pan with a lid and 1qt hybrid pot with lid
Specialty bundle: 7 qt hybrid deep saute, 14'' wok, and 1 qt hybrid pot, each with a lid