360 Cookware: high-end stainless steel pans and pots
Disclaimer: we may receive commissions from purchases made via our links at no cost to you
3.5-Quart Saute Pan with Cover
We think the Saute Pan brings the best value from 360 cookware's lineup. It is a superb all-rounder that can perform multiple tasks, meaning you can have superb versatility without having to spend hundreds or thousands of dollars on numerous pans.
It comes complete with the 360 Cookware lid that enables 'waterless cooking' by creating a vapor seal to seals in the meats and vegetables' natural moisture for delicious, healthy, and efficiently cooked food.
There are two main downsides to this pan: 
Handle: the handle isn't comfortable if your hand doesn't fit the ergonomic shape.
Price: it's an expensive item but we think it's still a good value. It's handcrafted in the USA from high-quality stainless steel using sustainable processes. You also get a lifetime warranty.
We had an opportunity to test 2 items from 360 Cookware range: 3.5 Quart Sauté Pan with Cover and 11.5 Inch Fry Pan.
Packaging
When the package from 360 Cookware landed at our door, we were immediately taken aback by its bland appearance that was completely devoid of any logos or marketing blurb.
Rival brands like 'Made In' or the 'Proclamation Goods Company' seemingly go that extra mile to dress up their packaging and give it some pizzazz.
However, 360 Cookware says they're committed to being as sustainable and environmentally friendly as they can. Doing away with any process that uses chemicals of any kind will help them achieve that goal.
When we opened the box, we found the cookware was well protected by additional cardboard, and plastic bags encompassed each pan. We found the use of plastic bags a bit odd considering 360 Cookware's environmentally friendly stance.
All the pieces inside the box were in pristine condition because 360 Cookware did such an excellent job in packaging the products (plastic bags aside).
Design and Construction
We've used countless pieces of stainless steel cookware over the years. Yet, the 360 Cookware pans managed to impress us with their sleek curves, ergonomic yet striking handles, and an interior matt finish that gives this pan a premium aesthetic.
The cookware's stainless steel exterior is highly polished and looks beautiful right out of the box.
High-end cookware is generally produced with a 5-ply construction (five separate layers of alloy), and it's the preferred method for 360 Cookware.
Three layers of aluminum alloy form the pan's core (which is excellent for even heating and heat distribution), while the external layer is forged from T-400 grade stainless steel (which is both robust and magnetic for induction top compatibility).
The internal layer is produced from T-304 grade stainless steel to eradicate cross-contamination and to make sure your food doesn't react to the pan's interior,
Each pan is 2.8mm thick and finds the sweet spot between durability, heat distribution, and heat retention, and is the standout feature of 360's cookware. We'll talk about how this affects the cookware in the "Performance" section of our review.
Size and construction
When measuring cookware, it's industry standard to measure from rim to rim. Unsurprisingly, for the 11.5-inch fry pan, this measurement is 11.5 inches. However, don't be fooled into thinking that's how much space you have to work with.
The cooking surface area measures 9.25 inches. While this may seem like a considerable drop down, it's still a more substantial cooking surface than most other 5-ply constructed pans, except for similar pans from Proclamation Goods and Misen.
With a height of just under 2 inches, the 360 Cookware fry pan is pretty standard for cookware of this size.
360 Cookware fry pans have a 7.8-inch ergonomic handle that's both stunning and functional. The handle is just shy of one inch in thickness which feels solid in your hand. There's a hole at the end of the handle so you can hang up your pan or balance your cooking utensils when you're cooking.
At the opposite end of the pan, you'll find a 2.1-inch helper handle that gives you better control during cooking.
Both handles are held in place by two strong rivets that showed no signs of weakness during our tests.
Handling
The 11.5 Inch fry pan weighs in at 3.2lbs, which is lighter than a majority of the 5-ply stainless steel pans we've tested.
The primary handle has finger indentations with rounded corners, so the pan better fits the shape of your hands to help with handling. However, this design will only work for hands of a specific size. If you have small hands the indentations will be too far apart, if you have large hands they'll be too close together.
The polished stainless steel made the handle a little more slippery than we would have liked.
We found the helper handle useful in certain situations (if your pan was extremely full and you needed to transport it across the kitchen, for example). Still, we didn't use it in most cases, and it added unnecessary weight and length to the cookware.
Having the option to choose a fry pan with or without a helper handle would be beneficial.
The overall handling of this fry pan is worse than most other ranges of cookware, especially for people with small hands, and maybe people with huge hands too.
360 Cookware would do well to look at the handle styles of brands like Misen, Made In, and KitchenAid that have handle designs that let you hold the pan at any position on the handle, be it close to the pan, or right at the end of the handle.
Underneath the pan, the matt stainless steel finish provides enough friction to prevent the fry pan from sliding around, which is particularly helpful if you use a glass-top or induction cooker.
Performance
The 360 Cookware fry pan isn't just a pretty face. We tested this cookware and glass top and induction stoves (which are notoriously tricky to cook with if you don't have decent cookware), and it stood up to our tests relatively well.
Induction
We tested how quickly and evenly the 11.5-inch fry pan heats on an induction stove. It took approximately 7 minutes for the pan to reach 392F, similar to rival 5-ply cookware.
We were particularly impressed with this pan's heat distribution. With an 80F difference between the center of the pan and the edges, this cookware performed better than most fry pans we've tested.
The results of the heat distribution tests suggest 360 Cookware has used high-quality magnetic stainless steel and aluminum core to make sure the heat is evenly distributed throughout the pan.
Because this pan has a large cooking surface, heat retention is not entirely where we'd like it to be. It cooled to 212F in around 8 minutes. While not perfect, the heat retention is still good enough to sear a decent steak.
360 Cookware did an excellent job of keeping the primary handle cool, even when cooking at high temperatures. During our tests, the handle's temperature never exceeded 97F, which is one of the best-performing products we've ever tested.
Glass
There wasn't much difference between the performance of the fry pan on glass compared to induction. If anything, it performed a little better.
It took on average around 6 and a half minutes to reach 392F. And the disparity in heat throughout the cookware was similar to the test on our induction cooker. This shows the design of this pan is one of the best in the industry.
The 11.5-inch fry pan held heat for almost twice as long on the glass top stove as it did on the induction range. It eventually cooled at a little under 14 minutes.
The surprises didn't end there as the handle's temperature barely broke the 90F barrier, topping out at 91F, so you can safely use this pan without an oven mitt. We measured the handle temperature in the area your thumb will be positioned.
It's worth pointing out that the handle on both these pans has a predetermined hand position that is further away from the pan than is usually found on other products, which could explain the better than average temperature performance.
Cooking performance
If you're well versed in using stainless steel cookware, you'll be able to extract a first-class performance out of the 360 Cookware 11.5 Inch fry pan.
We found we could accomplish most frying tasks with this pan, and it is suited to almost any recipe we could throw at it. Because the pan's walls top-out out 2 inches, any recipe that uses a large amount of liquid would need to be cooked in a saute pan (we'll get to that shortly).
Cleaning and Care
The 11.5 fry pan is safe to wash by hand or in a dishwasher. We prefer to handwash all our cookware, and we found using hot water, and a soft sponge was more than adequate most of the time.
While keeping the pan clean was effortless, keeping the brand new shine on it was a far trickier task. Even after only a few uses, the stainless steel finish began to dull.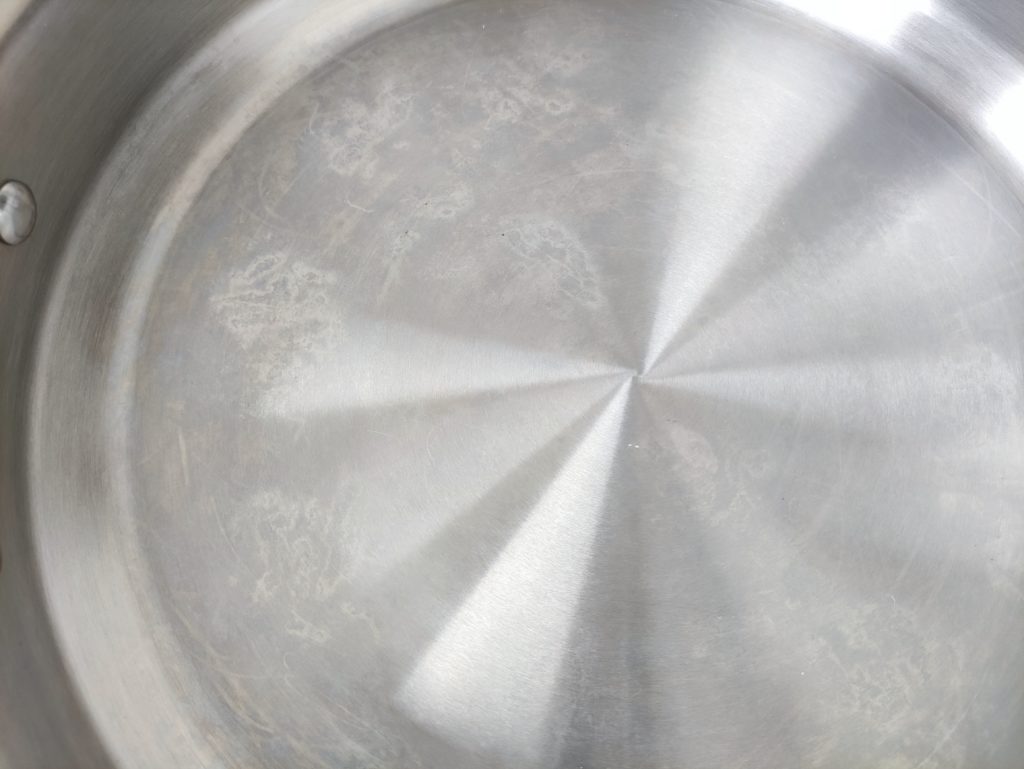 It is possible to retain the shine, but it requires a lot of work that we just have the time for. If you prefer style over substance, we recommend going with a different brand that doesn't use polished stainless steel.
The loss of sheen in no way negatively impacts the performance of this fry pan.
This pan has a total length of a little over 22 inches, so it requires a lot of storage space.
3.5-Quart Saute Pan with Cover
Size and construction
360 Cookware's 3.5-quart saute pan has identical interior and exterior measurements as the 11.5-inch fry pan (except for the height of the sidewalls, which we'll get to shortly).
Both pans also share the same ergonomic design for the primary and helper handle, though they are fractionally shorter. So the overall length is a little bit less than the fry pan.
Despite the pair being relatively similar, the 3.5 quart saute pan is noticeably more expensive than the fry pan. However, there are two differences between these pieces of cookware that we think are worth the extra money.
Saute pans have taller sidewalls with a more vertical angle than fry pans to make it easier to cook liquid-based dishes such as stews and sauces. The 360 Cookware saute pan sidewalls measure at 2 and a half inches, a 27% increase over the fry pan.
The most notable difference to the fry pan is the addition of a lid, an essential piece of equipment to keep the heat in your food when you're cooking stews and sauces. It's also a requirement for vapor cooking.
The lid has a polished exterior, and a matt interior in keeping with the overall saute pan design. There's a large handle on the top that's held in place by two sturdy rivets.
The lid appears to have a loose fit at first, but once the pan heats up and you begin to cook, a tight seal is formed, and the lid sticks like glue.
Handling
As the saute pan comes with taller sidewalls and a lid, it's heavier than the fry pan, weighing in at just over three and a half pounds, which is lighter than most similarly sized saute pans, but the difference is negligible once it's packed with food.
While the primary handle on the saute pan is the same as the handle found on the fry pan, the increased size and weight mean it's even less comfortable in your hand.
Recipes that you'd need to cook in a saute pan require a lot of liquid, making the pan even heavier. As a result, the helper handle is far more useful on this piece of cookware than on the fry pan.
Be sure to use an oven mitt if you're using the helper handle, as it gets extremely hot.
Performance
During our tests, we found little difference in performance between the saute pan and fry pan, other than the types of food you can cook.
Both pieces of cookware performed admirably, which goes some way to proving that 360 Cookware is consistently excellent throughout their range.
Induction
The heating properties of the saute pan are almost identical to those of the fry pan. It took only an additional ten seconds to reach 392F and cooled down thirty seconds sooner. Both these times are essentially the same.
It's the same story with heat distribution and the temperature of the handle too, which only swayed a couple of degrees away from those found on the fry pan during our tests.
Glass
The 360 Cookware saute pan didn't let the side down when we tested it on a glass top cooker. It continued with its impressive performance.
It took only 4 minutes to reach 392F, which isn't too shabby. It held its heat for a full minute longer than the fry pan did. It's possible the pan absorbed more heat from the glass top.
Unfortunately, the heat distribution was slightly worse in the saute pan. We found a 179F difference between the center of the pan and the edge. However, this has been commonplace with all the saute pans we have tested.
With a temperature of 104F, the pan's handle absorbs a little more heat than the fry pan. However, it's still an excellent result (remember our previous point about handle position).
Cooking Performance
The single most impressive thing about 360 Cookware's saute pan is their use of "Vapor Cooking Technology" using the lid to seal in moisture while you're cooking.
We won't lie; we're not exactly sure how the science works, but rest assured, this is not a marketing gimmick. A tight seal is formed with the lid attached, and your food cooks extremely quickly without losing any moisture.
A saute pan with a lid is a remarkably useful tool. It essentially transforms a fry pan into a saucepan and a Dutch oven (as both pieces are oven-safe). You can use the saute pan as a fry pan if you wish, though the high vertical sidewalls can make it difficult to flip your food.
Cleaning and care
Because the central part of the pan is made from identical materials as the fry pan, you can clean it in the same way, either by hand or in the dishwasher. In the same way, expect the polished exterior to become dull as you wash it.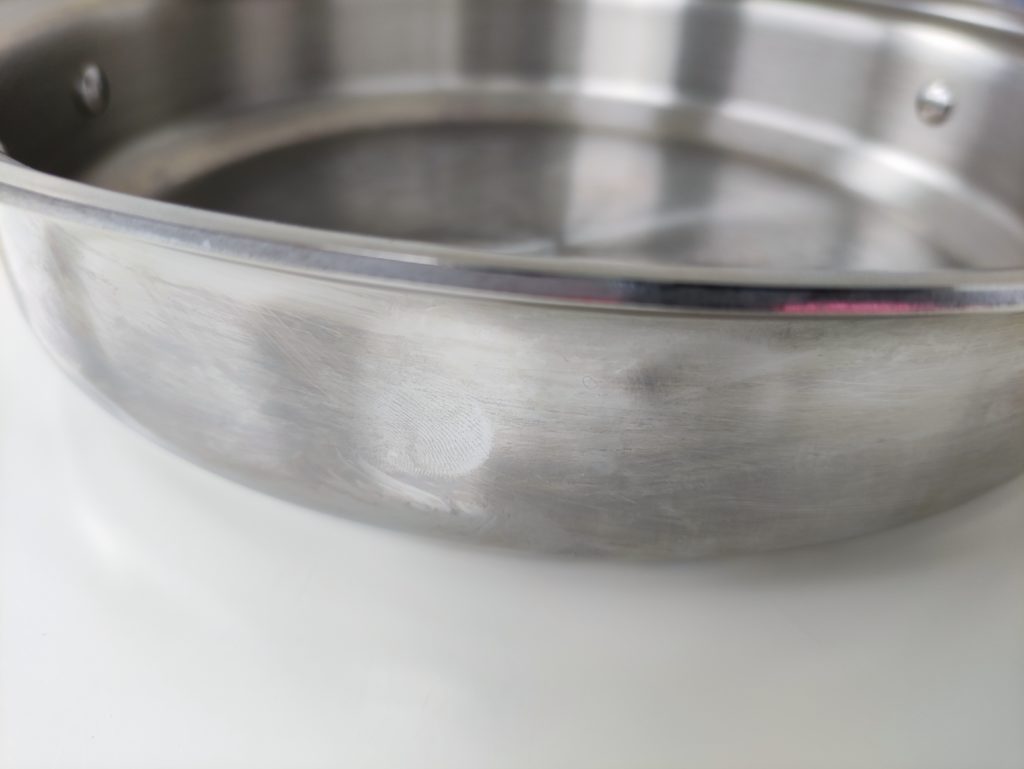 As the saute pan comes with a lid, it means there's an extra component to clean. The polished stainless steel on the lid reacts in a similar way to the pan's exterior, so expect it to lose its shine over time unless you use a stainless steel cleaner to keep the polished effect.
Much like any glass lid, the glass will have water spots on it after washing unless you clean it properly and make sure it's completely dry before putting it away.
Storing the saute pan doesn't need as much lateral space as the pan's overall length is just under 21 inches (over an inch shorter than the fry pan). However, it is almost 2 inches taller, so you'll need to take that into account.
You can store the lid upside down in the saute pan to save a little space.
2-Quart Saucepan with Cover
As with the frying pan, the 2-Quart saucepan is smack bang in the middle of the size and affordability in the saucepan range, which is the sweet spot that seems very popular with consumers.
It has a similar ergonomic handle to the frying pan too, but this saucepan has the 'Vapor-seal' lid, which enables waterless cooking.
The saucepan itself is excellent for making, as its name implies, sauces, stews, and soups. Though vapor technology means it can be used for cooking vegetables and rice with minimal fuss. 
This pan is really efficient and has a large enough capacity to cook for between 2 and 6 people, depending on the contents.
Consumers are delighted with the quality and craftsmanship of this piece of cookware and also love having the ability to cook healthy meals.
4-Quart Stock Pot with Cover
You can not only use the vapor technology to cook stews, rice, curries, enormous batches of vegetables, oats, or fish, but it can act as a 'little oven' to produce delicious small chickens and game hens to perfection.
If you have a 360 Cookware slow-cooker base, this pan can be used in conjunction with that too.
Consumers are thrilled with the large batches of food they can make in this pan and that they can use it as an oven. They're also delighted with the quality of the cookware, which has the potential to last for decades.
It is a very expensive piece, though it has the lowest price point out of the entire stock pot range.
While the '3-Piece Fry Pan Set' is technically the most popular set that 360 Cookware has on offer (it's also the cheapest), it is just three differently sized frying pans. 
As we've already covered one of the frying pans, we decided instead to talk about the '15-Piece Cookware Set', which is the second most popular set and offers an enormous amount of versatility. 
It's also worth reiterating that unless you catch 360 Cookware with a sale on, this set's cost is precisely the same as if you bought the pans individually. Though at the time of writing, the sale price offered one of the best discounts (yet still relatively small considering the mammoth price point) of all the sets.
The price point for this set is eye-watering, well into four figures. This blow is only softened by the gift of a free slow-cooker base and the knowledge that, in all likelihood, you'll never have to buy another pan as long as you live.
Final Thoughts
360 Cookware produces superb quality, American-made cookware that their consumers adore, to an almost-cult like level. We rarely come across a product that receives unanimous praise, as do the pots and pans from this company.
The craftsmanship and ingenuity are a joy to behold. They'll produce deliciously healthy meals and reduce your energy bill at the same time. Not to mention lowering your time spent in the kitchen too.
So, what's the catch?
360 Cookware products are expensive. Even considering the reduction in price thanks to their 'direct to customer' business model, a set of these pans will cost hundreds and, in some cases, thousands of dollars.
Other highlights
Who Are 360 Cookware?
Established in 2004, 360 Cookware is a family-owned company born out of a frustration that more and more American cookware businesses were moving their factories abroad in the continual pursuit of profit.
An increasing number of American jobs were lost as a result, and the quality of cookware went downhill. 
With over 30 years of experience in the cookware industry, the Hurley family resolved to rectify that situation and opened their factory in Wisconsin to make high-quality cookware, employing a large number of workers who were veterans of manufacturing pans.
360 Cookware's mission statement is to produce high-quality, American-made cookware at a more affordable price using a direct to customer business model. Quality cookware isn't the only thing important to this family-run business; they're also a Zero-Carbon Footprint brand trying to do their bit for the environment.
360 Cookware incorporates what they call 'Vapor Technology' to ensure that their product stands out from the crowd in a saturated market and cooks deliciously healthy food.
What Types of Cookware Do 360 Cookware Sell?
Long story short? Almost all of them.
But here's a closer look at the many shapes and sizes of pots and pans available from 360 Cookware.
Saucepans: There are four sizes of saucepans available. 1-quart, 2-quart (with or without a lid), 3-quart, and 2.3-quart casserole pan with cover.
Frying Pans: There are four sizes of frying pans available. 7-inch, 8.5-inch, 10-inch, and 11.5-inch. Both the 10-inch and 11.5-inch pans have variations that have two side handles instead of a traditional handle. You can also buy an 11-inch square griddle.
Stock Pots: There are five sizes of stockpots available. 4-quart, 6-quart, 8-quart, 12-quart, and 16-quart. All these pots come complete with covers. You can also buy a 6-quart gourmet stockpot, which can be used as part of their slow cooker range. All these pots come equipped with a cover.
Saute Pans: There are two sizes of saute pans available. 2-quart saute pan and a 3.5-quart pan (which is available with either a traditional handle or two side handles. You can also buy their 3-1 roasting from the saute pans section.
Sets: 360 Cookware has bundled together different combinations of all the pots and pans we've already talked about (though the Breakfast set comes with a square griddle and a jelly roll pan). Which rather bizarrely, offer no discount compared to buying the items individually.
When there is a sale on (which at the time of writing, there was), the discounts on offer were meager at best. Even the most extensive sets (which retail at over two thousand dollars) only have a minimal discount when on sale.
If you want one of the sets, it's best to wait for a sale or buy the pots and pans you actually like and create your own bundles at little to no extra cost, or if you're on a tighter budget, buy the pans one at a time to spread out the cost over months and years.
What is 'Vapor Technology'?
You might be forgiven for thinking that the only way to cook using pots, pans, and skillets is using additional ingredients such as fats, oils, or water; however, there is a method of cooking food called 'waterless cooking.'
Using specially designed cookware, you're able to cook food using only the natural moisture found within your ingredients. Not only is this an incredibly healthy way to cook, as your food retains a larger proportion of its vitamins and minerals, but it's also tremendously efficient.
A 'Vapor seal' ensures all the moisture stays within the pot or pan to maintain an optimal temperature to cook your food. Not only does this speed up the cooking process, but you also cook at a lower temperature, so you're using less energy for a shorter period of time than you would with traditional methods.