Best Cast Iron Skillets: from budget to high end pans
Stargazer 10.5 inch Cast Iron Skillet
For how many unique features this skillet has, it is a great price:
It is the only skillet with the pouring lip, which is much like the beloved pouring lip featured on higher end All Clad products.
Their commitment to sustainability also stands out from the crowd, making them a brand that clearly has the future in mind beyond just the sales and success of their products.
It was hard to find anything bad to say about Stargazer that wasn't outside of the usual cast iron cookware issues, so this seems to be a new kid on the block who is really giving the old school brands like Lodge and Le Creuset a run for their money, without being as high-end and expensive as Smithey or STAUB.
Sale 42%
People have been cooking with cast iron for thousands of years – in fact the first known use of cast iron cookware dates back to 220 AD in the Han Dynasty of China! Cast iron cookware as we know it has been in production since Abraham Darby's invention of the sand casting method of production in 1707, so you could say that this humble cookware has staying power and will continue to be around for ages.
While cast iron skillets may conjure up images of rough mountain men around a campfire or your grandma's skillet cornbread, cast iron cookware has continued to evolve and is anything but old fashioned. From enamel coating to fine grinding to new metal formulations, companies continue to perfect the cast iron skillet for modern use- without sacrificing what makes cast iron cookware so lasting and popular!
Why Choose Cast Iron Skillets?
Pretty much all cast iron skillets will have some basic things in common, no matter how fancy you get:
Durability: cast iron is an incredibly durable metal alloy that, with proper care, can last pretty much indefinitely. Many brands stand behind their cast iron's durability with warranties.
Health: When you cook with cast iron, trace amounts of iron wear off into your food- this sounds scary, but it is actually a good thing, especially if you have an iron deficiency! Skip the iron pills and start cooking with cast iron.
Versatility: A cast iron skillet, when properly seasoned, will be a great vessel for cooking anything from eggs to a whole roast. They can withstand very high temperatures, so they can usually be transferred from stove to oven to grill to broiler easily and without damage (provided you remove any silicone handle covers of course). You can even bake cakes, deep dish pizza, casseroles, quick breads, scones and pies in your cast iron skillet!
Heat retention and distribution: cast iron may take a little more time to heat up to temperature, but it will maintain temperature and distribute it evenly.
Easy to Clean: if a cast iron skillet is properly seasoned, it wont even need to be scrubbed. If the seasoning hasn't built up yet or has been scraped off, it may require a little extra care.
Cooking with cast iron is not without its challenges:
Heavy: While the weight of cast iron helps with durability, it can make it difficult to cook with if you have any strength or mobility needs. No fancy sautéing with one hand if you're using a cast iron skillet! Sometimes if cast iron is dropped it can break apart if there were any imperfections- this is usually covered by a warranty. Just don't drop it on your foot! Ouch!
Induction cooktops: Some brands have made cast iron skillets that are compatible with cast iron skillets, but not all. Most basic cast iron products have a rough surface will scratch a glass cooktop. You want to look for cast iron that has an enameled outside coating or specifically mentions that it is compatible with induction cooktops.
Acidic foods: Cooking acidic foods like tomatoes can oxidize the cast iron. Some brands have taken steps to prevent this, but generally, avoid cooking acidic foods in cast iron until it has a reliable coat of seasoning.
Learning curve: cooking with cast iron takes a little learning, especially if you are used to cooking with less expensive nonstick cookware.
If you're ready to take the plunge and get your first cast iron skillet, or you're just wanting to add to your cookware collection, we've rounded up a great selection of mid-size (10"-12") cast iron skillets for any need and any budget.
Best cast iron skillets:
Stargazer Cast Iron – best cast iron skillet
Lodge Cast Iron – best value cast iron skillet
Le Creuset Signature – best enameled cast iron skillet
1. Stargazer 10.5 inch Cast Iron Skillet
Stargazer 10.5 inch Cast Iron Skillet
For how many unique features this skillet has, it is a great price:
It is the only skillet with the pouring lip, which is much like the beloved pouring lip featured on higher end All Clad products.
Their commitment to sustainability also stands out from the crowd, making them a brand that clearly has the future in mind beyond just the sales and success of their products.
It was hard to find anything bad to say about Stargazer that wasn't outside of the usual cast iron cookware issues, so this seems to be a new kid on the block who is really giving the old school brands like Lodge and Le Creuset a run for their money, without being as high-end and expensive as Smithey or STAUB.
Stargazer is direct to consumer brand, meaning you order directly from them so you avoid any middleman pricing. This means you get a much higher quality product for less money than you could from a third-party retailer. These cast iron skillets are unique and have lots of ergonomic features, and were designed by a kitchenware designer who was sick of the low quality and lack of innovation in standard cast iron cookware.
Pros
Ergonomic features: the handle is designed a little longer, so it stays cooler than conventional cast iron handles.
Weight: cast iron always has some heft, but this skillet is much lighter and easier to maneuver than classic cast iron skillets.
Unique pouring lip: instead of just one or two pouring spouts for fat and juices, this skillet has a flared lip around the entire circumference so pouring is easy from every angle- great if you're left-handed!
Smooth finish: while not ground down to be glossy, the iron is sanded and ground down to a smooth finish and is pre-seasoned so food releases easily while still getting a nice sear.
Easy to clean: no rough cooking surfaces mean less sticking and scrubbing. Simply wipe the pan after use, followed by some oil.
Unique look: the pre-seasoned pans have an almost brassy finish, making them beautiful and unique enough to display.
Sustainable: sustainability is important to Stargazer, so they've committed themselves to use recycled sand for casting, recycled iron, and even recycled paper for their packaging.
Even heat distribution and retention
Durable
Works on all cooktops, including induction
Cons
New company: hard to comment on the longevity of the brand since it was only founded in 2015 (seems to be a busy year for new cast iron cookware brands!).
Order ahead: since you must order directly from their website and they are not a large company (yet), it can take some time to make and ship your cast iron skillet, sometimes even as long as 8 weeks.
Selection: Stargazer has a smaller lineup of products and only two skillets to choose from, but the quality is there over the quantity.
2. Lodge Pre-Seasoned Cast Iron Skillet, 10.25 inch
Sale 42%
Lodge 10.25 Inch Cast Iron Pre-Seasoned Skillet – Signature Teardrop Handle - Use in the Oven, on the Stove, on the Grill, or Over a Campfire, Black
YOUR NEW GO-TO PAN: Lodge cast iron cookware is the perfect kitchen tool for beginners, home cooks and chefs. Cast iron can handle any kitchen cooktop, oven, grill and open flame. Crafted in America with iron and oil, its naturally seasoned cooking surface creates an easy-release and improves with use.
SEASONED COOKWARE: Seasoning is simply oil baked into the iron, giving it a natural, easy-release finish and helps prevent your pan from rusting. Lodge pre-seasons all cast iron cookware with 100% natural vegetable oil; no synthetic coatings or chemicals. The more you use Lodge the better the seasoning will get!
RUST? DON'T PANIC! IT'S NOT BROKEN: When your pan arrives you may notice a spot that looks like rust. It's simply oil that has not fully carbonized. With regular use and care the spot will disappear. If you do notice rust simply scour the affected area with steel wool, rinse, dry and rub with vegetable oil.
COOKING VERSATILITY: Our skillets have unparalleled heat retention that gives you edge-to-edge even cooking every time you use your skillet. Cast iron cookware is slow to heat up but retains heat longer which makes cast iron ideal for pan-frying and roasting. These delicious moments are cast to last.
FAMILY-OWNED. Lodge is more than just a business; it's a family. The Lodge family founded the company in 1896, and they still own it today. From environmental responsibility to community development, their heads and hearts are rooted in America. Lodge products are made in the USA with non-toxic, PFOA & PTFE free material.
Lodge has been the #1 name in American made cast iron cookware since 1896, and is always a safe bet if you want to transition to cast iron cooking and are willing to learn how to do it properly. While it may not be as fancy or innovative as other brands, the quality far exceeds the price. Lodge sets the standard for cast iron cooking, so it's pros and cons are exactly what you would expect from using cast iron in general:
Pros
American made
Durable, can be used properly for decades
Pre-seasoned
Even heat retention and distribution
Pouring spout for fats and juices
Inexpensive
Works on all cooktops, including induction
Cons
Rough surface: not ideal for eggs unless it has been well seasoned or even ground down to be smooth.
Learning curve for beginners: you must be willing to learn how to season, cook and clean it properly. You save money initially but must invest a bit of time.
An anecdotal decline in quality: a few reviewers who had inherited older Lodge pans or had their own for decades noted that the quality seemed to be lower, reflected in the weight and heat of the product.
3. Le Creuset Signature Iron Handle Skillet, 10.25 Inch
Sale 9%
Le Creuset Enameled Cast Iron Signature Iron Handle Skillet, 10.25" (1-3/4 qt.), Flame
Enameled cast iron delivers superior heat distribution and retention
Ready to use, requires no seasoning
Easy-to-clean and durable enamel resists dulling, staining, chipping and cracking
Black satin interior enamel is specially formulated for higher surface temperatures to enhance cooking performance
Lightest weight cast iron by quart on the market
Le Creuset is a French cookware brand known for their high quality, heirloom durability and colourful enameled cookware. Their cast iron skillet is perfect if you are a devoted Le Creuset collector, or if you want an enameled style cast iron pan from a brand that has had recognized longevity.
Pros
Glossy enameled exterior: the exterior of the pan is enameled with Le Creuset's signature, no chip enamel. This means no scratches on surfaces and a wide variety of color options to choose from.
Black enameled interior: the interior of the pan has a rougher, matte black enamel that means no seasoning required. This means that the smooth interior doesn't need to wear down to become nonstick, and you can cook with it for the first time out of the box without a long seasoning process. Clean as you would a conventional cast iron pan.
Helper handle: a small looped second handle located at the opposite side of the regular handle means you can carry the skillet (with oven mitts) easily and with more control- and fewer wrist contortions!
Spout: a pouring spout on the side of the pan is perfect for easily draining fat and juices.
Versatile cook ting: great for eggs, chops, anything you can think of including baked goods.
Can be used on all cooktops, including induction
Easy to clean
Durable
Great heat retention
Cons
"Dishwasher Safe": reviewers were divided over the claims that this skillet is actually dishwasher safe; some had no problems, while most had issues with developing a patina.
Warranty: Le Creuset has warranties on all of their products, covering mostly any manufacturing defects that may affect functionality but not much else.
Price: Le Creuset manufactures heirloom quality products that are highly functional and very pretty to look at, but that quality and brand recognition comes at a price.
Is it worth it?
Yes – if you're looking for a long-lasting skillet from a recognizable brand like Le Creuset this is a great option. Yes, it is an expensive investment initially, but the ease of cooking without preparing the pan, the color selection and induction compatibility make it a versatile piece you will use often, quickly lowering the dollar-per-use the more you use it.
4. Field Company #8 Cast Iron Skillet, 10.25 inch

Field Company #8 (10.25 inch) Cast Iron Skillet
American made cast iron skillet with a smooth interior and very beautiful design. It's also much lighter than regular cast iron. Unfortunately, this is a very competitive niche and other high-end skillets have more features thus provide better value for your money.
Field Company was started by two brothers in Wisconsin who wanted to replicate the quality of old cast iron pans from companies like Griswold. A very American "do-it-yourself" attitude created these pans, and meticulous research has created a hand casted skillet that has promising heirloom quality.
Pros
Smooth, ground interior: the inside of the skillet is machine-ground to be super smooth, much like a well used and seasoned vintage pan.
Lighter than most: They've intentionally cast a thinner skillet to make the product light enough to maneuver on the stove or when cleaning.
American Made
Many sizes available
Induction Compatible
Pre-seasoned
Good selection of sizes and shapes
Cons
New company: While not inherently a problem, since the company was only founded in 2015 we can't speak to the longevity of the product.
Heat distribution: some reviews noted that the heat distribution was a little spotty until a thicker seasoning has built up
Warping: warping is a little unusual for cast iron cookware, but the thinner cast could be a factor, as well as cooking on high heat cooktops.
No special features: no pouring spout, handle gets as hot as the rest of the pan, and the sides aren't particularly deep compared to a Lodge.
Is it worth it?
Not yet – while we love American made and the story behind the company, the consistency doesn't seem to be there compared to other Made in America brands like Stargazer. Reviewers who love their products REALLY love them, but some of the more average and low reviews bring up some valid points. It's definitely a company to watch as they perfect their product lines because their love for science and quest for cast iron perfection will likely lead to some interesting innovations on older methods.
5. GreaterGoods Cast Iron Skillet, 10 inch, smooth nonstick
GreaterGoods is a company that lives up to their name: they donate regularly to Love146, a charity with a mission to end child trafficking and help survivors. Their cast iron skillet is also impressive, with lots of features that usually come at a much higher price point.
Pros
Smooth cooking surface: the interior is machine-etched and polished for a smooth cooking surface that requires less oil and seasoning process than typical cast iron.
Free stuff: every skillet comes with a sticker to redeem a free silicone handle cover, which can cost anywhere from $10-$50 depending on where you get it. It has a unique handle size, so this freebie ensures correct coverage- and no burnt hands! Remove before using in the oven.
Longer, wider handle: unique design, it is longer than usual skillet handles for better leverage, and wider so it can be used as a spoon rest.
Excellent customer service
Induction Compatible
Pre-seasonded
Easy to Clean
Pouring spout
Cons
Is it worth it?
YES – it was difficult to find many complaints about this skillet, and most had to do with wanting an American made skillet. For the price, this skillet has many more features than roughcast Lodge pans. If you don't want the same deep learning curve as rough cast iron, this is a great option that is affordable- and charitable!
6. Cuisinel Pre-Seasoned Cast Iron 2-In-1 Multi Cooker - 3-Quart Dutch Oven and Skillet Lid
Sale 17%
Cuisinel Cast Iron Skillet + Lid - 2-In-1 Multi Cooker - Deep Pot + Frying Pan - 3-Qt Dutch Oven - Pre-Seasoned Oven Safe Cookware - Indoor/Outdoor - Grill, Stovetop, Induction Safe - Great for Bread
MULTI-PURPOSE PAN + LID COMBO: This versatile multi cooker set allows you to use the 3-Quart deep pan together with the lid as a dutch oven, deep dryer or braiser - or use separately to sear up double the amount of burgers or steaks or create an entire meal in the 2 pans. The cast iron lid can withstand the temperatures of any oven or open fire.
PRECISION HEAT DISTRIBUTION and UNRIVALED HEAT RETENTION – Cuisinel cast iron is famous for that perfect, succulent sear, without losing any heat when cold food hits the pan. Whether you're using our premium cookware on your kitchen stove, oven, BBQ or even an inconsistent campfire, the lossless heat retention and superior heat distribution makes managing your cooking times effortless. Can be used for frying, baking, grilling, broiling, braising and sautéing meats, vegetables and more!
SUPERIOR PRE-SEASONED CRAFTSMENSHIP – Crafted to last for generations, Cuisinel sources the highest quality materials in casting our cookware. Cuisinel cast iron is notoriously safer than teflon or other non-stick materials. Continuous easy-to-follow seasoning will result in a safe, healthy and virtually non-stick pan. After every use, cast iron should be hand washed, dried thoroughly on the stove at medium heat and seasoned with natural oils; Do not put in dishwasher and do not air dry.
COOKWARE TO LAST A LIFETIME AND BEYOND - Cast iron cookware notoriously improves with use, lasts a lifetime and can be passed down from generation to generation. Create a lifetime legacy of warm, fond memories with friends and family and imbue those sentiments into this superb cast iron cookware and you'll smile every time you use - and so will anyone that you gift cast iron to!
CARE and USE GUIDE + LIFETIME WARRANTY: Each set includes our Care and Use Guide for beginners and professional alike, so you can be confident in how to care for your new set. So, go on, fire up your Cuisinel cookware. If anything happens, it's on us. In additional to Amazon's seamless 30-day money back guarantee, Cuisinel Cast Iron guarantees the quality and durability of all its products for a lifetime, so you can be assured that you are making the right choice and there is no risk to you.
This technically isn't a classic cast iron skillet, but it felt worth mentioning as it can be used so many different ways: as a Dutch oven, a deep fryer, a skillet, a griddle and more. This "set" is really a deep cast iron dish with a thinner cast iron lid, but since both have handles the lid can also be used as a frying pan or griddle. Cuisinel is well reviewed, and many customers said their purchase was as good or better than Lodge products.
Pros
Versatility: the lid/griddle seals in moisture, making this combo cooker excellent for baking sourdough breads with crispy crusts, or to braise roasts in the oven. The griddle can be used for eggs, pancakes, veggies, and the deep dish skillet is excellent for stews, casseroles and meats.
Pre-seasoned: while additional seasoning may be required, the combo cooker arrives ready-to-use
Good heat retention & distribution
Good seal on lid
Inexpensive
Cons
No spout: if you want to pour off liquids or fats, or are cooking stews in the larger pot, be warned there are no spouts for easy pouring and the cooker is HEAVY
Rough surface: although it comes pre-seasoned, this cooker has a rough cast that can be ground down with sandpaper or through years of use. This can make food stick, especially if cooked on too high of heat.
Tough for beginners: you have to learn to season, cook and clean rough cast iron before you can truly evaluate if the pan works for you.
Lower heat tolerance: Surprisingly, this combo cooker can only withstand heats of 480F, which can be on the lower side for bread baking.
NOT Made in USA: Cuisinel mentions "made for Americans" and "American families" but don't be deceived, their products are not made in the USA, but this makes them very affordable.
Is it worth it?
YES – the main "issues" are really just the hurdles everyone encounters when learning how to use cast iron cookware. This combo cooker specifically is great if you want to streamline your kitchen as it can effectively replace a skillet AND dutch oven. Excellent if you're into the sourdough baking trend!
7. Uno Casa Cast Iron Skillet Set - 2-Piece Set 10-inch and 12-inch
Uno Casa Cast Iron Skillet Set - 2-Piece Set 10 Inch and 12 Inch - Pre-Seasoned Cast Iron Frying Pan - Oven Safe with Silicone Handles and Recipe E-Book
2️⃣ PERFECT SET OF TWO - Why get one, when Uno Casa gives you two! These 10" and 12" cast iron pans are ideal for all heat sources, whether you're cooking on the stove, in the oven, or camping in the woods. Cook your bacon and eggs in both pans side by side and have them ready in half the time!
🍳 ERGONOMIC TILTED HANDLE - Maneuvering these skillets is effortless even for the busiest cook because the easy-to-grip handles are available on both sides. One side features a longer, comfortable handle that's slightly tilted for ease of use and the other features a shorter, steadying handle perfect for stabilizing and carrying.
🔥 EVEN HEAT DISTRIBUTION - Take your food from stovetop to tabletop with the skillet that stays sizzling. It steadily holds heat so food not only cooks evenly but also stays warm until it's ready to eat.
✨ EASY TO CLEAN - The grease slope in our pre-seasoned frying pan pack keeps maintenance to a minimum by making it easy to pour out delicious sauces and scrambled eggs. Naturally non-stick and chemical-free, these cast-iron pans even add extra iron to your food.
👌 ULTIMATE ACCESSORIES SET - Our bonus set can't be beaten. It includes 2 silicone handle covers that protect your hands from heat up to 450°F, 2 skillet scrapers for easy cleaning, AND a bonus recipe book to inspire your next creation. You'll have everything you need to create the perfect weekend brunch straight out of the box (except for the food, of course!).
Uno Casa is a less known brand, and are actually more known for their cast iron tortilla presses! It's difficult to beat the value of this set, however, as it has all the accessories one could possibly need when purchasing a cast iron skillet – or in this case, two! A 10-inch skillet perfect for some eggs or two chops, AND a 12 inch with ample room for a family of four's dinner, all for one low price.
Pros
Value: this set comes with 2 silicone handle covers, 2 scrapers, and a recipe e-book
Weight: while still heavy enough to be durable, Uno Casa is lighter than Lodge.
Induction cooktop compatible
Even heat distribution and retention
Cons
"Pre-seasoned": apparently the pre-seasoning isn't sufficient, so it does require a seasoning process before it can easily release foods.
Unclear where it is made: the Uno Casa website doesn't have any information on where it is made, so likely manufactured outside of the USA.
Bottom of Pan: some reviewers claimed their pan was raised in the middle, impacting the ability to sear evenly.
Guarantee: Uno Casa only guarantees their products if ordered from their own website exclusively, and the items mustn't be used AT ALL if you want a refund/return.
Is it worth it?
YES – if you don't mind cast iron made outside of the USA, and don't plan on returning the product if you don't like it. It is an excellent price for two cast iron pans, and the accessories really sweeten the deal.
8. Smithey No. 10 Cast Iron Skillet, 10 inch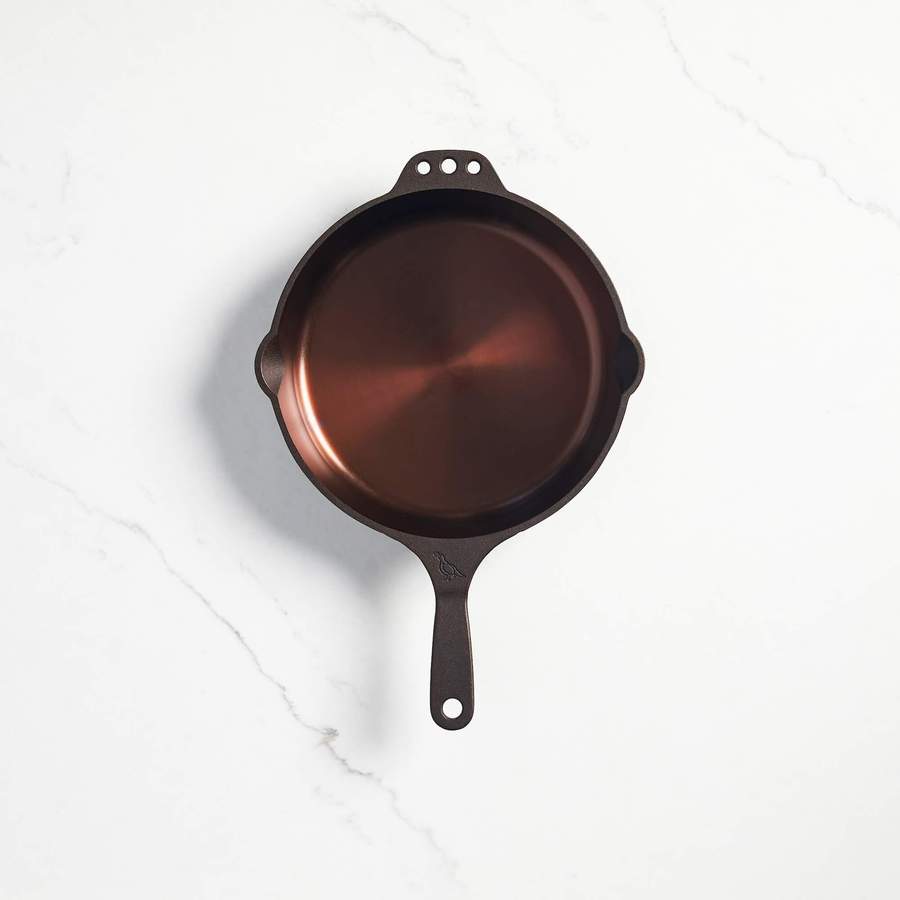 Smithey 10-inch cast iron skillet
If you want an upgrade on your classic cast iron, this is a brand that has innovated the skillet and elevated it to new heights. It is expensive, so is not necessarily accessible to everyone, but is a much better value than a STAUB or Le Creuset if you don't mind trying out a new company. The unique polished interior is worth a try if you want the benefits of cast iron cooking without the constant maintenance of a rough cast.
This is kind of like the Cadillac of cast iron skillets. Another new American company, Smithey is manufactured and designed in South Carolina. The founder of the company was inspired by vintage cast iron skillets and restored old skillets before diving into designing his own line.
Pros
Smooth finish: The interior of the pan is ground down to a glassy smooth finish, probably the smoothest on the market. Excellent for cooking eggs, and will continue to release food easily with regular seasoning.
Handle: Not only does this skillet have a helper handle for balance while transferring from stove to oven to table, the regular handle and the helper handle have holes so you can hang the skillet to dry or display.
Made in the USA: manufactured in the USA from American materials.
Beautiful enough to display
Works on all cooktops, including induction
Even heat distribution and retention
Cons
Seasoning: some reviews claimed it was difficult to maintain seasoning on the skillet, unlike other conventional cast iron. This may be due to the extra smooth finish, but cooking on low heat with oil every time should maintain nonstick quality.
Hard to find: outside of their own website, it can be difficult to find an authentic Smithey skillet online.
New company: Much like Field Company, Smithey is a very new brand on the market, founded only in 2015. This makes it difficult to comment on the longevity of the product.
Is it worth it?
Yes – if you want an upgrade on your classic cast iron, this is a brand that has innovated the skillet and elevated it to new heights. It is expensive, so is not necessarily accessible to everyone, but is a much better value than a STAUB or Le Creuset if you don't mind trying out a new company. The unique polished interior is worth a try if you want the benefits of cast iron cooking without the constant maintenance of a rough cast.