Best Cookware for Induction Cooktops
Made In Sous Chef Kit
Made In's best selling kit has virtually every piece of basic cookware you'll need.
Consumer Reports Best Cookware Set of 2020
Comes with three different kinds of frying pan: clad stainless steel, carbon steel, and nonstick coated so all of your frying needs are covered, from broiled steaks to perfect fried eggs.
Oven/broiler safe up to 800F (500F for the nonstick pan)
5 ply clad stainless steel with aluminum core for durability, induction compatibility and even heat distribution
Great customer service and warranty
Made in USA, France and Italy with American steel
Includes a 10" stainless clad frying pan, 10" nonstick frying pan, 12" carbon steel frying pan, 2 qt saucepan with lid, 4 qt saucepan with lid, 3.5 qt saute pan with lid, 8 qt stockpot with lid plus a can of carbon steel seasoning wax.
All Clad D5 7-piece Cookware set
A solid set of cookware workhorses from the top name in cookware for over 40 years.
5 ply clad stainless steel with aluminum core is not only durable but has excellent heat retention and distribution. Stainless cladding ensures induction compatibility.
All pieces are oven and broiler safe up to 600F without lids
Made in the USA
Limited lifetime warranty
Includes a 10" frying pan, 1.5 qt saucepan with lid, 3 qt saute pan with lid, and 8 qt stockpot with lid.
We are not sure if you are looking for single items or full induction cookware sets. For that reason we have created custom sets which help choose single items for different price ranges. That said, you should understand that they're quite different from the traditional stoves you may be accustomed to. From their mechanism of operation to the type of cookware that's required, it's a whole new ballgame. For one, only cookware with ferromagnetic properties can be used with induction stoves.
Best induction cookware sets to buy in 2021:
Made In Sous Chef Kit – Best value induction cookware
All Clad D5 – Best induction cookware set
ELO Skyline – Best budget induction cookware set
Made In Cookware Starter Kit- essential cookware for induction
Best Value Cookware for Induction Stove
1. Made In 10 inch Frying Pan
Frying Pan
5 layers of clad stainless and aluminum, fast and even heat retention- it's hard to beat Made In for value unless you're looking for a proven heirloom piece. This pan is oven safe to 800F, and is large enough for a few eggs for the whole family, or broiling 2-3 chicken breasts. You could throw this in the dishwasher, but it is easy to just wipe clean with a soft cloth and season with oil. Reviewers praised the quality for price, and a small minority were disappointed in the shipping time but ultimately loved their purchase- so be patient and you can save big!
2. Cooks Standard 10.5 inch Multi-ply Deep Saute Pan w/lid
Saute Pan
This saute pan feature 3 layers of metal instead of 5, so if you want even more even heat distribution and retention you should try the Made In Saute Pan. However, this saute pan is about half the price and is still very conductive, oven safe up to 500F and dishwasher safe. It is great value for the price, but still has enough professional features to compete with other multiclad brands. This saute pan also has a flared lip, which reviewers praised for pouring liquids without spills, which can be helpful when making pan sauces or jus. The price online is inexpensive, which customers loved, but many balked at the shipping price. Still, even when counting shipping, it was deemed higher quality than you'd expect for the price.
3. Made In Stockpot, 6qt or 8 qt
Stockpot
Made In has two sizes of stockpot available, and again features 5 ply construction, oven safe up to 800F. Downside is that you cannot use metal utensils, but it is dishwasher safe and easy to clean. 6 qt is great if you are making smaller batches of soups or stews, but for a family of 4 the 8qt will be a more flexible size. As with most Made In products, reviewers love that their products are made in the USA, France and Italy with American steel, but disappointed that their items are sometimes on backorder.
4. Made In Saucepan, 4 qt
Saucepan
We may as well just call this section the "Made In" section, but truly for most basic cookware items it is hard to beat Made In for their quality and price ratio. This saucepan is 5 ply, comes with a lid, has a flared lip and comes in under $100. Also available in 2qt size if you just need a vessel for heating up a serving or two of soup.
Made In Sous Chef Kit
This is Made In's bestselling kit, and by buying the entire set you save 20% more than if you bought each piece individually, which makes it a smart purchase if you want multiple items anyway. This set has a 10" nonstick frying pan, a 10" stainless clad frying pan, 12" carbon steel frying pan, 2 qt saucepan with lid, 4 qt saucepan with lid, 3.5 qt saute pan with lid, 8 qt stock pot with lid and includes a can of Carbon Steel Seasoning Wax. It was even deemed Consumer Reports Best Cookware Set of 2020! The stainless cookware is 5 ply clad stainless with aluminum core and oven/broiler safe up to 800F, and even the nonstick pan is oven safe up to an impressive 500F – perfect for baked eggs. Some reviewers wished that there had been a 12" stainless pan instead of a carbon steel, but carbon steel is great for extra high temperature cooking so it depends on your cooking needs.
Best High-End Cookware for Induction Stove
1. All Clad D5 Stainless Steel Frying Pan, 10-inch
Sale 20%
Frying Pan
While more expensive than Made In, All-Clad has been around for 40 years and has proven time and time again that it is worth the hefty price tag - if you are looking for brand recognition and heirloom quality you can pass along for a couple of generations. While allegedly dishwasher safe, it is recommended that you handwash and season these pans assure durability, and shine with a non-abrasive polish like Barkeepers Friend.
All Clad D5 pan
has five layers of stainless and aluminum, ensuring great heat distribution from the aluminum core but the durability of stainless steel. Note that the warranty is a little strict, so make sure you are certain you want to invest in All-Clad.
2. All Clad Tri Ply 3 qt Stainless Steel Saute Pan
Sauté pan
If you're going to invest in a
saute pan
, you may as well get one that can withstand high oven temperatures so you can braise, brown and finish your dishes to crispy, juicy perfection. This saute pan is an investment piece but is versatile enough for daily use. Like any All-Clad piece, it is made in the USA with American metals and comes with a lifetime warranty (with many loopholes). Reviewers claim they've had their saute pans for decades with no decrease in functionality. This version is a tri-ply, with an aluminum core. The 5 ply takes a little longer to heat up but has more heat retention than tri-ply, but this option was the most popular and well-reviewed saute pan of the two. It maintains heat from the base to rim, meaning no cold spots and even cooking. Many reviewers claim their All-Clad pieces have lasted them for decades, and many purchased this saute pan and similar items as wedding gifts due to their longevity. Some negative reviews were skeptical of the price, pointing out they could get "cheaper" pans of similar quality, which may be true but All Clad's reputation overall as a lifetime investment seems to be well supported.
3. All Clad 4512 Stainless Steel Tri-ply Stockpot with Lid
Stockpot
The most important elements of a great stockpot are heat distribution (no cold spots in your soup) and size: you need to ideally fit an entire chicken carcass or multiple pounds of veggies. This pot is a generous 12 quarts, making it large enough for most large cooking projects like stock or chili. Again the tri-ply has an aluminum core for excellent retention, however it does take a little longer than some competitors to boil water- but it will stay hot a lot longer. It is oven and broiler safe up to 600F, so it can transfer from stove to oven and back without issues. The flat handles are easy to hold, and this pot even comes with a stainless steel lid. Dishwasher safe, but handwashing is recommended. Some negative reviews questioned the need for a clad stockpot, so it depends if you plan on doing more than just boiling water or stock. If you make a lot of sauces and soups, the even heating throughout the pot helps maintain large quantities of liquid at foodsafe temperatures.
4. All Clad D5 3 qt Saucepan
Saucepan
It is really hard to beat
All Clad for high end cookware
with a lasting reputation, so we are rounding out this list with yet another All Clad offering. Their craftsmanship, durability and selection make them a front runner again and again, and this saucepan is no exception. 3 quarts is a perfect size for two people, or four people's side dishes. The heat is evenly distributed due to the aluminum core, and the stainless protects the pan as well as makes it induction compatible. It has a flared lip for easy pouring, and is just an all around workhorse in the kitchen for pasta, sauces, soups and steaming veggies. Dishwasher safe, but we recommend handwashing for superior shine. As with most All Clad items, the positive reviews rave about heat, durability and longevity, while negative reviews focused on the steep price tag.
All Clad D5 7-piece Cookware set
This is not inexpensive by any means, but this set will last a lifetime of daily cooking. However, this minimal 7 piece set will give you the dependable items you'll need for pretty much any scenario: a 10" frying pan, 1.5 qt saucepan with lid, 3 qt saute pan with lid, and 8 qt stockpot with lid. This set is perfect for a couple or a single person, but we'd recommend upgrading to the 10 piece version if you'd like an additional, larger saucepan and a frying pan. The D5 line features the 5 layers of stainless with an aluminum core, so the heat distribution and retention are pretty impeccable. All of the pieces are oven and broiler safe up to 600F without their lids, so you can transfer from induction cooktop to oven for browning. As always, they are made in the USA, and though marked as dishwasher safe will last longer and look better with hand washing and polishing. Negative reviews are based mostly around warranty issues- All-Clad products come with a limited (and they mean LIMITED) lifetime warranty that unfortunately only focuses on manufacturing damage, not damage from falls or stains. However, 85% of reviewers gave the set 5 stars, praising the durability and quality.
Best Budget Cookware for Induction Stove
1. T-fal G10405 Frypan, 10 inch
Frying Pan
Featured above in the Minimalist category, this pan is also a steal. One of the few nonstick induction compatible options, it is also oven safe up to 350F. ThermoSpot indicator lets you know when the pan is hot and ready to cook. Dishwasher safe.
2. Cooks Standard Classic Saute Pan with Lid, 3.5 qt
Sauté pan
This saute pan is actually deep enough that you could use it in place of a smaller saucepan for heating up soups and sauces, but those deep sides are great for roasting, stirring and of course sautéing. It is oven safe up to 500F, so you can brown and roast meats by finishing them in the oven. Dishwasher safe. Reviewers loved the quality for price and the functionality of design, though many wished the metal felt heftier and wasn't made in China.
3. Cook N Home 16 qt Stockpot with Lid
Sale 33%
Stockpot
This pot is HUGE, so it is perfect for large batches of beans, soups, stews, stock, sauce or even for use in canning. It is stainless steel with an encased aluminum disc, meaning it is induction safe but still features even heat distribution along the bottom of the pot. It is oven save up to 500F- 350F with the lid on. Dishwasher safe. Some reviews pointed out that because the aluminum is only in the bottom disc, there can be cold spots when the pot is full and takes a long time to heat through the full 12 quarts. However, the size for the price makes it a safe bet, and many reviews said they use it a few times per year for large batches of salsa or for sterilizing jars for canning.
4. Lodge Cast Iron 10.5 inch Square Grill Pan
Sale 45%
Extra
If you're on a budget and don't have access to a barbecue, consider buying a classic grill pan. You can sear, grill and char same as you would on a barbecue but on your stovetop. Lodge is a
reliable cast iron brand
and does require a little bit of care to keep it seasoned but will be a flexible piece of cookware you'll use often. Great for cooking bacon! Negative reviews were mostly about the rough cast iron scraping their cooktops if dragged rather than lifted, but most reviewers agree it is a classic piece of cookware built to last.
ELO Skyline 10-piece Cookware Set
This set is CHEAP, but will do in a pinch if you have an induction range and need cookware ASAP. It only comes with a one year warranty, but is a perfect budget solution while you save for a set of clad cookware. This set has encapsulated aluminum bases for heat distribution, and is made with 18/10 stainless steel, which is surprisingly high quality for the price. As it is not a clad cookware set, the heat is mostly concentrated on the bottom so there can be occasional cool spots. The set includes 4 casserole pots and a medium saucepan, so reviewers wished there was a frying pan included instead of one of the pots. You can still cook eggs in a saucepan, but it isn't as ergonomic. Again, this set is great for keeping you cooking until you find something better, but we would recommend purchasing a reasonably priced frying pan in addition to this set, such as the T-fal G10405 Heatmaster Nonstick Thermospot Heat Indicator Frypan.
Best Starter Cookware for Induction Stove
1. T-fal G10405 Heatmaster Nonstick Frypan, 10 inch
An induction safe nonstick frying pan
This is a classic department store brand you can find anywhere. One of the few nonstick induction compatible options, it is also oven safe up to 350F. ThermoSpot indicator lets you know when the pan is hot and ready to cook. This pan may not last a lifetime, but it will last for a few years with daily use, which is good for the price. Don't forget, use silicone or wooden utensils to avoid scratching the nonstick coating! Dishwasher safe. A few reviews commented on the nonstick coating not being as nonstick as previous
T-Fal models
, and that there were a lot of issues with shipping damage when ordered online. However, an overwhelming majority of reviews positively rated the quality and
durability of the nonstick
, as well as the sturdy weight of the pan.
2. Calphalon Signature Stainless Steel, 12-inch
A Stainless Steel Frying Pan
Sloped sides for easily sliding eggs off the pan or for stirfrying veggies, this brushed stainless steel
Calphalon
frying pan has 5 layers of clad metal with an aluminum core for even heat distribution and induction compatibility. Can be used in the oven up to 500F, so you can broil, roast, and brown your meals easily. Dishwasher safe. Some reviews complained that the pan doesn't retain its original finish and shine, noting that there were brown stains from food, and many balked at paying for a product made in China. You can find an American made pan for ten to twenty dollars more, but if that isn't a concern for you this pan has comparable quality to more expensive brands. Positive reviews raved about the heat distribution, easy release of foods and quality construction.
3. Tramontina 80120/509DS Pot with Strainer Lid, 8quart
Sale 8%
A multipurpose pot
No need to buy a separate strainer for large batches of pasta, this
Tramontina
pot has one you can attach for hands free (and burn free!) drainage. It is even oven safe up to 350F, so you can keep food warm in the oven. It has a tri-ply base, making it compatible with induction cooktops. Instructions say not to use high heat, which is fine with induction cooktops as you'd usually use low-medium settings for best results. Dishwasher safe. This is a great 2-in-1 item, but maybe worth skipping if you don't mind purchasing a separate colander; some reviewers pointed out they need a second colander for other foods anyway, but positive reviews enjoyed the convenience (and safety) of not needing to pour boiling pasta water into a separate vessel. The value of this one depends on your needs, but if you cook pasta or drain foods from boiling water often it is handy.
4. Cuisinart 7193-20 Chef's Classic 3 qt. Saucepan with Lid
A saucepan
Cuisinart is yet again an easy to find brand, whether shopping online or in a department store. This size of saucepan is flexible enough to cook a batch of soup or stock or pasta for 2-4 people. This is a stainless steel saucepan with an aluminum base encapsulated in stainless- so it is induction compatible! The lip of this saucepan is flared, so you can pour liquids from any side without dripping. It even features a cool-grip handle that won't burn your hands while you cook. In the reviews, there was some debate about the anecdotal decline in Cuisinart's stainless steel offerings over the years: people who are loyal to the brand have noted the gauge of steel seems thinner and stains more readily than their older (10+ years)
Cuisinart stainless cookware
. Most reviews are positive and praise the lightweight pan's quick and even heating on their induction cooktops.
Made In Cookware's Starter Kit
This is the ultimate minimalist cookware set, featuring a simple combination of a 10" stainless steel frying pan, a 10" blue carbon steel frying pan, a 2qt saucepan with lid, an 8 qt stockpot with lid, and even includes a can of carbon steel seasoning wax. This set truly has zero bells and whistles but includes some real workhorse items. All of the stainless steel is five-ply clad around aluminum core for durability and even heat distribution, and all items are made in USA or France. Though the two frying pans are the same size, they are a great all-purpose size for 2 people. Plus, the different materials are great for different purposes: the stainless pan is oven and broiler compatible up to 800F, and the blue carbon steel is compatible up to a whopping 1200F- perfect if you have a pizza oven or barbecue or want to broil something under high heat. Out of 2410 reviews (at the time of writing this article), only 5 reviewers gave this set less than 3 stars, and over two thousand reviews were 5 stars! The negative reviews had to do with the length of time between ordering and receiving their product, which can happen as Made In is a smaller company and can get backlogged quickly. Positive reviews rave about the quality, often comparing Made In to prestige brands like All-Clad or Viking, but for a fraction of the price.
Important information on cookware for induction stoves
Induction stoves are all the rave now. Relatively safer, faster, and more efficient, especially when compared to other stove ranges. That said, you should understand that they're quite different from the traditional stoves you may be accustomed to. From their mechanism of operation to the type of cookware that's required, it's a whole new ballgame. For one, only cookware with ferromagnetic properties can be used with induction stoves.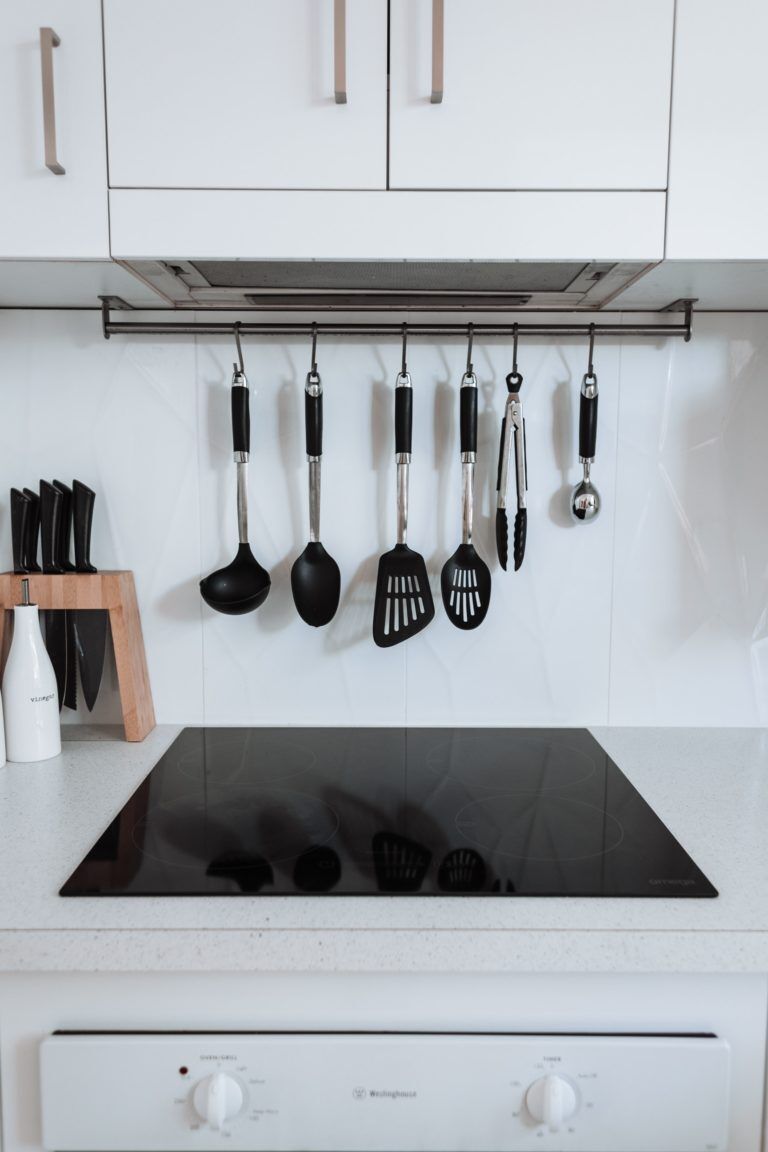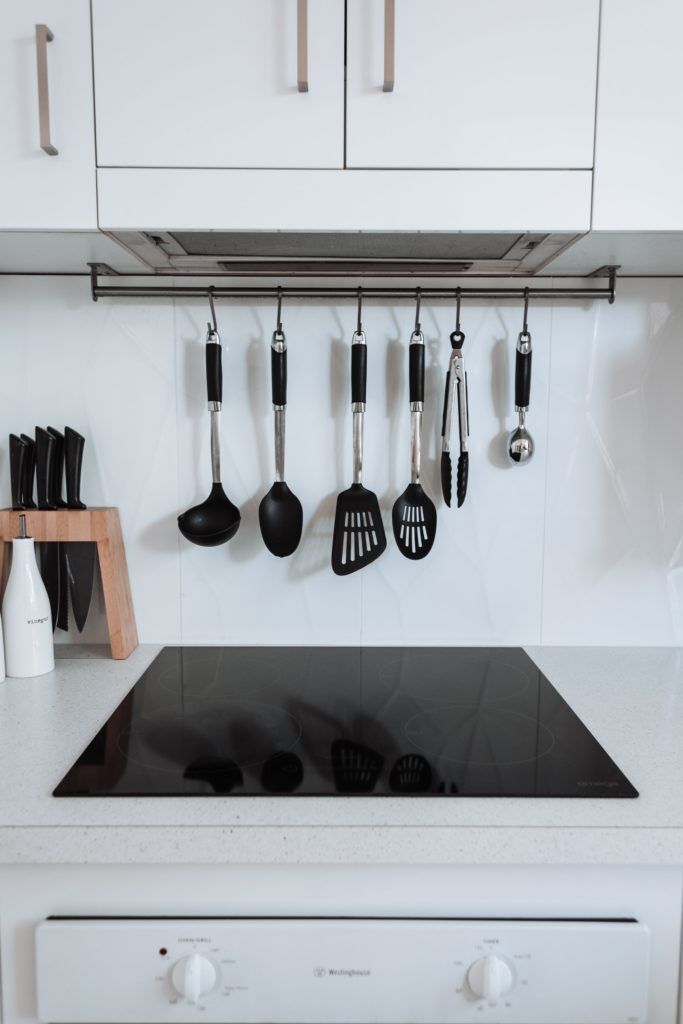 Types of induction stoves
The past 15 years have seen induction stoves dominate our households, and to satisfy increasing demand, manufacturers have created different iterations and varieties of the product. Today, they are all condensed into 4 broad categories:
1. Table-top induction stoves
Stoves in this category are small-sized, lightweight cookers that have to be placed on a table or countertop. They may have single or multiple elements. Single-element table-top stoves have only one cooking surface, and thus cannot be used when you want to prepare multiple dishes at once. Multi-element table-top induction stoves, on the other hand, have multiple surfaces for cooking.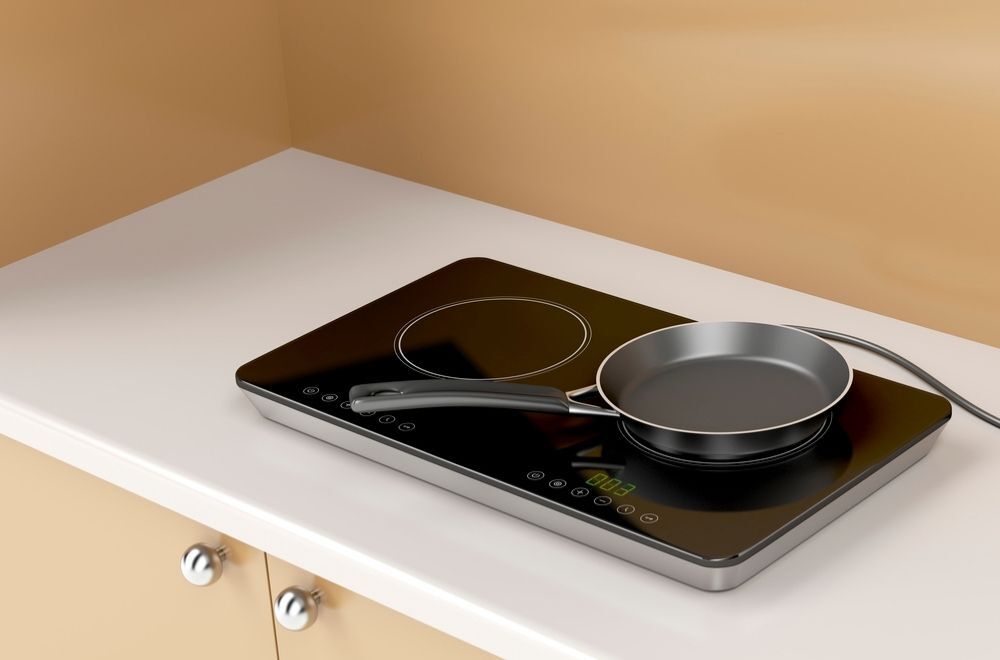 2. Built-in induction cooktop units
Built similar to table-top stoves, these built-in induction stoves are better suited for home use, as they are usually installed into cut-outs in countertops, to give that sophisticated feel of a custom-built kitchen. They usually have multiple elements.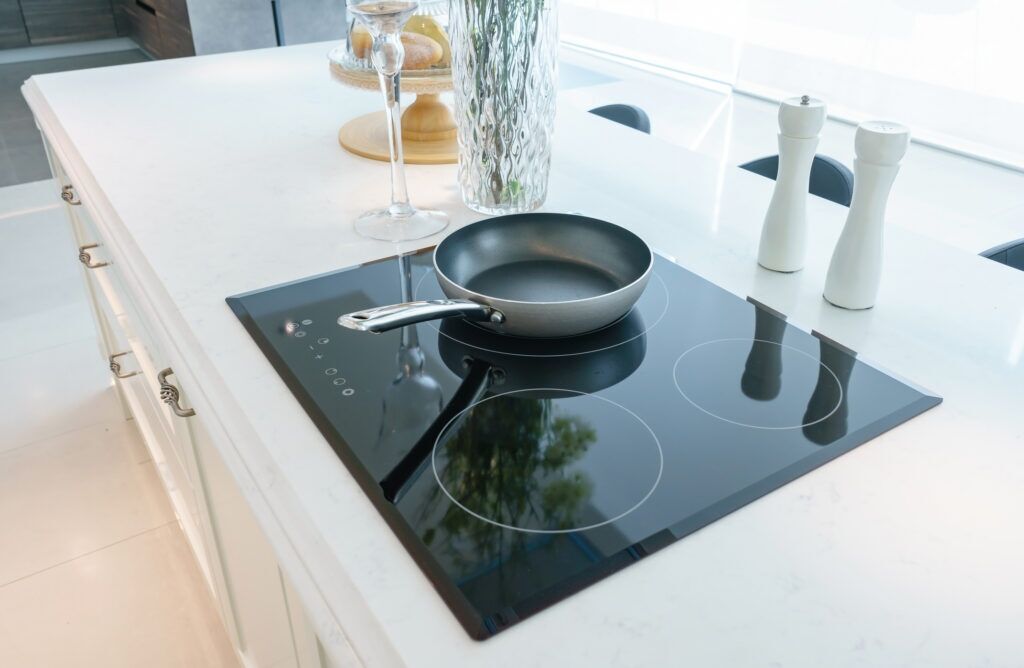 3. Freestanding countertop induction stoves
For most, freestanding cooktops are the best for home use. They do not require any special installation, simply place them in a corner and plug them in, and voila!
4. Commercial induction stoves
Stoves are not only required in homes, so this class of stoves are built, with much tougher material and assemblage, by manufacturers to be more resilient to withstand the roughness of commercial use.
Generally, there isn't much difference in the type of cookware required for each type of induction stove, since they all, pretty much, work the same way. However, it is important that you match your cookware with the size of the induction hobs on your stove.
When you put small cookware on a much larger ring, the magnets may not sense the pot, hence, won't work. Even if the cookware does activate the hob, it won't work efficiently, since the mechanism relies on actual contact between the pot and the cooktop. On the other hand, placing a large pot on a much smaller ring may lead to inefficient cooking, since the induction hob will only heat the metal directly above it.
Also, if you love using woks, or other similarly shaped cookware, you may be wondering whether you can use them on induction stoves, considering the absence of cooking supports. Well, not to worry, manufacturers have built induction stoves, with concave surfaces to support woks.
Induction stove heating properties
Unlike traditional electric stoves that use the heating element in their coils to produce heat, which is then conducted to the cookware placed on them, electric induction stoves directly heat cookware by magnetic induction.
This process allows induction stoves to conduct heat much faster than conventional stoves, using energy more efficiently and saving energy costs. Induction stoves have an efficiency score of about 90%, compared to electric and gas stoves which are 65% and 55% respectively. By extension, this also greatly shortens cooking times—it reduces the time it takes to boil water by nearly half!
Another advantage of the heat conduction efficiency of induction stoves is, as less heat is wasted, your kitchen will be much cooler and conducive to stand in while cooking, compared to when you use traditional gas and electric stoves.
Also, while gas stoves can only reach temperatures of about 430°F, induction stoves can reach nearly 670°F temperatures. And although electric stoves can get much hotter – about 750°F on average, induction stoves maintain cool surfaces throughout the cooking process, minimizing the risk of burns and other kitchen accidents often associated with electric stoves.
Choosing cookware for induction stoves
Choosing the right cookware to use for an induction stove is highly important. Choosing cookware that has a ferric base that reacts properly to the induction heating method will provide a cooking method that heats evenly, efficiently and provides great temperature-controlled cooking.
Firstly, before rushing out and purchasing a collection of new cookware, test if your existing cookware is compatible with use on an induction stovetop. To check this is, simply place a magnet on the base of your current cookware, if the magnet sticks well, then your current cookware will work well. If it has a weak reaction or doesn't stick, then sorry it does not have a magnetic material base. However, you can use a converter disk on some cookware that will allow you to use non-induction cookware with an induction cooktop. However they do not generate even heat, take a long time to heat, and can even damage the glass tops and coils of the stovetops.
How to choose cookware for an induction stove top?
Cast iron, steel, some enameled steel, stainless steel, and copper pans with an iron base or core are great options for induction-compatible stove cookware.
Avoid glass, aluminum and older styles of copper cookware, as most of these materials, will not work on an induction stovetop. However there are some cookware manufacturers which do design and produce aluminum pans with a ferric base for induction stovetops, and modern designed copper cookware is also manufactured with a magnetic base.
Many brands of induction stovetop cookware will stamp a coiled symbol or state if it is induction stove compatible.
And remember induction cookware can also be used on stovetops that are gas or electric as well.
Stainless steel
It is important to do your research before purchasing stainless steel cookware for use on induction stovetops. Stainless steel cookware will only work on an induction stovetop if the base is a magnetic grade of stainless steel.
Although stainless has become very popular cookware because of its durability, non-corrosive nature, it is however nonmagnetic. Due to stainless steel not being great to conduct heat, more expensive stainless cookware is designed with multi-layer materials, sandwiching copper or aluminum in thin layers of stainless steel, however, these materials are also not magnetic, When purchasing stainless steel cookware for your induction stovetop, look for Stainless steel Ply Cookware which has an exterior layer of ferritic stainless steel, and make sure it has a flat bottom to react better with stovetops magnetic field. Also when using your stainless steel cookware, ensure the base of your pan is the same size or smaller than the induction stove heating coil to ensure your pan heats evenly when cooking.
Cast iron
Cast iron cookware is very durable, and transfers heat evenly at low settings, making it ideal to cook the food long and slowly. However, its thick and heavy base takes longer to heat up and cool down. Because of its weight, and rough exterior, cast iron can scratch or even crack the glass top of induction stoves. Although it can be used on induction stovetops, some care must be taken when using, and also be aware it takes longer to heat up, cool down and can transfer heat unevenly at high heat when cooking.
Enameled-based cast iron is not as rough on induction stoves, however, the surfaces can chip and wear off after long or rough usage.
The size of some cast iron cookware should also be noted when using. As with stainless steel, make sure your pan or pot is smaller or the same size as the ring of your induction stovetop to ensure even heating when cooking.
Aluminum
Aluminum cookware conducts and retains heat very well, is lightweight, affordable, and doesn't rust. However, most aluminum cookware cannot be used on induction stovetops. With the popularity of induction stovetops in modern kitchens, some manufacturers are constructing aluminum cookware with ferric bases. But with the acidic reaction to acid foods and the link of aluminum leaching into food when used, it is becoming the least preferred cookware material.
Copper
As mentioned, most older copper cookware sets are nonmagnetic, make them unsuitable for use on induction stovetops. However modern manufacturers do construct copper cookware which is suitable for induction stovetops. Research your product before purchasing.
How to use cookware on the induction stove
Now that you have confirmed that your cookware is compatible, here are tips to note about using cookware on your induction stove.
Induction stoves do not have any open flames or visible cooking stands, just a flat surface made of glass or ceramic. However, the cooking zones are usually clearly marked with rings.
Depending on the manufacturer, the minimum ring size is usually between 4 and 5 inches, and the maximum is between 12 and 14. For maximum efficiency, only place pans in rings that correlate to their sizes.
To avoid scratching the glass or ceramic surface of your stove, don't slide it across the surface. Rather, lift it or drop it in one swift motion.
It's best to use only cookware with flat bases, without dents, for maximum contact with the cooktop. If you want to use woks or other similar cookware, you have to purchase a stove with a concave surface.
Induction works by vibrating the metallic molecules of the pot to create heat. So, if you use thin or low-quality pots, they may very likely become quite noisy.
Avoid using metallic spoons, use wooden spoons instead.
Now, unlike gas stoves, the heat levels of induction stoves are more customizable. Depending on the brand, there might be up to 16 different temperature settings based on different variations of low, medium-low, medium, medium-high, and high heat.
Because induction generates heat very quickly, preheating is not often necessary. However, if you want to, do not preheat for longer than 3 minutes at a time, to avoid burning your condiments and ruining your nonstick pots. And, the way to do it is to start at a low-temperature setting, slowly increasing it till the entire pot is heated.
Safety & Health Tips For Using Cookware On The Induction Stove
As we've already mentioned earlier, with induction stoves, you don't have to worry about the risk of burns and other kitchen accidents associated with traditional gas and electric stoves. The cooker-tops are always cool, and only work when cookware is placed on them.
However, there are still other hazard points to watch out for. For one, magnetic currents can interfere with pacemakers. So, if you have one on, we recommend that you stand at least 2ft from the cooktop.
Also, remember to keep other magnetic items away from the cooker – cutlery, etcetera, as they may get heated and become a burn risk. Finally, it goes without saying that you have to use only power outlets with the correct rating for your stove.
Cleaning Cookware After Cooking On The Induction Stove
Because induction stoves don't heat up, spills don't dry up and become crusty, making it much easier to clean them up. However, you have to clean them as soon as possible so that they don't compromise the surface of the cooker-top. Use only a soft cloth, as abrasive materials will scratch and compromise the glass.